Lykke Li played Coachella solo (pics) & w/ PB&J, playing Summerwood Pride Fest in NYC (full schedule), other dates
"Living Thing," [Peter Bjorn and John's] newest album, doesn't simplify things, as it's even more beat-driven and production-skewed than earlier work. However, the boom-bap-driven "Nothing to Worry About" is a fine single, and it got a chirping assist from pop tart countrywoman Robyn. It's no wonder they've backed up Kanye West: the band can steer a minimalist drum loop in many winning directions.

But as worthy an effort as the "Living Thing" cuts were, the difference between them and the more straightforward indie-pop was palpable. "Up Against the Wall" and "Let's Call the Whole Thing Off" brimmed with effervescent distortion and steely good hooks that stood on their own with fine and creative drumming from John Eriksson. Comely wraith Lykke Li had a loose but endearing turn in the "Young Folks" duet, but the set mostly underscored how a band at the height of its creative powers can still be untangling the best ways to use them. [LA Times]
The above review refers to Peter Bjorn and John's set at Coachella over the weekend. Both Robyn and Lykke Li joined them on stage. Lykke Li also played her own set. That's where the pictures in this post come from.
No stranger to NYC, Sweden's Lykke Li will be back in town again on June 1st to play a show at Highline Ballroom. But not just any show...
B.B. King Blues Club, The Highline Ballroom and Josh Wood Productions proudly announce the first annual Summerwood music series, beginning June 1st at The Highline Ballroom. Summerwood's GLBT and GLBT-friendly artists represent a selection of nuanced, diverse and talented performers that eschew the standard tropes of the mainstream. Summerwood's genre-blind line-up includes a mix of legendary musicians, up-and-coming names and emerging stars.
The complete list of Summerwood shows is listed below, but it also includes the previousy-announced Amanda Palmer (who also played Coachella) show happening at Highline on June 5th (the Lisps are opening) (tickets are on sale).
All dates, more pictures & the Summerwood schedule, below...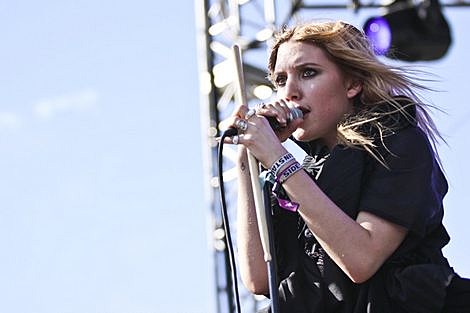 Summerwood - 2009 Schedule
June 1 - Lykke Li @ Highline Ballroom
June 4 - Girlyman @ Highline Ballroom
June 5 - Amanda Palmer @ Highline Ballroom
June 6 - Melissa Ferrick, Hesta Prynn @ Highline Ballroom
June 7 - Little Richard @ BB King Blues Club & Grill
June 10 - Quinn Lemley @ BB King Blues Club & Grill
June 10 - Sandra Bernhard @ Town Hall
June 17 - Salem and Hunx and His Punx @ Knitting Factory
June 19 - Girl in a Coma @ Highline Ballroom
Lykke Li - 2009 Tour Dates
Fri 05/29 - Masonic Cemetary Los Angeles CA
Mon 06/01 - Highline Ballroom New York NY Other Pride Fest
Sat 08/01 - Osheaga Festival Montreal QC
Thu 08/06 - Pabst Theatre Milwaukee WI