M for Montreal 2015 day 1 review: Dilly Dally, Doomsquad, She-Devils, Calvin Love, CRI and more
Dilly Dally / CRI / Milk & Bone @ M for Montreal 11/18/2015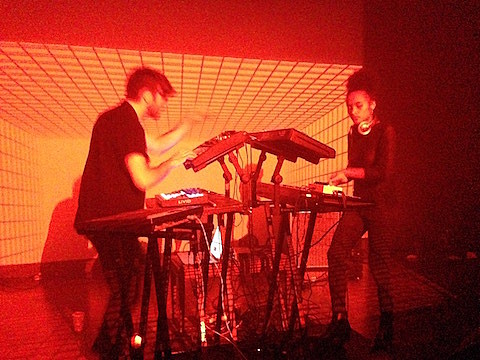 The 10th edition of M for Montreal is currently underway, bringing in a couple hundred mostly Canadian acts to this four-day event that's part industry confab and part music festival. I'm a pretty seasoned M-goer at this point and enjoy the approach they bring. They first couple days are more for the international "delegates" (writers, promoters, bookers, music supervisors, etc) and feature one showcase a night with selected artists for us to see.
Wednesday night was the kickoff event which happened at the Rialto in the Mile End neighborhood. (Pro tip: it's right around the corner from Montreal's two most famous 24-hr bagel places: Fairmount and Saint Viateur.) The Rialto is kinda like NYC's Webster Hall, with a big main hall and two smaller venues also inside and M took over all three stages with 11 bands. Rialto Hall featured more mainstream acts like duo Milk & Bone who are kind of like First Aid Kit meets Chvrches, and whoa-oh-y folk pop band The Franklin Electric. It was a sold-out hometown crowd for this one.
The other stages, which were only for M delegates, were a little more interesting. Upstairs at Theare Rialto was electronic duo CRI, Toronto dubstep singer Kai (who has collaborated with Diplo), and Jesse Mac Cormack whose lineup was three bassists and a drummer but managed a wide range of moody sounds out of that.
Downstairs at Piccolo Rialto was the late show with a good lineup of bands, all of which BV has covered: Doldrums, She-Devils, Calvin Love, Dilly Dally and Doomsquad. I missed Doldrums, who didn't start till after 1:30 AM (I've seen them a couple times this year anyway), but caught everyone else. Doomsquad, who toured as part of Fucked Up's "Zodiac" lineup, were pretty interesting, more electronic than I was expecting from their at-times Talking Heads-ish recordings. Tribal, energetic, and entertaining. Dilly Dally (who just played Brooklyn) were great as usual with their Pixies-ish indie rock; Calvin Love brought highly textured Miami Vice style rock with tons of style; and She-Devils, who now have some recordings to listen to, maintain a detached cool that fits their retro-sampled music.
Tonight's M lineup includes an all R&B/hip hop showcase in an infamous strip club including a set from Toronto's Jazz Cartier, who's already gotten a bunch of Drake comparisons (actually, someone, when looking looking through my M program last night, told me "oh he's, the new Drake."). We shall see. The rest of the fest features Grimes (who just played two NYC shows), The Dears, Yonatan Gat, Moon King, Hudson Mohawke,  Night Beats, a bunch of Francophone artists, and the BrooklynVegan presented show on Saturday (11/21) with Duchess Says and Chocolat.