M Ward & Floored By Four @ Central Park Summerstage -pics
Saturday's balmy weather welcomed M. Ward to the Central Park SummerStage for one of the last stops on his tour behind his latest record Hold Time. Ward hits the road with Monsters of Folk this fall (a tour with two NYC stops), but at SummerStage the well-placed spotlight was all his (with not even his She & Him collaborator to be found).
He did share time with his band of skilled musicians, and many of his influences, to whom he paid musical tribute throughout the night. Ward opened with a solo acoustic rendition of "Sad, Sad Song," hitting the kick drum part out with his right hand. With the band on stage, M. Ward's smokey, paper-thin voice shared time with his golden riffs and the group's rich, early rock n' roll sound. That vibe - an early '60s kind of rockabilly swing - streamlined many of Ward's often idiosyncratic arrangements into a headliner-worthy set of hits.
Ward's unmistakable reference points along the way included Jerry Lee Lewis chops at the piano (where he sat for maybe half a dozen numbers) and Chuck Berry licks on guitar (with a cover of "Roll Over Beethoven" even). But maybe even more impressive than Ward's axe skill is his ability to cobble together a compelling 20-song set with very few lulls. All that in just under an hour. Add two encores, and the show still ended well before its 10pm curfew.
Floored By Four, in their debut performance, opened the evening with set of extended jams. Mike Watt casually walked along on bass, while Nels Cline, bold and upfront, ran his guitar through an array of effects that tweaked the sound in a number of novel ways. Keyboardist Yuka Honda layed down a harmonic foundation that at times veered into Twin Peaks territory. The group's set, like its members, walked the line between contemporary rock and more experimental forms. Perhaps most boldly, drummer Dougie Bowne ditched rock's inviolable constant beat at times, subbing unpredictable flurries of texture.
The commaraderie between Cline and Watt was evident as they joked around and cued chord changes with a head nod and a smile. (They've played together before in groups that include Watt's Black Gang and Banyan.) A clear highlight of their set was the closing jam, "Maggot Brain," a song periodically revisited by Watt and last on his solo debut Ball-hog or Tugboat?. The tune's opening incantation, delivered from Watt (who also sang the band's second number) set the stage for Cline's searing lead. His nickel-plated, sunset tone cut through several layers of crowd and foreshadowed (possibly surpassed) the guitar mastery to come.
More pictures, and a bunch of videos, below...


Mike Watt, Nels Cline , Yuka Honda, and Dougie Bowne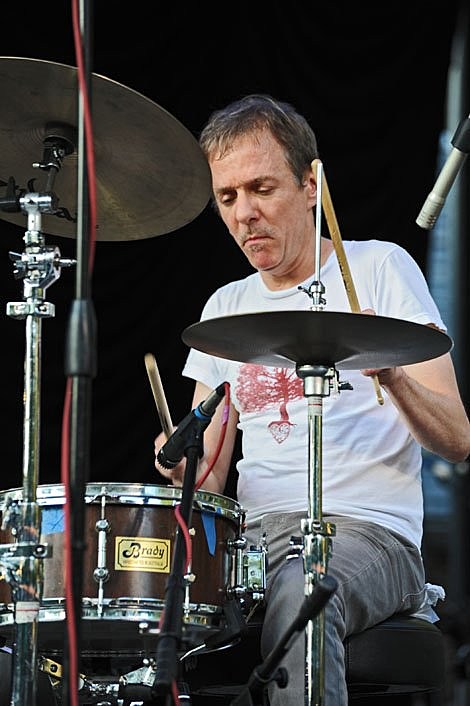 M. Ward- Jailbird live at Central Park Summer Stage 8/01/2009

M. Ward- Hold TIme live at Central Park Summer Stage 8/01/2009

m. ward: to go home summerstage, 8/1/09

M. Ward- To Save Me live at Central Park Summer Stage 8/01/2009

M. Ward- Roll Over Beethoven live at Central Park Summer Stage 8/01/2009

M. Ward- Poor Boy, Minor Key live at Central Park Summer Stage 8/01/2009