M83 & Sun Airway played Hammerstein Ballroom (night 1 pics)
M83 @ Hammerstein Ballroom, 10/2/2012

M83's Hurry Up We're Dreaming came out a year ago and its popularity doesn't seem to be waning. Anthony Gonzalez has already brought the M83 live spectacular through the NYC area three times (most recently at Summerstage in August), and last night's show at Hammerstein Ballroom (10/2) was the first of THREE shows in the tri-state area this week with tour mates Sun Airway. Pictures from last night are in this post.
M83 and Sun Airway will play Hammerstein again tonight (10/3) (tickets) and will hit Wellmont Theatre in Montclair, NJ on Thursday (10/4) (tickets). After wrapping up North America at the end of the month, M83 head to Europe for more shows, including at stop at 2012 Pitchfork Paris festival which happens November 1 - 3.
Gonzalez isn't done with Hurry Up We're Dreaming yet on record, either, with "Steve McQueen" being released as a single this week with remixes by Maps, BeatauCue, SALM and Laura Escude.
More pics from last night's show and a list of all remaining dates are below...

---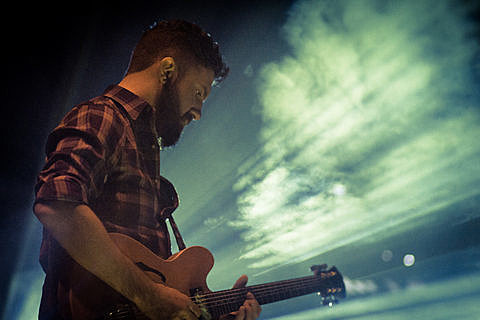 M83 - 2012 Tour Dates
Oct 03 Manhattan Center Hammerstein Ballroom New York, NY
Oct 04 The Wellmont Theatre Montclair, NJ
Oct 06 Virgin Mobile Freefest 2012 Columbia, MD
Oct 07 The Fillmore Charlotte Charlotte, NC
Oct 09 House Of Blues New Orleans, LA
Oct 11 Palladium Ballroom Dallas, TX
Oct 12 Austin City Limits Austin, TX
Oct 13 Treasure Island San Francisco, CA
Oct 14 Treasure Island San Francisco, CA
Oct 26 Lure Patio (DJ Set) Los Angeles, CA
Oct 30 Columbiahalle Berlin, Germany
Oct 31 Bürgerhaus Stollwerck Cologne, Germany
Nov 01 Pitchfork Festival Paris Paris, France
Nov 02 Ancienne Belgique Brussels, Belgium
Nov 03 Nördik Impakt Festival Caen, France
Nov 08 Brixton Academy London, United Kingdom