M83 – Webster Hall (and School of Seven Bells) pics, a video contest & tour dates (w/ Kings of Leon)
Kyle Dean Reinford
After working on the first two videos for SATURDAYS=YOUTH with Matthew Frost (Graveyard Girl) and Eva Husson (Kim&Jessie), M83 is now extending an open call to fans to submit their best video interpretations of "We Own The Sky", their latest single from SATURDAYS=YOUTH.

The competition launched on Thursday, November 13th on Pitchfork. Anyone who wants to submit an entry has until January 20, 2009 to produce a video for "We Own the Sky" and upload it onto the Youtube contest page at http://www.youtube.com/group/m83

The winning entry will have its Pitchfork TV debut early next year!

The "We Own the Sky" EP, a new single from the album SATURDAYS = YOUTH, is set for release on CD/LP/Download early 2009 and will include the original track plus an edit, along with a remix of Maps, the previously unreleased "Je vous hais Petites Filles", and a remix of "Graveyard Girl" by ParkerLab.
More pictures from last night's show at Webster Hall (11/14), and all tour dates, below...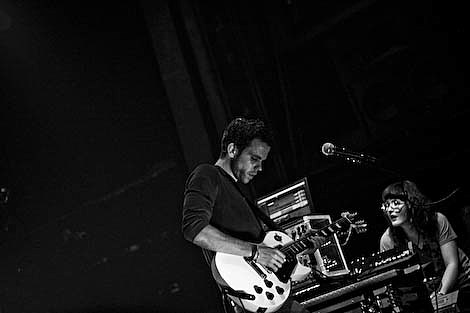 M83 & School of Seven Bells - 2008 Tour Dates
11/15 Philadelphia, PA @ Starlite Ballroom
11/16 Northampton, MA @ Pearl Street Nightclub
11/18 Boston, MA @ Middle East Downstairs
11/19 Montreal, QC @ Studio Juste Pour Rire
11/20 Toronto, ON @ Opera House
11/21 Chicago, IL @ Bottom Lounge
11/22 Minneapolis, MN @ Triple Rock Social Club
11/25 Seattle, WA @ Neumo's
11/26 Vancouver, BC @ Richards On Richards
11/27 Portland, OR @ Doug Fir Lounge
11/28 San Francisco, CA @ Fillmore
11/29 Los Angeles, CA @ Henry Fonda Theater
Kings of Leon & M83 - 2008 Tour Dates
12/1 Brighton, UK @ Brighton Centre
12/2 Nottingham, UK @ Trent FM Arena
12/4 Newcastle, UK @ Metro Arena
12/5 Sheffield, UK @ Sheffield Arena
12/7 Glasgow, UK @ SECC
12/8 Liverpool, UK @ Echo Arena
12/10 Birmingham, UK @ NIA
12/11 London @ The O2 Arena
12/14 Bournemouth, UK @ BIC
12/16 Manchester, UK @ Evenings News Arena,
12/17 Cardiff, UK @ International Arena
12/19 Dublin, IRELAND @ O2
12/20 Belfast @ Odyssey Arena
12/22 London, UK @ Wembley