Mac DeMarco and Dustin of Beach Fossils made a promo video for Captured Tracks fest (watch)
CT5 Prize Patrol: Mac Demarco & Dustin Payseur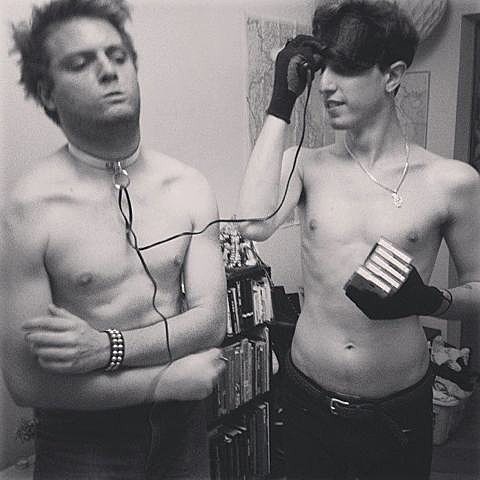 As mentioned, the Captured Tracks 5th Anniversary festival (CT5) is coming up in two week at Brooklyn's The Well on August 31 and September 1 featuring DIIV, Mac Demarco, Wild Nothing, Blouse, Beach Fossils, Widowspeak, MINKS, Soft Moon, Soft Metals and more. Tickets are still available in various permutations: either as single day (8/31 here; 9/1 here), two-day passes or the ultra-two-day pass that comes with a goodie bag of exclusive stuff. For more on the fest, the label has just released a promo video starring Mac DeMarco and Dustin from Beach Fossils in unbridled form. That's a still from it above, and you can watch it below.
Captured Tracks is also throwing a contest through a few different local record stores where you can win a pair of tickets to the show as well as some special prizes, like "donuts/coffee with Mac DeMarco." List of participating stores (and the prizes) are below.
And don't forget that shoegazers Medicine, whose new album came out this week on Captured Tracks, play their first NYC show in eons tonight (8/16) at Music Hall of Williamsburg with Weekend and Leverage Models. Tickets are still available.
CT5 video and contest store locations below...

---
Ct5 Contest Prizes:
- 1 pair of passes + donuts/coffee with Mac DeMarco (TBC)
- 1 pair of passes + tarot-card reading with Devon/DIIV
- 1 pair of passes + hangout/autographed LP from Cole/DIIV
Participating Stores:
Permanent NY
Steady Sounds
Kim's Music
Ka-Chunk
Sound Garden
Red Onion
Speakertree
Everybody's Records
Other Music
Repo
Spoonful