Mad Decent Block Parties returning this summer. Last year's NYC one was @ the Seaport (here are some pics)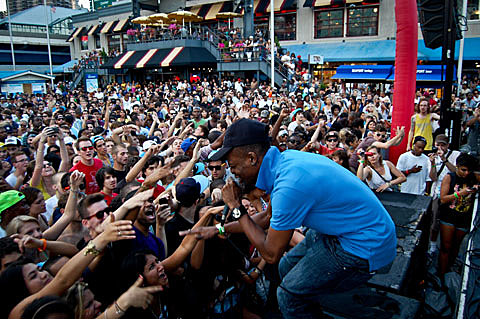 Like last year, Mad Decent will host a series of free outdoor dance party/concerts in select cities this summer. The "4th Annual Mad Decent Block Party" tour will bring Diplo and friends to Philadelphia, New York, Chicago, and Los Angeles, and possibly a 5th U.S. city. Without getting too specific, they're promising Rusko, Major Lazer, and many more. Exact dates and lineups TBA.
Last year's NYC event was a crowded one at South Street Seaport on Saturday, August 7th with an advertised lineup of Eli Escobar, Max Glazer, Janka Nabay, Ricky Blaze & Chelly, Maluca, PO PO, Bosco Delrey, DJ Sega, Bathroom Sexx and Paul Devro. And it looked like this...