Magic Kids played Mercury Lounge w/ Bosco Delray, Brianne & Big Troubles (pics) +++ yourstru.ly 'orchestra' video
Magic Kids toured through town again, this time hitting Mercury Lounge and Silent Barn with Bosco Delray who they're now touring back to Memphis with, in support of Memphis. The Mercury Lounge show was also with Big Troubles and Brianne, and the pictures in this post are from that show. We also recently had pictures from Magic Kids' set at Fun Fun Fun Fest (set 1 and set 2).
The Mercury Lounge pictures continue, with a yourstru.ly video of the band playing "Candy" with an "orchestra, which features Christopher + Garrett from Girls, Max from Smith Westerns, some friends of someone's aunt who had a weekend flute club, a real string section and some more random friends," below...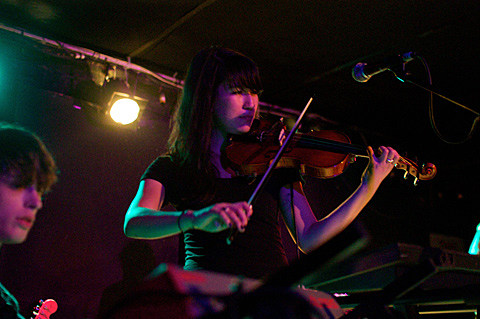 Magic Kids - 2010 Tour Dates
Nov 15 - Beachland Tavern w/ Bosco Delrey Cleveland, OH
Nov 16 - Empty Bottle w/ Bosco Delrey Chicago, IL
Nov 17 - Firebird w/ Bosco Delrey St Louis, MO
Nov 18 - The End w/ Bosco Delrey Nashville, TN
Nov 19 - The Hi-Tone w/ Bosco Delrey Memphis, TN