Magnetic Fields add 4th NYC show & openers – updated dates
Magnetic Fields @ Loews Theater, Jersey City in Oct. 2008 (more by Chris La Putt)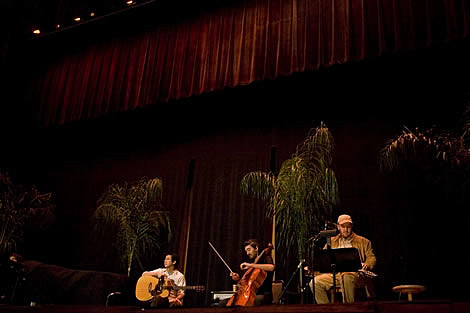 "We did soft rock on I, hard rock on Distortion, and folk à la Judy Collins on Realism," [Stephin Merritt] says. "They were conceived as a trio, but particularly with Distortion and Realism, I thought of them as a pair." The titles he had in mind at first were "True" and "False," which got set aside when he couldn't figure which label applied to which album. Of course, that creative cul de sac is itself vintage Merritt.

"I asked myself, 'Would it be too simple to say that Distortion is false, and that Realism is true? Or would it be too annoying to say the reverse?' So I scratched that," he says, pausing at length. "And now it is what it is." [National Post]
The Magnetic Fields will be touring in support of their new record, Realism, which is out today (1/26). Toward the beginning of the trip, on Saturday, February 13th, they'll be playing at BAM's Howard Gilman Opera House, a show that's sold out or close to it (BAM directs you to their box office phone, 718.636.4100, for inquiries).
The tour returns to NYC in March, and they've expanded their run at NYC's Town Hall to three nights. The added show will be on Friday, March 12th. Tickets for the first show are still on sale (but not the second). The third goes on AmEx presale Wednesday, January 27th at 11am. General sale starts Friday, January 29th at noon.
Openers, who each focus on eclectic folk sounds, have also been announced: Canadian singer/kalimba player Laura Barrett plays March 10th, Australian songwriter Darren Hanlon opens March 11th, and Brooklyn electronic-instrument craftsmen Dewanatron play the final date.
All tour dates (including Magnetic Fields' European leg), a new Realism video, and clips of Dewanatron (half of which opened for Music Tapes last March) are below...

---
The Magnetic Fields - We Are Having A Hootenanny - Realism

Dewanatron at Carousel Recording Studios, Brooklyn, NY

Magnetic Fields - 2010 Tour Dates
February 04 WASHINGTON, DC Lisner Auditorium @ George Washington University
February 06 MONTREAL, QC Corona Theatre
February 08 TORONTO, ON Queen Elizabeth Theatre
February 10 BOSTON, MA Wilbur Theatre
February 11 BOSTON, MA Wilbur Theatre
February 13 BROOKLYN, NY Howard Gilman Opera House @ BAM
February 21 PORTLAND, OR The Aladdin Theater
February 22 PORTLAND, OR The Aladdin Theater
February 23 SEATTLE, WA Town Hall Seattle
February 24 SEATTLE, WA Town Hall Seattle
February 27 OAKLAND, CA The Fox Theater
March 01 SAN FRANCISCO, CA Herbst Theatre
March 02 LOS ANGELES, CA Wilshire Ebell Theatre
March 04 MILWAUKEE, WI Pabst Theatre
March 05 BLOOMINGTON, IN Buskirk Chumley Theater
March 06 ST. LOUIS, MO The Pageant
March 07 CHICAGO, IL Harris Theater @ Millenium Park
March 10 NEW YORK, NY Town Hall
March 11 NEW YORK, NY Town Hall
March 12 NEW YORK, NY Town Hall
March 19 MANCHESTER, UK Manchester Cathedral
March 21 LEAMINGTON SPA, UK The Assembly, Spencer Street
March 22 LONDON, UK Barbican Centre
March 24 STOCKHOLM, SWEDEN Filadelfiakyrkan
March 25 OSLO, NORWAY Rockefeller
March 27 BERLIN, GERMANY Babylon
March 29 HAMBURG, GERMANY Fabrik
March 30 FRANKFURT, GERMANY Mousonturm
March 31 AMSTERDAM, NETHERLANDS De Duif Prinsengracht 756