Majical Cloudz & Grimes did karaoke and played Glasslands (pics, videos)
Jonathon Bernstein
"GRIMES SHOWED UP AT MAJICAL CLOUDZ's RELEASE PARTY FFFFFFFFFFFFFFFFFFFFFFFFFFFFFFFFFFFFFFFFFFFFFFFFF
FFFFFFFFFFFFFFFFFFFFFFFFFFFFFFFFFFFFF" - Max Kerr
Montreal duo Majical Cloudz have been on a tour with Youth Lagoon, which hit the NYC-area twice earlier this month, and this week they took a couple days off from that tour to return to NYC for their own separate events. On Monday (5/20), the guys went to Manhattan record store Other Music for an in-store performance, and that night they met up with their pal Claire Boucher (aka Grimes, who featured Majical Cloudz on her song, "Nightmusic") to hit up a karaoke bar on the LES. While there, Majical Cloudz's Devon Welsh sang Limp Bizkit's "Nookie," though Claire was too shy to sing anything. Devon's bandmate (who doesn't sing in Majical Cloudz) Matt Otto did Backstreet Boys' "I Want It That Way," which apparently is becoming a thing for indie people these days.
Then, the next night (5/21) Majical Cloudz headed to Brooklyn to play a release party for their new album, Impersonator, which was released via Matador that same day. NYC producer Gobby opened that show with a full-band set, and the advertised "SPECIAL GUEST!" turned out to be none other than Grimes doing a DJ set. Pictures from the Glasslands show are in this post.
As mentioned, Majical Cloudz will be back in NYC yet again for the Northside Festival, where they will play a Pitchfork show at Saint Vitus on June 13 with Kim Gordon's Body/Head duo (who recently played RBMA), Foreplay, and a "Special Guest." Grimes again???? Tickets for that show are on sale now, and you can also try to get in with your Northside Badge.
More pictures and some videos from Glasslands below...

---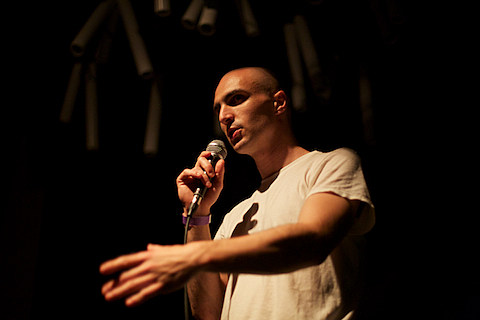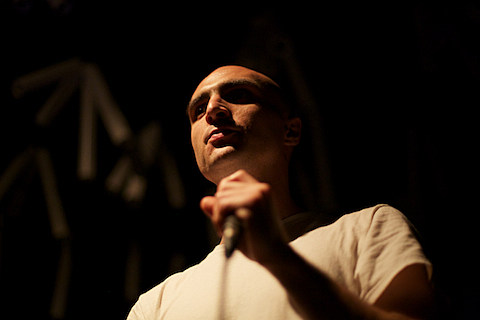 Majical Cloudz - "Bugs Don't Buzz" at Glasslands - 5/21/13

Majical Cloudz - "What That Was" at Glasslands - 5/21/13