Mammoth Grinder & Innumerable Forms @ the Acheron (pics)
words by Lindsay Maharry, photos by BBG
Mammoth Grinder

Mammoth Grinder is another great band out of Austin's thriving metal scene. Despite their van breaking down in Jersey the night before, they made the trek with a rental, thanking the show's promoter Ian Dickson. Viva Hardcore Gig Volume! They began with a track off their new EP Obsessed with Death, put out by Hell Massacre/Painkiller. Vocalist/guitarist, Chris Ulsh (Hatred Surge), growled through pummeling riffs and heavy breakdowns, forcing the relatively mild crowd to move. Drummer, Brian Boeckman, fucking killed it; fast as hell.
After their set, MG members backed Justin Detore (Mind Eraser, Righteous Jams, Mental), and became Innumerable Forms. Detore, who's progressed from straight edge hardcore to death metal in the past years, writes all Innumerable Forms material, using fill ins for shows. While on tour with Mammoth Grinder (until their Montreal date on the 31st), they back his vicious vocals. Mammoth Grinder's set was great, but Detore's presence was harder, though the set was much shorter. Innumberable Forms played the driving, unrelenting new EP Dark Worship (also put out by Hell Massacre/Painkiller) start to finish. A faulty mic marred what was an otherwise seriously fantastic performance.
Looking forward to hearing more from Innumerable Forms (maybe an LP?) and seeing Mammoth Grinder, as they seem to play Brooklyn on every tour.
More Mammoth Grinder/Innumerable Forms pics (we missed Longpigs and Naughty Girls), as well of some video of Innumerable Forms and Mammoth Grinder doing a new song from their upcoming split with Hatred Surge, is below.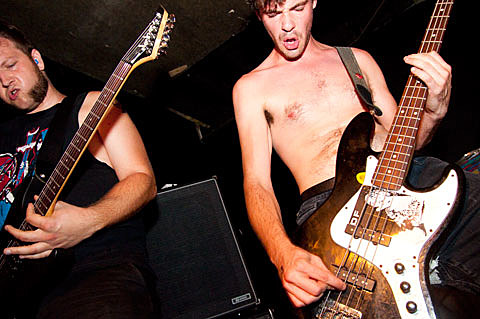 Mammoth Grinder at Acheron, 7/29/10 - New Song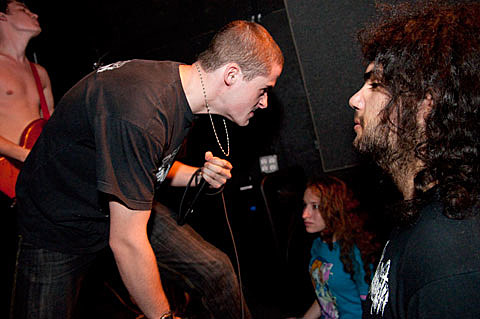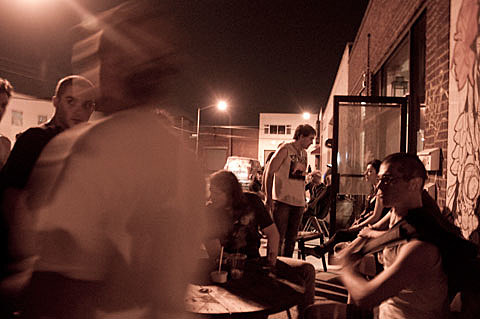 Innumerable Forms at Acheron, 7/29/10