Marduk, 1349, Withered & Weapon teaming up for June tour
Weapon at Rites of Darkness (more by BBG)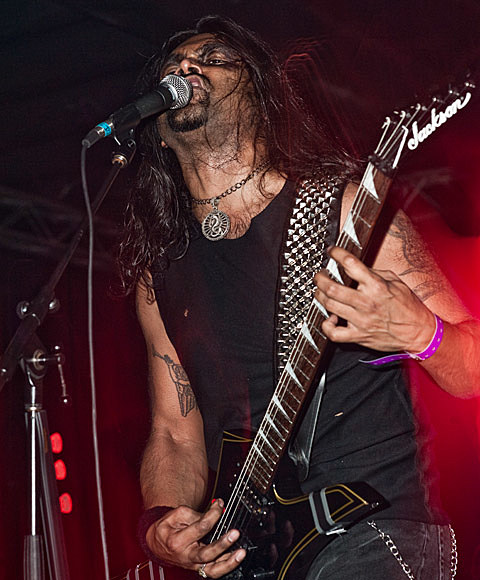 Marduk will hit the road with 1349, Withered and Weapon for a string of US dates that will include a stop in NYC at Music Hall of Williamsburg on June 3rd. Ticketing info is forthcoming.
Weapon, who recently signed to Relapse, are currently working on their follow-up to The Devil's Tomb. No word when we can expect it, but we'll keep a look out. In the meantime, no word on follow-up material from either Marduk, 1349, or Withered. 1349 recently announced their inclusion in the upcoming Inferno Festival in Oslo (replacing Aborted).
All tour dates and the tour flyer are below.
MARDUK, 1349, WITHERED, WEAPON - 2012 TOUR DATES
May 31 - Santiago, Chile @ Club 334*
June 1 - Puerto Rico, PR @ La Respuesta*
June 2 - Maltimore, MD @ Sonar
June 3 - Brooklyn, NY @ Music Hall of Williamsburg
June 4 - Montreal, QC @ Les Foufounes Electriques
June 5 - Toronto, ON @ Wreck Room
June 6 - Ottowa, ON @ Maverick's
June 7 - Columbus, OH @ Alrosa Villa
June 8 - Chicago, IL @ Reggie's
June 9 - St. Paul, MN @ Station 4
June 10 - Winnipeg, MB @ Park Theater
June 11 - Regina, SK @ The Exchange
June 12 - Calgary, AB @ Distillery
June 14 - Vancouver, BC @ Rickshaw Theater
June 15 - Seattle, Wa @ Studio Seven
June 16 - Portland, OR @ Bossanova
June 17 - San Francisco @ DNA Lounge
June 18 - Fullerton, CA @ Slidebar
June 19 - Hollywood, CA @ House of Blues
June 20 - San Diego, CA @ Ruby Room
* Marduk only