Mariam Wallentin of Wildbirds & Peacedrums played w/ Mikael Karlsson & ACME @ the Ecstatic Music Festival (pics)
ACME is Nadia Sirota (viola), Clarice Jensen (cello), Chihiro Shibayama (percussion), Andrew Rehrig (flutes), and Alicia Lee (clarinets). On March 1st, ACME performed with Mariam Wallentin and Mikael Karlsson at Merkin Concert Hall as part of the ongoing Ecstatic Music Festival (which continues on March 17th with Oneida and Rhys Chatham). The show was described like this:
Mariam Wallentin, hailed for her "beyond gorgeous" voice in the band Wildbirds & Peacedrums, teams up with acclaimed composer Mikael Karlsson to create a new song cycle, The Spirit & the Cloud, performed with the American Contemporary Music Ensemble ("some of New York's brightest, busiest players." The evening will also include a selection of Karlsson's instrumental compositions and arrangements of Wildbirds & Peacedrums songs for Wallentin and ACME.
Check out more pictures from the event, and the full setlist, below...

--

Mikael Karlsson, Mariam Wallentin & ACME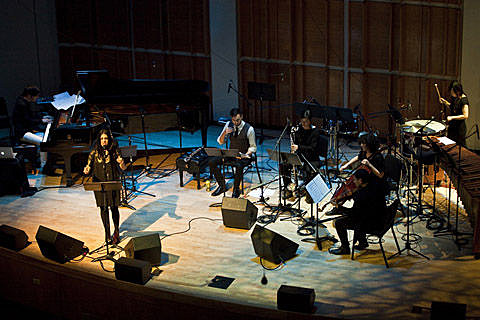 Breathing
for narrator, viola, cello
End of Part One
For percussion, viola, cello
Bleed Like There Was No Other Flood - Mariam Wallentin/Andreas Werliin
Re-arranged: Mikael Karlsson
Text: Mariam Wallentin
for vocals, flute, clarinet, percussion, viola, cello
Nasty Fucker - Mikael Karlsson
for flutes and electronics
1. loop
2. antiphonal
3. lower
Mariam Wallentin/Andreas Werliin - Doubt/Hope
Re-arranged: Mikael Karlsson
Text: Mariam Wallentin
for vocals, flute, clarinet, percussion, viola, cello
Mariam Wallentin/Mikael Karlsson - The Spirit & The Cloud
for flutes, clarinets, percussion, piano, viola, cello
--