Mark Ronson playing Letterman w/ Q-Tip, LA & Greene Space w/ Nellie McKay (who added a show too) — dates & new pics
photos by Benjamin Lozovsky
MNDR & Mark Ronson

As previously mentioned, Mark Ronson will kick off two days of NYC shows starting tonight, Monday at Music Hall of Williamsburg. The second night happens on Tuesday, 10/12, at the larger Webster Hall. Both shows, and the two California ones that were since added (dates below) are in support of Ronson's new album Record Collection which is out now.
And: "While in New York, Mark Ronson, along with Q-tip and MNDR, will perform the hit track 'Bang Bang Bang' on The Late Show with David Letterman on Monday, October 11th." MNDR is also confirmed as being a member of Ronson's band (The Business Intl) at all shows. Whether Q-Tip will show up at MHOW or Webster Hall is still a mystery.
Tickets to the Music Hall show are gone, but tickets are still available to the one at Webster Hall. Both shows will be opened by Francis & The Lights. Tickets are also still available for a third NYC appearance, also taking place Tuesday but in the afternoon, at WNYC's Greene Space. It will probably be a short show, but as a bonus, Nellie McKay is playing it too.
For a longer Nellie McKay show, catch her when she returns to Highline Ballroom on December 11th. Tickets are on sale now.
Mark Ronson and MNDR appeared at the Creators Project event that took place at Milk Studios in June. An unposted set of pictures from that event (where Ronson was only DJing), along with all dates, continue below...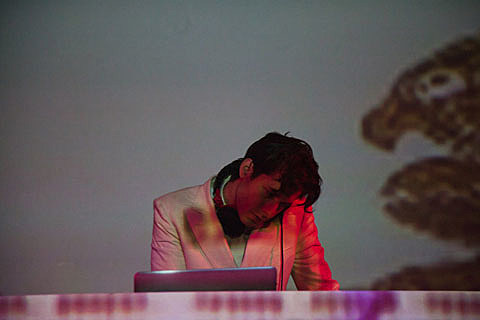 Mark Ronson - 2010 Tour Dates
October 11th - Music Hall of Williamsburg - Brooklyn, NY
October 12th - Greene Space - New York, NY (afternoon)
October 12th - Webster Hall - New York, NY
October 14th - Club Nokia - Los Angeles, CA (with Miike Snow)
October 15th - The Wiltern - Los Angeles, CA (with Miike Snow)
--
Nellie McKay - 2010 Tour Dates
Oct 12th - New York, NY, Greene Space (afternoon)
Oct 15 - New York, NY Town Hall (Broadway Melody Makers)
Oct 16 - Delaware Water Gap Deerhead Inn
Oct 17 - 18 Minneapolis, MN The Dakota
Oct 29 - Eugene, OR John G. Shedd Institute for the Arts
Oct 30 - San Francisco, CA SF Jazz
Nov 1 - Santa Cruz, CA Kuumbwa Jazz Center
Nov 4 - Los Angeles, CA The Roxy
Dec 11 - New York, NY Highline Ballroom