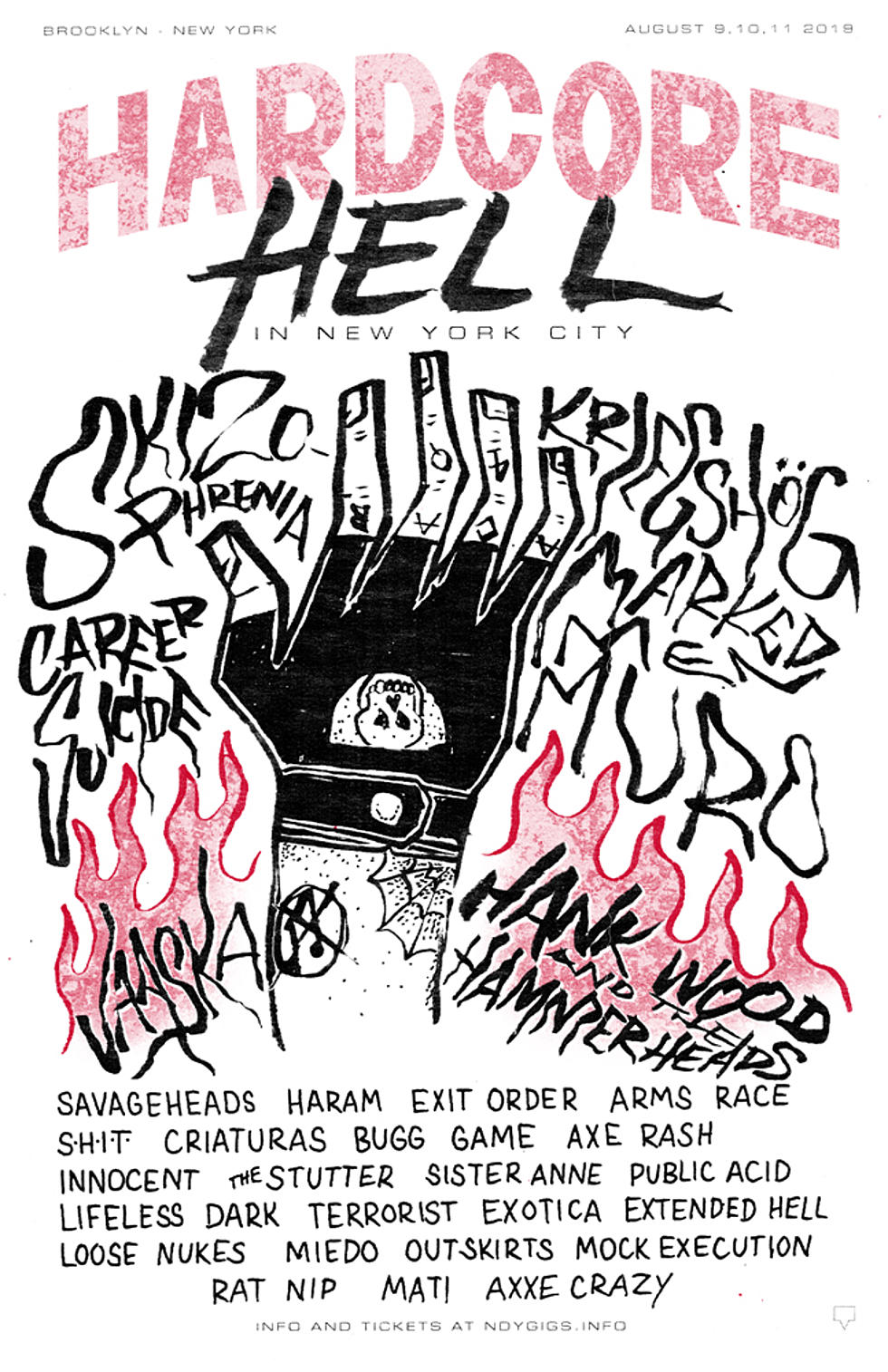 Marked Men, Career Suicide, Hank Wood, Kriegshog, more playing Hardcore Hell in NYC
The people behind the great Toronto hardcore fest Not Dead Yet have a new NYC festival happening this year called Hardcore Hell. It goes down August 9-11 at Saint Vitus, Brooklyn Bazaar, and Union Pool with two shows on Friday night, three on Saturday (including a matinee), and two on Sunday night.
The lineup includes Japanese bands Kriegshog and Skizophrenia, Texas cult punks The Marked Men, Canada's back-in-action (and Fucked Up-related) Career Suicide, NYC garage punks Hank Wood and the Hammerheads, Colombia's Muro, Austin's Vaaska, and many others including Savageheads, Criaturas, Bugg, Haram, Game, Exit Order, Arms Race, S.H.I.T., and still more, plus some others TBA.
Full lineup (as it currently stands), ticket info, and some videos/streams below...
Friday Main Show
Brooklyn Bazaar
6pm - $30 - All Ages
Marked Men
Career Suicide
Savageheads
Criaturas
Bugg
The Stutter
Sister Anne
Tickets on sale Thursday (5/16) at noon.
Friday Late Show
Saint Vitus Bar
Saturday Matinee
Union Pool
2pm - $10 - 21+
Innocent
Mock Execution
Rat Nip
Mati
Axxe Crazy
Saturday Main Show
Brooklyn Bazaar
6pm - $30 - All Ages
Kriegshog
Hank Wood & The Hammerheads
Haram
Game
Public Acid
Lifeless Dark
Terrorist
Tickets on sale Friday (5/17) at noon.
Saturday Late Show
Saint Vitus Bar
11:30pm - $15 - 21+
Exit Order
Arms Race
S.H.I.T
Axe Rash
Outskirts
Sunday Main Show
Brooklyn Bazaar
6pm - $30 - All Ages
Skizophrenia
Vaaska
Muro
Extended Hell
Exotica
Loose Nukes
Miedo
Tickets on sale Saturday (5/18) at noon.