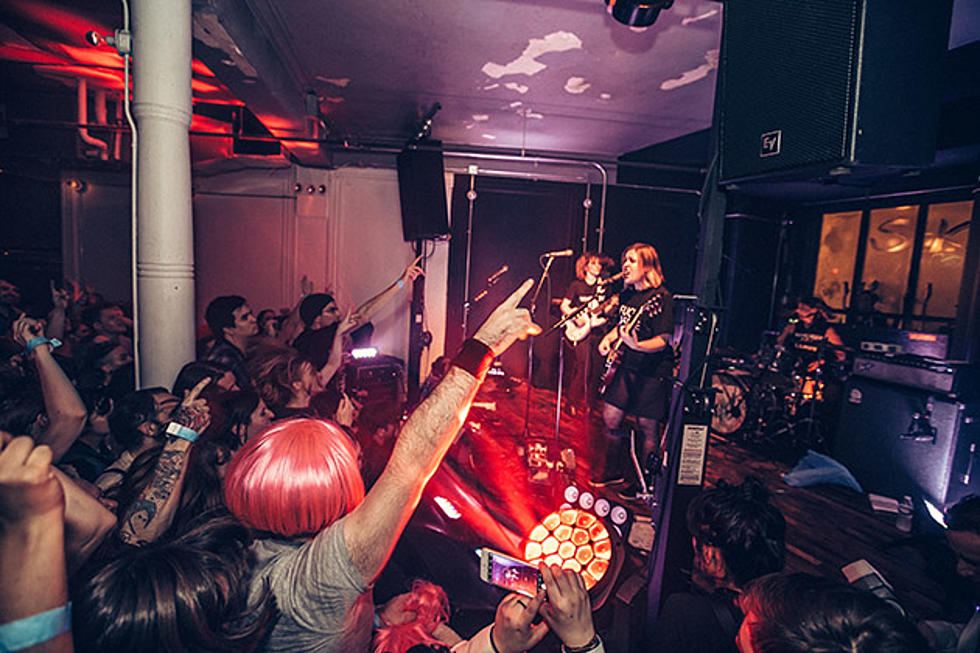 Market Hotel announces initial schedule: DIIV, Faust, Girlpool, Show Me the Body, Soft Moon, Mykki Blanco & more
Sleater-Kinney @ Market Hotel in December 2015 (more by PSquared)

Bushwick DIY venue Market Hotel, gave us a preview of its renovated space back in December with Sleater-Kinney, and has just announced its first slate of official shows. Things kick off with official re-opening parties next weekend: January 22 it's Via App, Kill Alters, Dreamcrusher and "very special guests tba" and then January 23 it's Guerilla Toss, PC Worship, Pill and "special guests tba." For both of those shows, tickets will be available at the door only (price TBA).
The initial slate of shows includes three nights of DIIV, Krautrock icons Faust, Show Me the Body, The Soft Moon, Girlpool, Mykkyi Blanco and more. Highlights:
Feb 5 - Show Me the Body, Moor Mother Goddess, Blackie
Feb 13 - The Soft Moon, UNIFORM
Mar 3 - DIIV, Dog Island
Mar 4 - DIIV, LODRO
Mar 5 - DIIV (opener tba)
Mar 25 - Girlpool
Mar 30 - Faust
May 5 - Mykki Blanco
Tickets for all of the above shows are on sale now. There are also Bunker parties and other shows. Full initial schedule is below.
Look for more shows to be announced soon. Welcome back officially, Market Hotel.

----
MARKET HOTEL: INITIAL 2016 SCHEDULE

Friday 1/22 @ MARKET HOTEL
|| special guests tba
|||| Via App
|||||| Kill Alters
|||||||| Dreamcrusher
|||||||||| Malory
|| VIBES MANAGEMENT aka BODY ACTUALISED CONTROL djs
|| dj Jan Woo + dj Etienne Duguay + dj Bri Yin Sweetie
|| dj Rezzie Weird Magic + dj Mr Ad Hoc
| MARKET HOTEL |
1140 Myrtle Ave @ Broadway | Bushwick, Brooklyn
8pm | all ages | full bar 21+ w/ID | JMZ - Broadway
||||||||||||||||||||||||||||||||||||||||||||||||||||||||||||||||||||||||||||||||||||||||||||||||||||
Saturday 1/23 @ MARKET HOTEL
|| special guests tba
|||| Guerilla Toss
|||||| PC Worship
|||||||| Pill
| MARKET HOTEL |
1140 Myrtle Ave @ Broadway | Bushwick, Brooklyn
8pm | all ages | full bar 21+ w/ID | JMZ - Broadway
||||||||||||||||||||||||||||||||||||||||||||||||||||||||||||||||||||||||||||||||||||||||||||||||||||
Saturday 1/30 @ MARKET HOTEL
|| Silent Servant --- Jealous God | LA
||||| Bill Converse --- Dark Entries | TX
||||||| Jahiliyya Fields --- L.I.E.S. | BK -LIVE-
||||||||| Forma --- Spectrum Spools, The Bunker | NYC -LIVE-
$10 The Bunker Drip adv / $20 Resident Adviser adv
| MARKET HOTEL |
1140 Myrtle Ave @ Broadway | Bushwick, Brooklyn
10pm | all ages | full bar 21+ w/ID | JMZ - Broadway
--TIX--> http://bit.ly/1ZX7ylg
||||||||||||||||||||||||||||||||||||||||||||||||||||||||||||||||||||||||||||||||||||||||||||||||||||
Friday 2/5 @ MARKET HOTEL
|| AD HOC + NYC TAPER present
|| Show Me The Body
|||| Moor Mother Goddess
|||||| B L A C K I E
| MARKET HOTEL |
1140 Myrtle Ave @ Broadway | Bushwick, Brooklyn
8pm | all ages | full bar 21+ w/ID | JMZ - Broadway
--TIX--> http://ticketf.ly/22UhrCu
||||||||||||||||||||||||||||||||||||||||||||||||||||||||||||||||||||||||||||||||||||||||||||||||||||
Saturday 2/13 @ MARKET HOTEL
|| The Soft Moon
|||| Uniform
| MARKET HOTEL |
1140 Myrtle Ave @ Broadway | Bushwick, Brooklyn
8pm | all ages | full bar 21+ w/ID | JMZ - Broadway
--TIX--> http://ticketf.ly/22UhD4J
||||||||||||||||||||||||||||||||||||||||||||||||||||||||||||||||||||||||||||||||||||||||||||||||||||

Monday 2/29 @ MARKET HOTEL
|| COUNCILMEMBER ANTONIO REYNOSO presents
|| Annual Black History Month Celebration
| MARKET HOTEL |
1140 Myrtle Ave @ Broadway | Bushwick, Brooklyn
6pm | all ages | full bar 21+ w/ID | JMZ - Broadway
||||||||||||||||||||||||||||||||||||||||||||||||||||||||||||||||||||||||||||||||||||||||||||||||||||
Thursday 3/3 @ MARKET HOTEL
| MARKET HOTEL |
1140 Myrtle Ave @ Broadway | Bushwick, Brooklyn
8pm | all ages | full bar 21+ w/ID | JMZ - Broadway
--TIX--> http://ticketf.ly/1OWBC8r
||||||||||||||||||||||||||||||||||||||||||||||||||||||||||||||||||||||||||||||||||||||||||||||||||||
Friday 3/4 @ MARKET HOTEL
| MARKET HOTEL |
1140 Myrtle Ave @ Broadway | Bushwick, Brooklyn
8pm | all ages | full bar 21+ w/ID | JMZ - Broadway
--TIX--> http://ticketf.ly/1OWBHc9
||||||||||||||||||||||||||||||||||||||||||||||||||||||||||||||||||||||||||||||||||||||||||||||||||||
Saturday 3/5 @ MARKET HOTEL
| MARKET HOTEL |
1140 Myrtle Ave @ Broadway | Bushwick, Brooklyn
8pm | all ages | full bar 21+ w/ID | JMZ - Broadway
--TIX--> http://ticketf.ly/1OWBHsU
||||||||||||||||||||||||||||||||||||||||||||||||||||||||||||||||||||||||||||||||||||||||||||||||||||
Friday 3/25 @ MARKET HOTEL
| MARKET HOTEL |
1140 Myrtle Ave @ Broadway | Bushwick, Brooklyn
8pm | all ages | full bar 21+ w/ID | JMZ - Broadway
--TIX--> http://ticketf.ly/1OWCoCp
||||||||||||||||||||||||||||||||||||||||||||||||||||||||||||||||||||||||||||||||||||||||||||||||||||
Wednesday 3/30 @ MARKET HOTEL
| MARKET HOTEL |
1140 Myrtle Ave @ Broadway | Bushwick, Brooklyn
8pm | all ages | full bar 21+ w/ID | JMZ - Broadway
--TIX--> http://ticketf.ly/22UhJJB
||||||||||||||||||||||||||||||||||||||||||||||||||||||||||||||||||||||||||||||||||||||||||||||||||||
Saturday April 2nd @ MARKET HOTEL
|| SUSTAIN-RELEASE presents
|| SUSTAIN-RELEASE CAMPERS REUNION
| MARKET HOTEL |
1140 Myrtle Ave @ Broadway | Bushwick, Brooklyn
8pm | all ages | full bar 21+ w/ID | JMZ - Broadway
||||||||||||||||||||||||||||||||||||||||||||||||||||||||||||||||||||||||||||||||||||||||||||||||||||
Thursday 5/5 @ MARKET HOTEL
| MARKET HOTEL |
1140 Myrtle Ave @ Broadway | Bushwick, Brooklyn
8pm | all ages | full bar 21+ w/ID | JMZ - Broadway
--TIX--> http://ticketf.ly/22UhMFb
||||||||||||||||||||||||||||||||||||||||||||||||||||||||||||||||||||||||||||||||||||||||||||||||||||