Marnie Stern releasing new LP, appearing at UCB East w/ Andrew WK, Chris Gethard & more (dates, streams)
by Andrew Sacher
Marnie Stern at Santos in 2011 (more by Andrew St. Clair)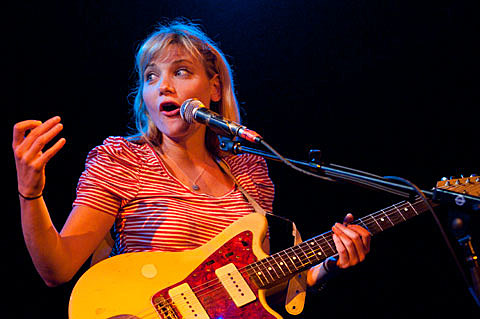 The February 2013 taping of the "Beginnings" podcast at UCB East (2/5) is set to feature a pretty stellar lineup with musicians Andrew W.K. and Marnie Stern, comedians Opus Moreschi (The Colbert Report) and Chris Gethard, and "special unnameable guest." $5 reservations are available now.
Besides "Beginnings," Andrew WK has his Superbowl halftime show at Santos and Skate and Surf.
As for Marnie Stern, she doesn't have too many dates coming up, but she will release her new album, The Chronicles of Marnia, on March 19 via Kill Rock Stars. The album is her first without drum maniac Zach Hill (who is now occupying his time in Death Grips) and was instead recorded with Kid Millions of Oneida behind the kit. Two of the tracks, "Year of the Glad" and "East Side Glory," have been revealed from the album, and while they don't sound as mathy and all over the place as her previous material, they're just as characteristically weird in their own way. You can listen to both, check out the album art and tracklist, and see a list of upcoming shows below.

---
Marnie Stern - "Year of the Glad"

Marnie Stern - "East Side Glory"

Marnie Stern - The Chronicles of Marnia

The Chronicles of Marnia Tracklist:
1. Year of the Glad
2. You Don't Turn Down
3. Noonan
4. Nothing is Easy
5. Immortals
6. The Chronicles of Marnia
7. Still Moving
8. East Side Glory
9. Proof of Life
10. Hell Yes
--
Marnie Stern -- 2013 Tour Dates
2/5 UCB East New York, NY w/ Andrew WK, Chris Gethard, Opus Moreschi
3/9-10 35 Denton Denton, TX
4/29 Soda Bar San Diego, CA
--
Andrew WK -- 2013 Tour Dates
January 30, 2013 New York, New York Santos Party House (master of ceremonies)
February 3, 2013 New York, New York Santos Party House (solo set)
February 5, 2013 New York, New York UCB East w/ Marnie Stern, Chris Gethard, Opus Moreschi
February 7, 2013 FOX NEWS Red Eye
May 18, 2013 Skate and Surf Freehold, New Jersey (solo set)