Martha Wainwright – 3 Edith Piaf shows, Castle Clinton, Summerstage, Watermill & other 2009 tour dates
Martha Wainwright singing Edith Piaf @ Spiegeltent (more by Chris La Putt)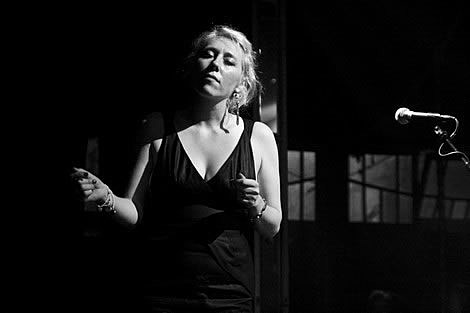 She'll be recording the sets with producer Hal Willner for a live record; her band will include electric guitarist and multi-instrumentalist Doug Wieselman, bassist Brad Albetta and pianist Thomas Bartlett (aka Doveman - who's got his own show Thurday, June 18th at Le Poisson Rouge with Sam Amidon and members of the National).
A very special evening of dance and music that will feature a world premiere by choreographer Christopher Wheeldon, set to new music by Martha Wainwright, both commissioned by City Parks Foundation.
Finally, out in Long Island near the end of the summer Martha will play the The Watermill Center in Watermill, NY on August 29th with brother Rufus and Norah Jones, who'll sing together for the first time. Martha will play songs from her Edith Piaf project. Tickets are on sale.
Videos of Martha doing her Edith Piaf thing, with all tour dates and "A Not So Silent Night" poster, below...

Martha Wainwright Adieu Mon Coeur (Edith Piaf Song) at Vicar Street Dublin, 05.26.08

Martha Wainwright and Doug Weiselman do Piaf

Martha Wainwright - 2009 Tour Dates
14 Jun - Dixon Place New York, NY USA Martha Sings Piaf
15 Jun - Dixon Place New York, NY USA Martha Sings Piaf
18 Jun - Teatro Zarautz, ESP
19 Jun - Teatre Canovas Malaga, ESP
20 Jun - Teatro Central Sevilla, ESP
21 Jun - Teatre Alhambra Granada, ESP
28 Jun - The Plazey Brussels, BEL
08 Jul - Birds Hill Provincial Park Winnipeg, MB CAN Winnipeg Folk Festival
16 Jul - Castle Clinton National Monument New York, NY USA "Its a Family Affair"
05 Aug - Théâtre Maisonneuve Montreal, QC CAN Les FrancoFolies de Montréal
14 Aug - Central Park SummerStage New York, NY USA #
17 Aug - Cape Cinema Dennis, MA USA
29 Aug - The Watermill Center Watermill, NY USA Watermill Concert 2009 $
09 Dec - Royal Albert Hall London, GBR A Not So Silent Night
# w/ Morphoses/The Wheeldon Company
$ w/ Martha, Rufus & Norah Jones