Mastodon were on Games of Thrones tonight (here's photos)
Did you recognize the members of Mastodon on Game of Thrones tonight?!? If you don't want any spoilers, don't click below...

---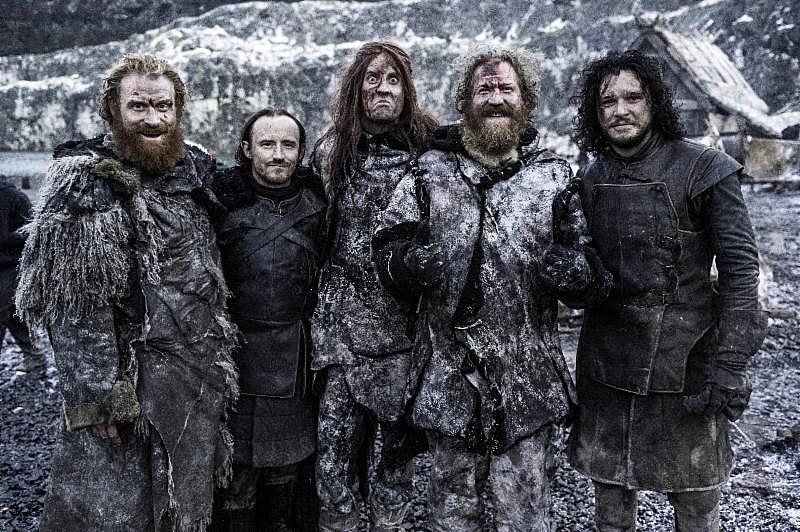 Mastodon were featured on tonight's episode of HBO's smash TV phenomenon Game of Thrones. Band members Brann Dailor, Bill Kelliher, and Brent Hinds portrayed wildlings in the episode "Hardhome" that premiered Sunday, May 31st at 9 p.m. with multiple repeat showings during the week. Broadcast details are listed below. Please check local listings for further details of go to: http://www.hbo.com/game-of-thrones#/

The band was personally invited to participate by members of the show's creator and executive producer, Dan Weiss, as well as the other executive producers, who are all fans of the band. The scenes were filmed on location in Belfast, Northern Ireland, and the band also got to visit the sets at Titanic Studios. As huge Game of Thrones fans themselves, Mastodon's Brann Dailor describes their time Beyond the Wall: It was such an incredible experience to be on set as extras for our collective favorite show Game Of Thrones and to be wildlings murdered and then brought back to life by White Walkers was beyond amazing. I watched my best friends Brent and Bill, murdered right in front of me as I myself was stabbed in the stomach and had my throat slit multiple times, and I didn't mind at all. It made me love being in Mastodon even more. We are more than privileged and honored to have been a part of one of the greatest stories ever told on film, and the catering wasn't bad either.

"Hardhome" Arya makes progress in her training. Sansa confronts an old friend. Cersei (Lena Headey) struggles. Jon travels. Written by David Benioff & D.B. Weiss; directed by Miguel Sapochnik. The executive producers of GAME OF THRONES are David Benioff, D.B. Weiss, Carolyn Strauss, Frank Doelger and Bernadette Caulfield; co-executive producers, Guymon Casady, Vince Gerardis and George R.R. Martin; producers, Chris Newman, Greg Spence, Lisa McAtackney and Bryan Cogman.
Debut: SUNDAY, MAY 31 (9:00-10:00 p.m.)
Other HBO playdates: May 31 (11:30 p.m., 2:00 a.m.) and June 1 (11:35 p.m.), 2 (9:00 p.m.,
2:45 a.m.), 3 (12:30 a.m.), 4 (10:00 p.m.), 5 (9:00 p.m.), 6 (12:45 a.m.) and 12 (8:00 p.m.)
HBO2 playdates: June 1 (9:00 p.m.), 5 (2:30 a.m.), 6 (4:45 p.m.), 7 (8:00 p.m.) and 14 (7:00 p.m.)

As previously announced, Mastodon are featured on THE GAME OF THRONES MIXTAPE, Catch the Throne: The Mixtape Vol. 2, with their new original song, "White Walker," which is available here: http://www.launchpointrecords.com/.

The Atlanta metal band will spend their summer overseas performing at all the major European and South American festivals, including Belgium's Pukkelpop, the prestigious Reading and Leeds in England, as well as the massive Rock in Rio festival in Brazil. They will also support Metallica for two shows in Russia. Please see below for of Mastodon's upcoming tour dates.
Mastodon -- 2015 Tour Dates
June 6 Houston, TX Free Press Summer Festival
June 10 Bologna, ITA Estragon
June 12 Nickesldorf, AUT Novarock
June 13 Zagreb, CRO Culture Factory
June 15 Geneva, SWI L'Usine
June 17 Nijmegen, HOL Doornroosje
June 19 Clissonm FRA Hellfest
June 20 Vitoria-Gasteiz, SPA Azkena Rock Festival
June 22 Pratteln, SWI Konzertfabrik Z7
June 24 Luxembourg, LUX Rockhal Club
June 26 Dublin, IRE Olympia
June 27 Cork, IRE The Savoy Theatre
June 28 Belfast, N. IRE Ulster Hall
July 1 Malmo, SWE KB Hall
July 2 Roskilde, DEN Roskilde Festival
July 3 Turku, FIN Ruisrock
Aug 7 Montreal, QC Heavy Montreal Fest
Aug 12 Oslo, NOR Oya Festival
Aug 14 Dinkelsbuehl, GER Summer Breeze Fest
Aug 15 Hamburg, GER Elb-Riot Festival
Aug 16 Dornbirn, AUT Bregenz Conrad Sohm
Aug 18 Cologne, GER Essigfabrik
Aug 19 Berlin, GER Lido
Aug 20 Charleville Mezieres, FRA Cabaret Vert
Aug 21 Hasselt, BEL Pukkelpop Shelter Marquee
Aug 25 St. Petersburg, RUS SKK Arena (w/ Metallica)
Aug 27 Moscow, RUS Olympysky (w/ Metallica)
Aug 29 Reading, ENG Reading Festival The Pit Stage
Aug 30 Leeds, ENG Leeds/Reading Festival The Pit Stage
Aug 31 Istanbul, TUR 100% Metal Headbangers
Sept 2 Thessaloniki, GRE Principal Theater Club
Sept 3 Athens, GRE Gazi Hall Entertainment Stage
Sept 5 Reykjavik, ICE Rokkjotnar Festival
Sept 25 Rio de Janeiro, BRA Rock in Rio Festival
Sept 27 Sao Paulo, BRA Anhembi (outdoor)
Sept 28 Santiago, CHI Comes Louder Festival