Matt & Kim & Girl Talk played a pre-hurricane U.S. Open party @ Terminal 5 (pics)
photos by Diana Wong
Girl Talk and tennis fans @ Terminal 5

"When New York lifts the curtain on the 2011 U.S. Open, a brilliant rivalry among an uncommonly gifted generation of men's tennis players will take center stage.
The chief protagonists: Roger Federer, at 30, fighting time and more physical foes in pursuit of a 17th major title; Rafael Nadal, whose victory last year completed a career Grand Slam; and Novak Djokovic, on track, with a 57-2 record, for the best season in the history of the men's game....
...But first comes a more daunting name: Hurricane Irene, whose strong winds and torrential rains are due to hit Long Island on Sunday, the day before the U.S. Open is scheduled to begin.
Tournament officials took the unprecedented step of canceling Arthur Ashe Kids' Day on Saturday and announced they'll shutter the Billie Jean King Tennis Center altogether on Sunday, scuttling the customary pre-event practice sessions and interviews. Meantime, New York Mayor Michael Bloomberg ordered an evacuation of the city's low-lying areas, and all Broadway shows were canceled for the weekend.
All told, it's an ominous beginning for the season's final major, which is scheduled to conclude on a somber note, with the men's championship to be contested on the 10th anniversary of the September 11 terrorist attacks. [Wall Street Journal]
After the earthquake, but before the hurricane, Girl Talk and Matt & Kim played a private U.S. Open party, sponsored by Heineken, at Terminal 5 (on Wednesday, August 24). Diana Wong was among those in attendance, and she took some pictures. They continue below...

--
Matt and Kim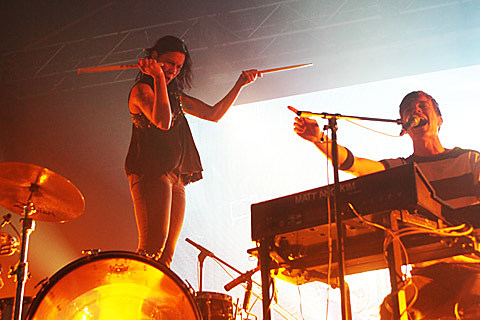 Girl Talk