Matt & Kim played 2 nights @ Webster Hall w/ the So So Glos & Donnis (pics & video )
photos by Jessica Amaya
"Matt & Kim shuttin it down!! @ Webster Hall" - Bryan Lam
"Matt and Kim concert. It's time to get crazy in NYC!" - Erik Segura
Despite their constant movement into the audience, onto their equipment and up the scaffolding that held up their light setup, Matt & Kim placed their instruments as close together as the 9:30 Club stage would allow. Their hyperactivity made Sleigh Bells look like slackers and the onstage chemistry was oh-so-cute -- except when it wasn't.
After a short time, it became clear that although Matt & Kim have released two albums and have material ready for a third, all of their songs are pretty much variations on their big hits, "Yea Yeah" and "It's a Fact." All have loud and fast drumbeats, loud and fast keyboards and loud and fast keyboards -- usually with the same chord progressions. But in case anyone got sick of hearing the same "BLAM BLAM BLAM BLAM BLAM" over and over again, Matt & Kim broke up their own set with samples from stadium staples like Biz Markie's "Just a Friend" and DJ Kool's "Let Me Clear My Throat." Adding the jock jams seemed appropriate given that Matt Johnson kept breathing heavily between songs, as if constantly between sprints. The band's bright light setup also added to the illusion that we were really at some overstimulating pep rally. -[DCist]
The above quote comes from Matt & Kim's DC show which took place on 10/22 at 9:30 Club, a few days before the band began its two day reign at the 1400+ capacity Webster Hall (where will they headline next? Terminal 5?) with The So So Glos and Donnis (10/26 and 10/27). The pictures in this post are from the 2nd show, where, as usual, the kids ate it up, and just generally went nuts. Not news, but Matt & Kim's days of ruling the DIY Todd P scene are a thing of the past. Their choice of The So So Glos, who helped found the now-closed Market Hotel, as opener was one reminder though, of their pre-VMA/mega-sponsored life.
Matt & Kim's spunky NYC run is over (they're in Rochester tonight) (all dates below), but The So So Glos have another date in town tonight (10/28): they play a free show at Matchless with Titus Andronicus.
Matt & Kim's new album Sidewalks is out 11/2 (iTunes). "Matt and Kim fans around the country have been busy creating art on these postcards, distributed at festivals over the Summer, and sending them into m and k headquarters." Those postcards were compiled into a promotional video which you can watch under the rest of the pictures and videos from Webster Hall, and other stuff, below...


Donnis
The So So Glos
Matt & Kim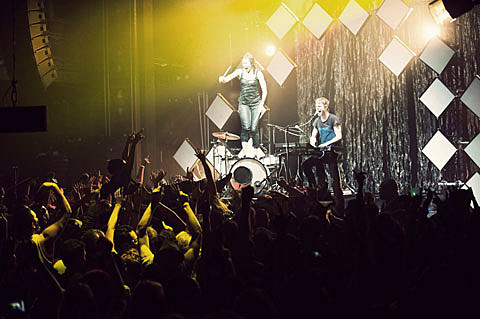 Matt & Kim - Daylight@ Webster Hall 10/27/10


Matt & Kim "Grand" - Webster Hall 10/26/2010

Matt & Kim on Last Call w/ Carson Daly

Matt and Kim: Cameras Postcard Slideshow

MATT & KIM - 2010 TOUR DATES
Thu 10/28/10 The Club at Water Street Music Hall Rochester NY
Fri 10/29/10 Phoenix Concert Theatre Toronto ON
Sat 10/30/10 Le National Montreal QC
Sun 10/31/10 Northern Lights Clifton Park NY
Tue 11/02/10 Higher Ground South Burlington VT
Wed 11/03/10 Port City Music Hall Portland ME
Thu 11/04/10 House of Blues Boston MA
Fri 11/05/10 Toads Place New Haven CT
Sat 11/06/10 Pearl Street Nightclub Northampton MA
Sun 11/07/10 The Met, Pawtucket, RI