Mavis Staples recruits Nick Cave, Neko Case, Justin Vernon & more to write songs on new M Ward-produced LP (listen)
photo: Mavis Staples @ Farm Aid 2015 (more by James Richards IV)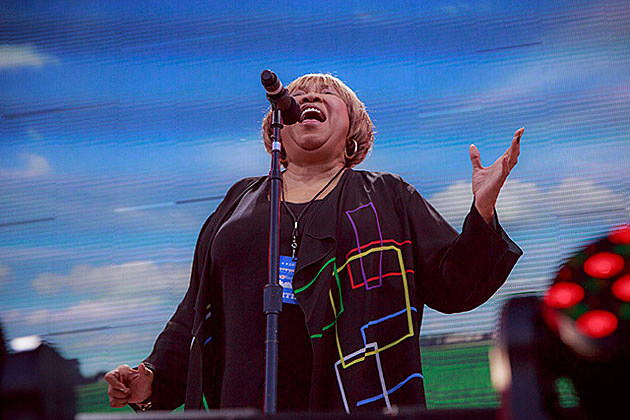 Soul great Mavis Staples' new album is titled Livin' on a High Note and will be out February 19 via Anti. It was produced by M. Ward (you may remember Jeff Tweedy produced her last two) and features original songs by Nick Cave, Neko Case, Ben Harper, Justin Vernon, tUnE-yArDs, Valerie June and others. Says Mavis:
I've been singing my freedom songs and I wanted to stretch out and sing some songs that were new. I told the writers I was looking for some joyful songs. I want to leave something to lift people up; I'm so busy making people cry, not from sadness, but I'm always telling a part of history that brought us down and I'm trying to bring us back up. These songwriters gave me a challenge. They gave me that feeling of, 'Hey, I can hang! I can still do this!' There's a variety, and it makes me feel refreshed and brand new. Just like Benjamin Booker wrote on the opening track, 'I got friends and I got love around me, I got people, the people who love me.' I'm living on a high note, I'm above the clouds. I'm just so grateful. I must be the happiest old girl in the world. Yes, indeed.
You can listen to "High Note" (written by Valerie June) and check out album art and tracklist, below.
Mavis, who'll play this year's Coachella, has other tour dates coming up, too. Nothing in NYC as of now (Upstate NY is as close as she comes, currently) but all are listed below...

---
Mavis Staples - Livin' on a High Note tracklist
Take Us Back (Benjamin Booker)
Love And Trust (Ben Harper)
If It's A Light (The Head & The Heart)
Action (Tune-Yards)
High Note (Valerie June)
Don't Cry (M Ward)
Tomorrow (Aloe Blacc/John Batiste)
Dedicated (Justin Vernon/M Ward)
History Now (Neko Case)
One Love (Son Little)
Jesus Lay Down Beside Me (Nick Cave)
MLK Song (M Ward/ Martin Luther King)
Mavis Staples - 2015 Tour Dates
Jan 29 Paramount Theatre Rutland, VT
Jan 30 Corning Museum of Glass Corning, NY
Feb 05 Center for the Humanities and Arts North Little Rock, AR
Mar 04 Kessler Theater Dallas, TX
Mar 05 Kessler Theater Dallas, TX
Mar 08 Tobin Center for the Performing Arts San Antonio, TX
Mar 10 Holland Performing Arts Center Omaha, NE
Mar 12 Walton Arts Center Fayetteville, AR
Mar 13 Kauffman Center for the Performing Arts Kansas City, MO
Apr 08 Berks Jazz Fest Reading, PA
Apr 15 Coachella Indio, CA
Apr 22 Coachella Indio, CA
May 06 Kravis Center West Palm Beach, FL
May 08 Lyric Theatre Birmingham, AL