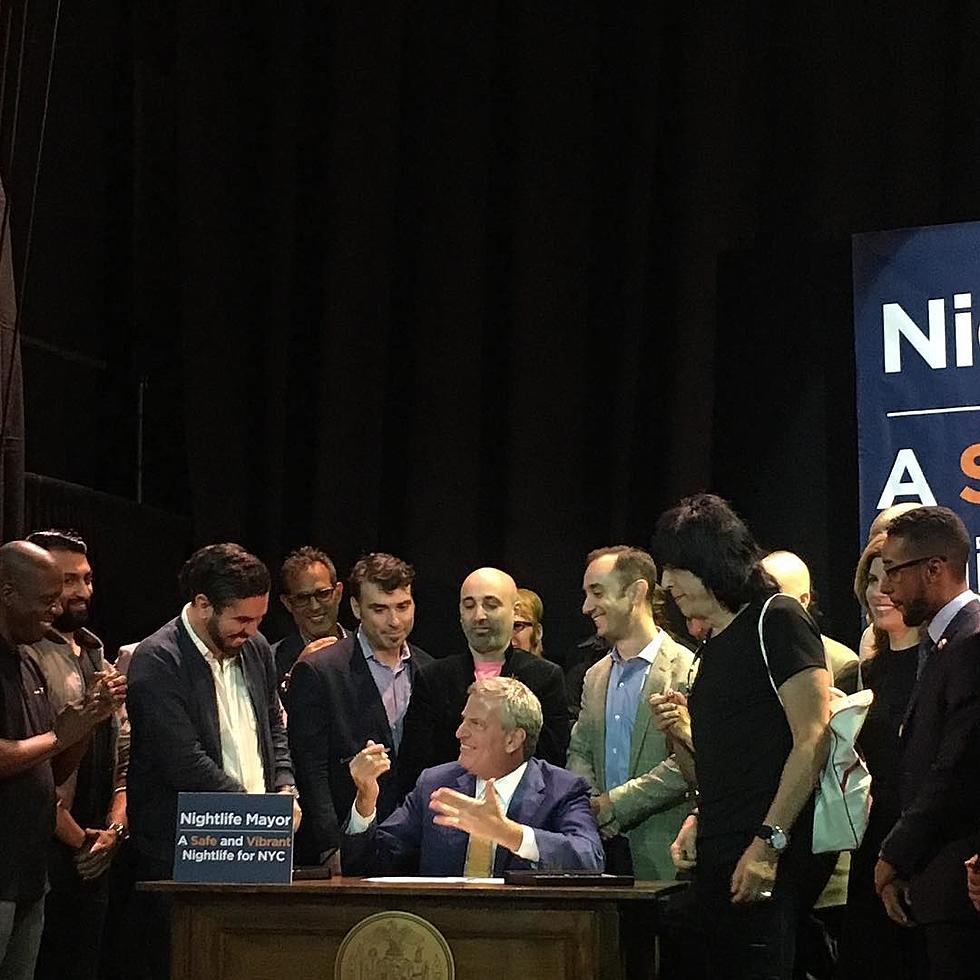 Mayor de Blasio signed NYC Office of Nightlife bill at House of Yes
Marky Ramone and others watch the Mayor sign the Nightlife bill (photo: @secretprojecthappyflowers)
Mayor Bill de Blasio was at Bushwick venue House of Yes on Tuesday night (9/19) to sign the bill that officially creates the NYC Office of Nightlife, with a 12-member committee headed by the Night Mayor. "The office will be led -- I'm not going to announce any names yet, there is a massive competition going in -- but the office will be led by someone who undoubtedly will be more popular than me and will wield tremendous power: the nightlife mayor," de Blasio said.
In attendance for the ceremony were jazz musician Ron Carter and Ramones' drummer Marky Ramone. "The punk movement was tremendously important and spoke to my heart and so many of the hearts of people around me," de Blasio said. The setting seemed appropriate too: House of Yes, which hosts burlesque and dance parties, is a onetime DIY venue that went legit. "This is absolutely surreal to have the mayor getting ready in our dressing room getting ready, and to have cops in the house and to have government people and DJs and circus freaks and people who party for a living all in one place," Anya Sapozhnikova of House of Yes told The NY Daily News. "Why should it be so surreal to have the arts and culture capital of the world be in support of the space that make this kind of art and culture?"
Councilman Rafael Espinal, who introduced the bill as well as the one to repeal NYC's outdated cabaret law, said "New York City right now is really at a crossroads. We have lost all of the iconic and diverse venues to corporate entities which in turn homogenize the industry and expect you to pay expensive cover charges and drop hundreds of dollars on bottle service," specifically cited the closings of Glasslands and Shea Stadium as inspiration for the bill.
Gothamist spoke to Todd P at the ceremony, who said, "I think there's a necessity for the city, on an institutional level, to endorse the fact that nightlife is important, even if that endorsement may be by definition lip service. The reality is this is a city with a lot of moving parts in the way regulation works, so for folks that are carrying out enforcement to see the mayor supporting us has real consequences. We had the mayor three feet from Espinal while he shouted out Shea Stadium and 285 Kent and Death by Audio — places that had to operate in an underground way because of the city's regulations. It doesn't change everything, but it's a good first step."
As The Mayor noted, they have not appointed anyone to the Nightlife Comittee, or named Night Mayor as of yet. Stay tuned.