Mazzy Star reunion megapost – they played 6 shows in California (videos, bootlegs, setlists, pics, dates & more)
Mazzy Star/Hope Sandoval @ Coachella Week 2 (more by David Andrako)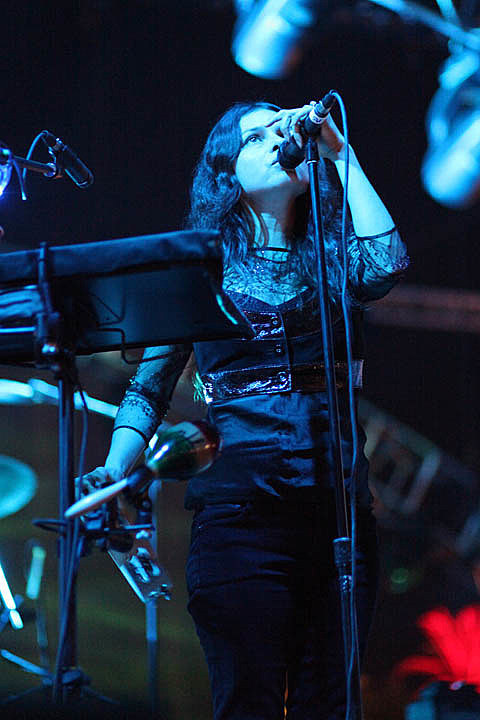 One of my all time most anticipated reunions happened earlier this month when Mazzy Star (a band, not a person) once again took the stage six times across California (two of those times were Coachella). The touring continues this summer with a few select shows and festivals in Europe - Oya, Primavera Sound, Field Day, Optimus Alive, and Way Out West included. All dates are listed below. While we patiently await for more North American dates to be announced, let's recap what the reunion has looked (and sounded) like so far.
To quote Wikipedia, "On October 12, 2011, [it was] confirmed the duo would release their first new material in fifteen years later that same month. The double a-sided single 'Common Burn/'Lay Myself Down' was released digitally on October 31, 2011. A limited edition blue-coloured 7" vinyl was also announced for release on November 8, though a manufacturing delay resulted in its release being pushed back to January 24, 2012. Their fourth studio album is expected to be released in the latter half of 2012, following completion of a tour earlier in the year."
The first live show was April 6th in Petaluma, CA, and the live lineup for all six shows has been primary Mazzy Star writer, producer and band member David Roback along with vocalist Hope Sandoval, original keyboardist Suki Ewers, original drummer Keith Mitchell, and two more touring musicians playing bass and guitar: Paul McQuillan and Colm Ó Cíosóig. You also know Colm as the drummer of My Bloody Valentine and 1/2 of Hope Sandoval & the Warm Inventions (who were active again in 2009 and 2010).
The setlists were very similar at all the shows and ranged between 9 songs (Coachella week one) to 12 songs (Sacramento and Santa Cruz). The setlists included new/unreleased songs "Spoon" and "Flyin' Low", and every show got hit song "Fade Into You". Check out the exact setlists below.
Audio, video and pictures of the shows have been popping up, and I compiled a lot of it in this post too. Previously posted week 2 Coachella pics are HERE and week 1 Coachella pics are HERE. The rest, including bootleg links, full videos, the setlists and tour dates, below...

--
tote bag merch from reunion show (via)

4/6 marquee (via)

4/6 setlist (via)

4/6 setlist (via)

4/6/2012 Mystic Theatre, Petaluma - setlist
Disappear
Blue Flower
Common Burn
She Hangs Brightly
Ghost Highway
Ride It On
Spoon
Fade Into You
Lay Myself Down
Flyin Low
-------------
Into Dust (on setlist, but not played)
So Tonight I Might See
4/7 Harlows Restaurant & Night Club : Sacramento - setlist
Disappear
Blue Flower
Common Burn
She Hangs Brightly
Ghost Hwy
Ride It On
Spoon
Fade Into You
Lay Myself Down
Flyin Low
-------------
Into Dust (on setlist, but not played)
Look On Down Through The Bridge (not on setlist, but played)
So Tonight I Might See
--
4/10 setlist (via)

M-S 4/10/12 Coconut Grove ballroom, Santa Cruz, CA video

MAZZY STAR -"Disappear" live 4/10/12

MAZZY STAR - "Fade Into You" live 4/10/12

4/10 Coconut Grove : Santa Cruz - setlist
Disappear
Blue Flower
Common Burn
She Hangs Brightly
Ghost Highway
Ride It On
Spoon
Fade Into You
Lay Myself Down
Flyin' Low
---
Look On Down From the Bridge
So Tonight I Might See
--
--
4/11 The Regency Ballroom: San Francisco - setlist uknown
(probably the same as the 4/10 show)
---
4/11 poster

4/11 bill (via)

4/11 ticket (via)

Mazzy Star - Regency Ballroom - She Hangs Brightly - 4/11

mazzy star - spoon - 4/11

Mazzy Star -- FULL COACHELLA SET VIDEO - April 13, 2012 (from stream)

Mazzy Star @ Coachella Week 1 (more by Dana (distortion) Yavin)

Coachella Week 1 - April 13, 2012 setlist
Disappear
Blue Flower
Common Burn (they didn't play this Cocahella week 2)
She Hangs Brightly
Ghost Highway
Fade Into You
Lay Myself Down
Flyin' Low
So Tonight That I Might See
--
Mazzy Star - So Tonight That I Might See, Live From Coachella, April 20, 2012

Mazzy Star - Lay Myself Down, Live From Coachella, April 20, 2012

Mazzy Star - Blue Flower, Live From Coachella, April 20, 2012

Mazzy Star 'Halah' Coachella Week 2 (the only show they played this)

Coachella Week 2 - April 20, 2012 - setlist
Disappear
Blue Flower
Halah (not sure where in the setlist this goes)
She Hangs Brightly
Ghost Highway
Fade Into You
Lay Myself Down
Flyin' Low
Look On Down From the Bridge (not sure where in the setlist this goes)
So Tonight That I Might See
--
--
Mazzy Star -- 2012 Tour Dates so far
April 6, 2012 Petaluma United States McNear's Mystic Theatre
April 7, 2012 Sacramento Harlow's Restaurant & Night Club
April 10, 2012 Santa Cruz Cocoanut Grove Ballroom
April 11, 2012 San Francisco The Regency Ballroom
April 13, 2012 Indio Coachella Music Festival
April 20, 2012 Indio Coachella Music Festival
May 31, 2012 Barcelona Spain Primavera Sound Festival
June 2, 2012 London United Kingdom Field Day Festival
June 3, 2012 O2 Shepherds Bush Empire
June 4, 2012 Dublin Ireland Forbidden Fruit Festival
July 15, 2012 Oeiras Portugal Optimus Alive! Festival
July 18, 2012 Zürich Switzerland Rote Fabrik / Am See
August 8, 2012 Oslo Norway Øyafestivalen
August 9-12, 2012 Gothenberg Sweden Way Out West Festival
---