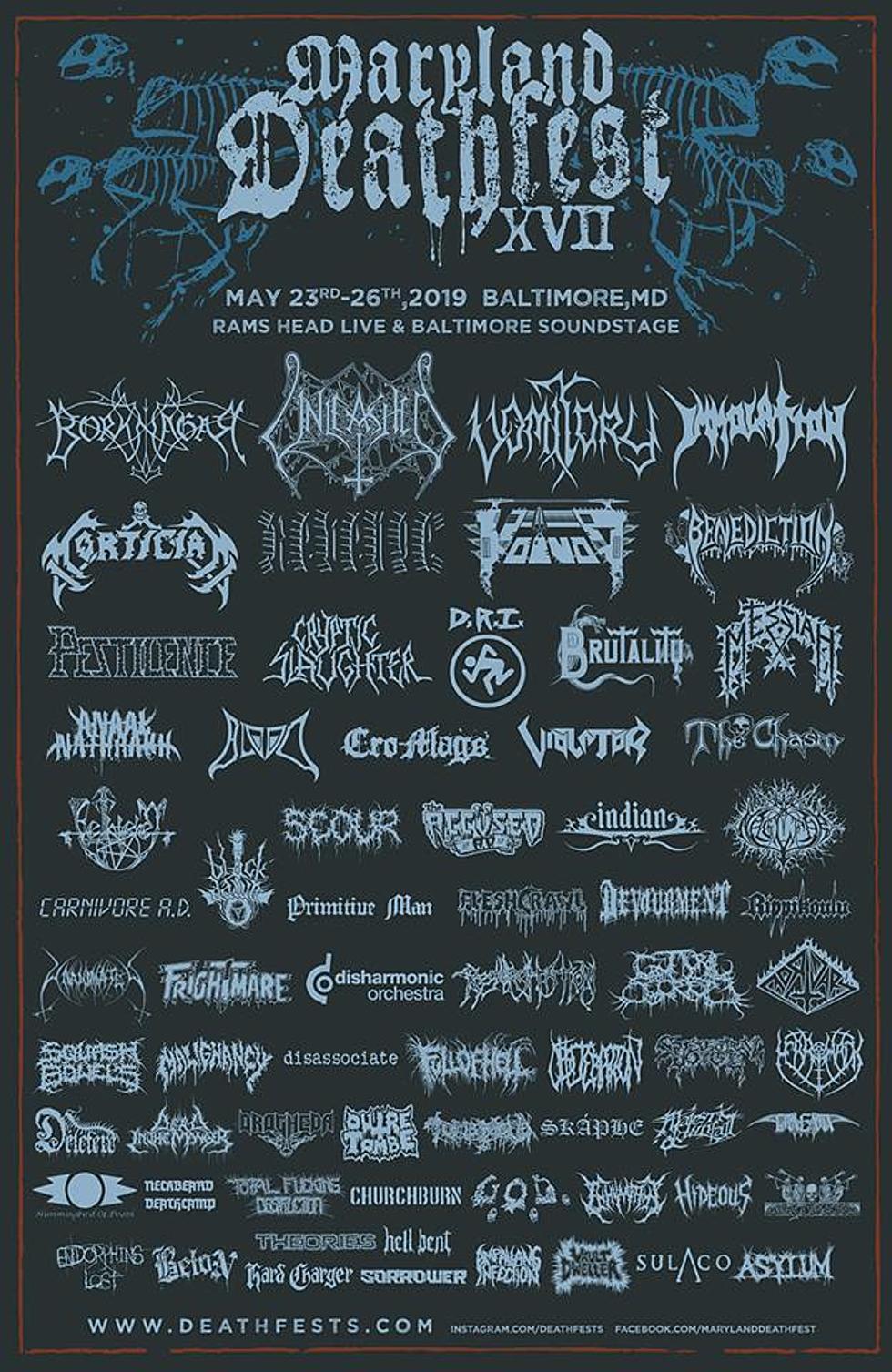 MDF 2019 adds Borknagar, Voivod, Anaal Nathrakh, Revenge, Spectral Voice, more
Maryland Deathfest 2019 has once again added more bands to its lineup, including the first U.S. appearance by Norway's Borknagar since 1999 (and an exclusive one), plus Sweden's Unleashed (exclusive U.S. appearance), UK's Benedicton (exclusive U.S. appearance), Voivod, Revenge, Anaal Nathrakh, Accused A.D., Primitive Man, True Black Dawn, Spectral Voice, Merrimack, Churchburn, Délétère, Hummingbird of Death, Majestic Downfall, Neckbeard, Deathcamp, Ordeals, Inhumation, Theories, Endorphins Lost, and Asylum.
The new additions join previously announced names like Cryptic Slaughter, Total Fucking Destruction, Bethlehem, Cro-Mags, D.R.I., Full of Hell, Immolation, Indian, Scour, The Chasm, Tomb Mold, and more, and there's still more TBA.
Tickets are still available. Updated lineup below.
Maryland Deathfest 2019 Lineup
NEW ADDITIONS
Borknagar (Norway) - Exclusive U.S. appearance! First time in the U.S. since 1999
Unleashed (Sweden) - Exclusive U.S. appearance!
Voivod (Canada)
Benediction (UK) - Exclusive U.S. appearance!
Revenge (Canada)
Anaal Nathrakh (UK)
Accused A.D.
Primitive Man
True Black Dawn
Spectral Voice
Merrimack (France)
Churchburn
Délétère (Canada)
Hummingbird of Death
Majestic Downfall
Neckbeard Deathcamp
Ordeals
Inhumation
Theories
Endorphins Lost
Asylum
PREVIOUSLY ANNOUNCED
Ampallang Infection
Bethlehem (Germany)
Beton (Slovakia)
Blood (Germany)
Brutality
Carnivore A.D.
The Chasm
Cro-Mags
Cryptic Slaughter
Daeva
Dead in the Manger
Devourment
Disassociate
Disharmonic Orchestra (Austria)
D.R.I.
Drogheda
Fleshcrawl (Germany)
Frightmare
Full of Hell
Grotesque Organ Defilement (Canada)
Guttural Secrete
Hard Charger (Canada)
Hell Bent
Hideous
Immolation
Indian
Malignancy
Messiah (Switzerland)
Mortician
Mortuary (Mexico)
Naglfar (Sweden)
Obliteration (Norway)
Outre-Tomb (Canada)
Pestilence (Netherlands)
Regurgitation
Rippikoulu (Finland)
Scour
Skaphe
Sorrower
Squash Bowels (Poland)
Sulaco
Tomb Mold (Canada)
Total Fucking Destruction
Unanimated (Sweden)
Vault Dweller
Violator (Brazil)
Vomitory (Sweden)