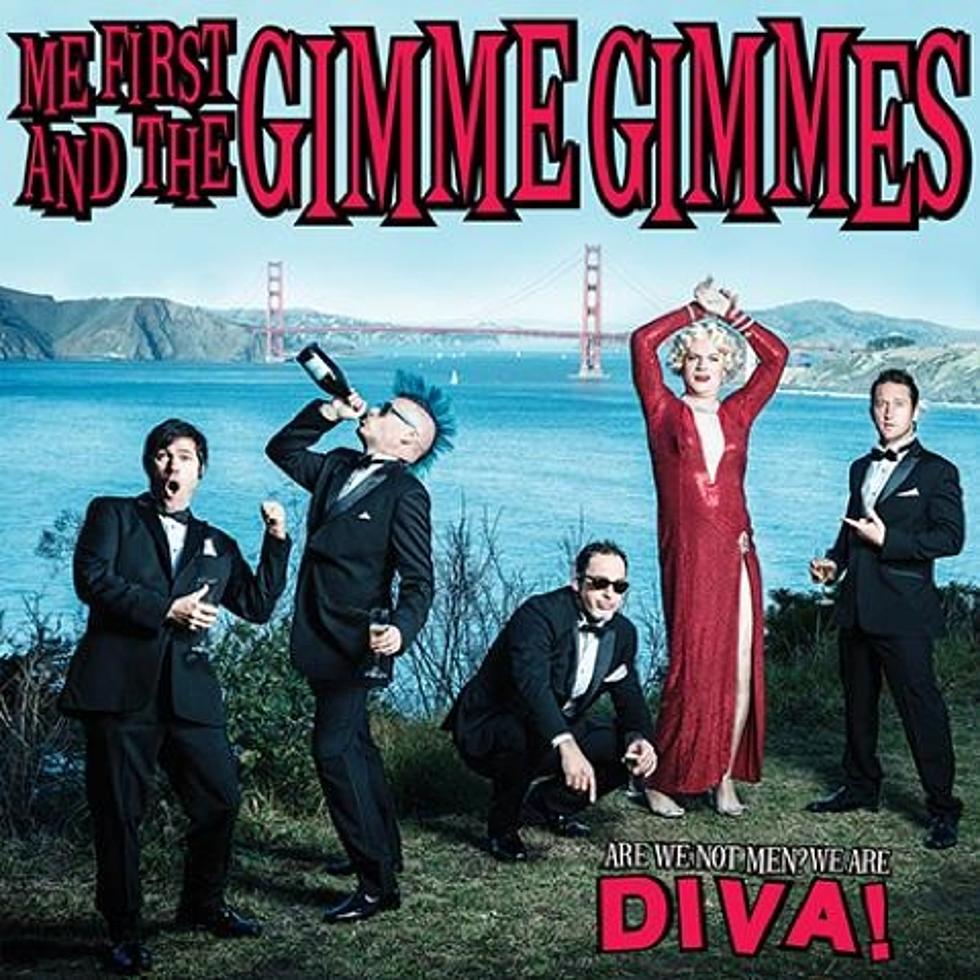 Me First and the Gimme Gimmes cover Christina Aguilera's "Beautiful" on 'Are We Not Men? We Are Diva!' (listen)
There's nothing quite like punk covers of pop songs, and considering the Punk Goes Pop series has pretty much evolved (or devolved?) into "pop covers of pop songs," it's a good thing that punk covers supergroup Me First and the Gimme Gimmes (Fat Mike of NOFX, Chris of Foo Fighters/No Use For a Name, Joey Cape/Dave of Lagwagon, Spike of Uke-Hunt/Swingin' Utters) are still kicking and doing it like they were in the '90s. Their newest album, with the Devo-referencing title of Are We Not Men? We Are Diva!, comes out on May 13 via Fat Mike's Fat Wreck Chords (pre-order) and takes on diva anthems like "I Will Survive," "My Heart Will Go On," Cher's "Believe" and more.
The album's first single was a cover of Paula Abdul's "Straight Up" and its newest single is a cover of Christina Aguilera's "Beautiful," which makes its premiere in this post. Here's what Joey Cape had to say about the cover:
Me First and The Gimme Gimmes always choose the music we cover by a sort of democratic process. Once we know the theme we plan to honor, in this case, Divas, we all submit songs that can translate from a cheesy or over-produced state to Punk Rock and maintain their depth and great melody. We always cover songs that one might consider to be guilty pleasures. "Beautiful" clearly fits the bill. It is a great song but not necessarily something a fan of any of our bands would even consider. Definitely one of my favorites on "Are We Not Men, We Are Diva". I'm just glad we have a singer that can pull these songs off. A lot of the female artist we covered on "Divas" are incredible vocalist'. Spike is too. He sings the songs so well, impressing musicians and punk fans alike. It's awesome to hear the contrast between our Pittsburgh native singer, his bravado and these previously recorded sweet and sometimes fragile melodies.
You can listen to both singles, with the album tracklist, below...

---
Me First and the Gimme Gimmes - "Beautiful" (Christina Aguilera)

Me First and the Gimme Gimmes - "Straight Up" (Paula Abdul)

Are We Not Men? We Are Diva! Tracklist:
1. I Will Survive (Gloria Gaynor)
2. Straight Up (Paula Abdul)
3. Believe (Cher)
4. Beautiful (Christina Aguilera)
5. My Heart Will Go On (Celine Dion)
6. I Will Always Love You (Dolly Parton)
7. Top of the World (The Carpenters)
8. Speechless (Lady Gaga)
9. Karma Chameleon (Culture Club)
10. Crazy for You (Madonna)
11. On the Radio (Donna Summer)
12. The Way We Were (Barbra Streisand)