Mean Jeans played Cake Shop (pics), playing 1st night of 'Larry Livermore' release party (at the Knit tonight)
Mean Jeans @ Cake Shop - 6/20/2012

The recently released The Thing That Ate Larry Livermore compilation release will be celebrated tonight (6/25) and tomorrow (6/26) at Knitting Factory in Brooklyn. The comp, out via Adeline Records (aka Billie Joe of Green Day's label), features sixteen bands in total. Larry Livermore, who co-founded Lookout! Records, compiled the album. Larry says:
When Billie Joe asked me to put together this compilation, my First reaction was to say, 'Absolutely not.' I was too busy with other projects, and besides, I'd been saying for years that I was done with the music business, that people should take me out and shoot me if I ever showed any sign of wanting to get back into it," said Livermore. "But then I realized that this was an opportunity to do for a whole new crop of bands what we'd been able to accomplish at Lookout back in the 80s and 90s, which was to bring exciting and passionate music to the attention of a public that might otherwise never get to hear it. Once I thought about it in that light, it was impossible to say no...

...I chose the bands using the same standards I used when I was at Lookout: I looked for those bands with a certain heart and soul that sets them apart from the literally thousands of run of the mill bands out there, the heart and soul that makes them capable of giving voice not just to their own ideals and visions, but to those of a generation.
Check out The Thing That Ate Larry Livermore cover art and tracklist at the bottom of this post. Ten of the bands on the comp will make an appearance at the Knit shows. The Copyrights, Dear Landlord, Night Birds, Dopamines, and Mean Jeans play tonight/Monday (tickets). Emily's Army, House Boat, Mixtapes, Lipstick Homicide, and City Mouse play tomorrow (tickets).
Mean Jeans is currently on tour supporting their recent Mean Jeans on Mars LP. The band swung through Cake Shop on June 20 alongside Hollywood, Liquor Store and Foster Care. Pictures of three of the four (we missed Hollywood) from that Manhattan show are below.

---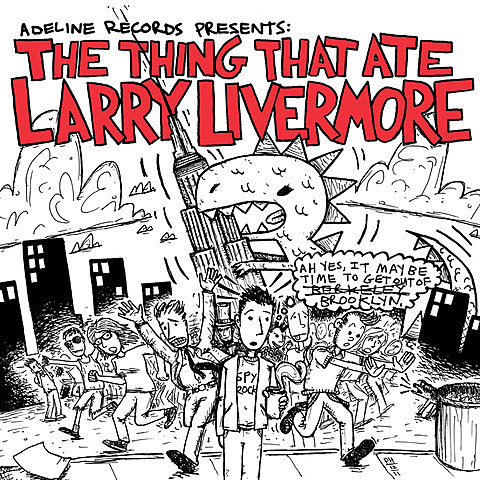 The Thing That Ate Larry Livermore tracklist
1. Dear Landlord - Walking Distance
2. Mixtapes - Right Where To Find Me
3. Lipstick Homicide - We'll Be OK
4. The Dopamines - Business Papers
5. House Boat - Love Song For The Reclusive
6. Vacation - No Mercy
7. The Max Levine Ensemble - Anthem For A New Morning After
8. Emily's Army - Good Looks
9. Weekend Dads - Forget It
10. City Mouse - One Good Night
11. Mean Jeans - Bad Dream
12. Be My Doppelganger - Disappointers
13. The Hextalls - My Dad And Me
14. Night Birds - Mr. Monday
15. The Copyrights - Prove Me Wrong
16. The Visitors - San Andreas