Megafaun's Phil Cook played Hopsotch, touring; watch a short documentary about his new album
photo: Phil Cook @ Hopscotch 2015 (more by Kenneth Bachor)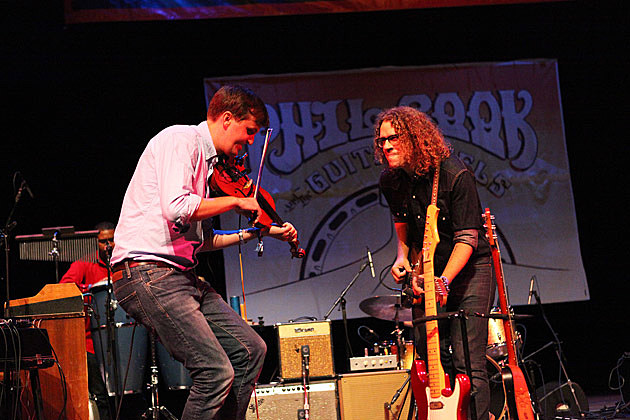 One of the shows we made sure not to miss at this year's Hopscotch Fest in North Carolina, was the all-local bill that featured Megafaun's Phil Cook and many others at Fletcher Opera Theater. It was the record release show for Phil's new solo album, Southland Mission, which is out now via Thirty Tigers. You saw the pics. One reviewer wrote:
I've seen Cook onstage dozens of times over the years, and the take-away memory is always the same: all the smiling faces alongside him. It does not seem to be possible to have a bad time playing music with Cook, who gives off a contagious sense of goofy joy.

Fronting an expanded ensemble including Sylvan Esso's Amelia Meath on backup vocals (and brother Brad on bass, of course), Cook preesented the ambitious roots-music travelogue that is "Southland Mission." The album evokes beer-soaked honky-tonks, folk-festival campgrounds, and even churches. When Cook stripped everything down to just voices and his guitar for some gospel singing, it was chill-inducingly beautiful.
Learn more about the process and collaborators that made the new album happen in the 20 minute documentary you can watch below.
Phil's next show is 9/23 at Rough Trade in Brooklyn. Tickets to that show, which fellow NC artist The Dead Tongues is opening, are still available, and all tour dates are listed below...

--

Phil Cook -- 2015 Tour Dates
9/23 New York, NY - Rough Trade NYC
9/25 Washington DC - DC9
10/3 Oslo, Norway - Opera House*
10/4 Goteborg, Sweden - Konserthuset*
10/5 Stockholm, Sweden - Cirkus*
10/6 Umea, Sweden - Idun*
10/8 Linkoping, Sweden - Crusell*
10/9 Falun, Sweden - Magasinet*
10/10 Aarhus, Denmark - Voxhall*
10/12 Cologne, Germany - E-Werk*
10/13 Berlin, Germany - Huxley's*
10/14 Vienna, Austria - Arena*
10/15 Milan, Italy - Alcatraz*
10/16 Zurich, Switzerland - Volkshaus*
10/17 Paris, France - La Bataclan*
10/19 London, UK - Roundhouse*
10/20 Glasgow, UK - O2 ABC*
10/21 Dublin, Ireland - Vicar Street*
10/23 Manchester, UK - Albert Hall*
10/24 Bexhill On Sea, UK - De La Warr*
10/25 Brussels, Belgium - AB*
10/27 Copenhagen, Denmark - Vega*
*with The Tallest Man on Earth