Melt-Banana, Brain Tentacles & Vaz played Saint Vitus (pics); Cleric released a new song (listen)
photos by Caroline Harrison; words by Doug Moore
Melt-Banana @ Saint Vitus - 11/1/13

Japanese noise-punk greats Melt-Banana hit Saint Vitus this past Friday (11/1) as part of their month-long North American tour. Brain Tentacles and Vaz provided support.
I missed the first two acts at this show because I was down at Grand Victory catching the opening date of Cleric's US tour, which was rad in its own right -- legendary avant-garde composer John Zorn showed up to support them, which is a rare sight indeed. It was a bummer for me nonetheless, because the openers for the Melt-Banana show were both great. Vaz, which features former members of Hammerhead, are as true-blue and badass as noise rock gets in 2013, and they kill live.
Brain Tentacles, meanwhile, is a noise/jam collaboration between Yakuza vocalist/saxophonist Bruce Lamont and Municipal Waste/Burnt By the Sun/Discordance Axis/Human Remains/Phantomsmasher/zillion-other-bands skinsman Dave Witte, who's one of my favorite drummers. Tombs frontman and occasional BV contributor Mike Hill joined them on bass for a song, too -- though he apparently had no prep time whatsoever and learned the tune in the Vitus basement before the show.
The circumstances surrounding Melt-Banana's set made me a little nervous beforehand. Though they're an unbelievably dynamic live act, they're touring this time around without a live rhythm section, instead playing to preset bass and drum tracks from a laptop. (I was hoping that Witte, who recorded an LP with Melt-Banana several years back, would hop by the kit for their set. No dice.) It rarely works out when really percussive rock acts like these guys play to programmed tracks, but their mixture of gear expertise and sheer spasmodic energy carried the day. Sole remaining members Yasuko Onuki and Ichirou Agata must be pushing 40, but they still bounce and flail around the stage like teenagers. Agata's noise licks are truly freakish; the unearthly sounds he wrenches out of his battered SG and huge pedal board are one-of-a-kind. Pictures of Melt-Banana's set (and both openers) are in this post.
Meanwhile, speaking of Cleric they just released a new song, "Resumption," which you can stream (via Decibel) below.
Vaz also just made a video for their song "Visiting Hours" off their LP of the same name. Check that out below as well. Vaz have a number of other upcoming dates, including another NYC show on December 8 at Baby's All Right. Tickets for that show are not on sale yet, but you can check Ticketfly for updates.
More pictures and some videos from Saint Vitus, along with the Cleric stream and Vaz video and dates, below...

---
Cleric - "Resumption"

Vaz - "Visiting Hours"

Vaz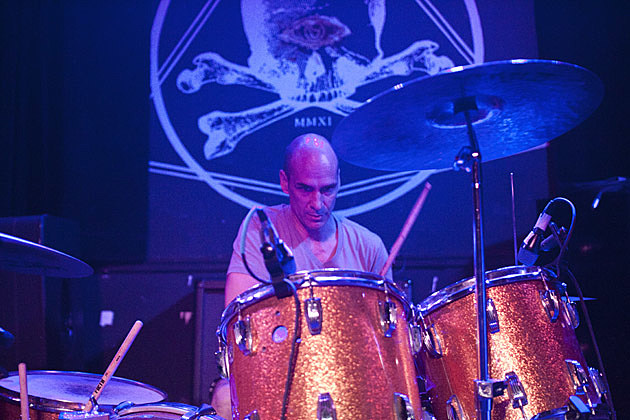 Brain Tentacles
Melt-Banana
Vaz -- 2013 Tour Dates
11.06 Chiacgo, IL - Permanent Records (early)
11.06 Chicago, IL - Township
11.07 Des Moines, IA - Underground Rock Shop
11.08 St. Paul, MN - Turf Club
11.09 Fargo, ND - The Aquarium
11.11 Missoula, MT - The Badlander
11.12 Seattle, WA - The Highline w/Glose, Great Goddamn, Burien
11.13 Portland, OR - The Know w/RABBITS, Prizehog
11.14 San Francisco, CA - The Knockout w/Burmese
11.15 Oakland, CA - Stork Club w/Prizehog
11.16 Davis, CA - Third Space Theory
11.17 Los Angeles, CA - Handbag Factory w/Big Business, Submissions (Album Release)
11.18 Los Angeles, CA - Vacation Vinyl
11.19 Tijuana, MX - Otras Obras
11.20 San Diego, CA - The Void
11.21 Tucson, AZ - Plush
11.22 Midland, TX - Pine Box
11.23 Austin, TX - Mohawk w/Rusted Shut, Sur, Shit & Shine
11.24 Denton, TX - Rubber Gloves w/Bludded Head
11.25 New Orleans, LA - Circle Bar
11.27 Atlanta, GA - 529
11.29 Chapel Hill, NC - Local 506
12.08 Brooklyn, NY - Baby's All Right
--