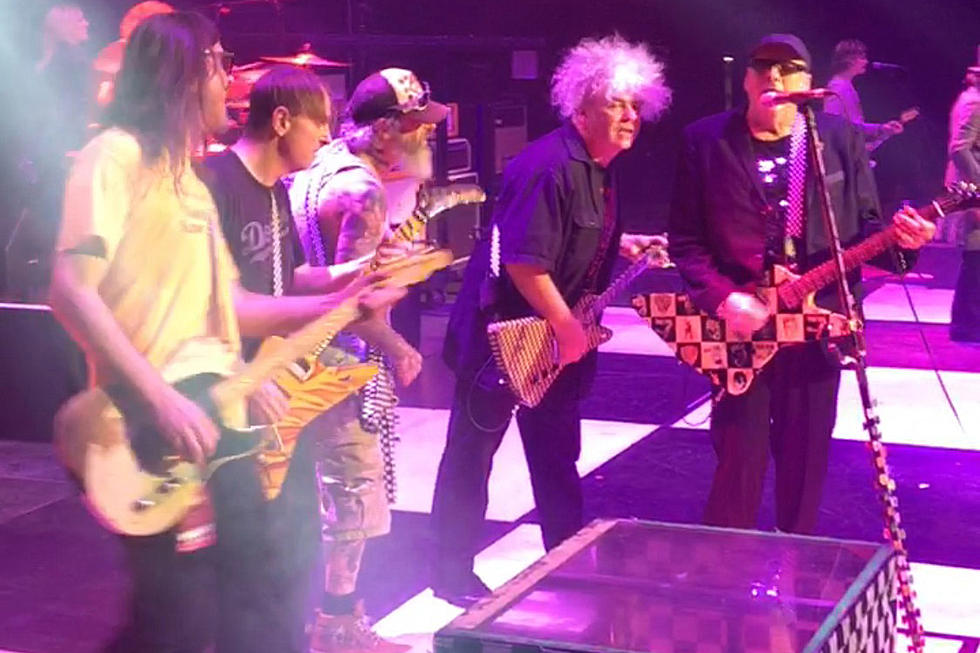 Melvins Tour Diary (part 3): joining Cheap Trick on stage, a Totally Nude mishap & more
You've seen part one and part two and now here's part three of the Melvins' ongoing tour diary that we're hosting here on BrooklynVegan. Check out the third tour diary installment in the gallery above.
Part 3 involves the Melvins joining Cheap Trick on stage when Cheap Trick's tour with Poison hit Kansas City the same night Melvins played there. Plus: a cute dog backstage in Louisville, White Castle for breakfast, a tequila shot to celebrate the birthday of one of their two current bassists, Steven McDonald, a life-size Elvis Presley, and, in Buzz Osborne's own words, "Jeff and Steven kicked out of Totally Nude for being totally nude. Talk about misunderstanding the instructions that were clearly posted ON THE OUTSIDE OF THE BUILDING!!"
See much more in the gallery above (complete with commentary from Buzz) and stay tuned for future installments of the tour diary. The Melvins are taking June off but their tour picks back up in July and continues through August, including an LA show with Boris. All remaining dates are listed below.
Watch Cheap Trick and the Melvins play "Surrender" together in Kansas City:
Melvins -- 2018 Tour Dates
July 12 Santa Ana, CA The Observatory
July 13 Los Angeles, CA Troubadour
July 14 Fresno, CA Strummer's
July 16 San Francisco, CA Great American Music Hall
July 17 Sacramento, CA Holy Diver
July 19 Seattle, WA Neumo's
July 20 Portland, OR Wonder Ballroom
July 21 Vancouver, BC Venue Nightclub
July 24 Edmonton, AB Union Hall
July 25 Calgary, AB Marquee Room
July 27 Winnipeg, MB Pyramid Cabaret
July 28 Fargo, ND The Aquarium (Dempsey's Upstairs)
July 29 Minneapolis, MN First Avenue
July 30 Madison, WI High Noon Saloon
July 31 Chicago, IL Park West
August 2 Grand Rapids, MI The Pyramid Scheme
August 3 Detroit, MI El Club
August 4 Columbus, OH A&R Music Bar
August 5 Indianapolis, IN The Vogue Theatre
August 6 Rock Island, IL Rock Island Brewing Company
August 7 Des Moines, IA Wooly's
August 8 Omaha, NE The Waiting Room
August 10 Englewood, CO Gothic Theatre
August 11 Ft. Collins, CO Aggie Theatre
August 13 Salt Lake City, UT Urban Lounge
August 14 Las Vegas, NV The Bunkhouse Saloon
August 16 Los Angeles, CA The Echo