members of Texas is the Reason, Knapsack, Samiam & more covering Dinosaur Jr.'s 'Where You Been' LP (stream a track)
Two different sections of the '90s underground, indie rock and emo, will be coming together with a new project called Felled Trees. The band is comprised of members of '90s emo bands Texas is the Reason, Samiam, Knapsack (plus newer bands like Thrice and RX Bandits) and more, and they've come together to record a tribute album to Dinosaur Jr.'s Where You Been for its 20th anniversary. The core lineup is bassist Ed Breckenridge (Thrice), guitarist Sergie Loobkoff (Samiam, Solea, Knapsack), and drummer/producer Roger Camero (No Motiv, Peace'd Out), and the album includes guest vocal appearances from Garrett Klahn (Texas is the Reason, Atlantic/Pacific, Solea), Jason Beebout (Samiam), Blair Sheehan (Knapsack, The Jealous Sound), Karl Larsson (Last Days of April), Davey Warsop (Suedehead, Beat Union), plus keys by Steve Choi (RX Bandits, Peace'd Out).
The first single released from the album was "Get Me" with Texas is the Reason's Garret Klahn on vocals, and the second is "Start Choppin" with Samiam's Jason Beebout on vocals, which makes its premiere in this post. It stays pretty true to the original and Jason's take on J Mascis' relaxed drawl totally captures his essence. In Jason's own words:
"Start Choppin" is rad because it is such an anthem, you can't help but sing along. Cruising through the verses with J Mascis, diggin the vibe and feeling awesome and then, like so many other good songs, when you get to the chorus there's that hard part that makes your voice crack and you are reminded that you are mortal and this band is great and you are thankful they were able to pull off such a sweet number.
And his Samiam bandmate Sergie Loobkoff added:
When 'Green Mind' came out, I was still hung up on the erroneous thought that Dinosaur had lost it or 'sold out' because a. it being on a, gasp, major label and that b. J squeezed out Murph on drums and 'some guy' replaced Lou. But in the few years that passed by the time "Where You Been' came out, I realized that J was the far superior drummer, Mike Johnson was an tasty bassist...and who cares what label a band is on?

So I put on 'Where You Been' and of course even just the opening lead of 'Out There' blew my mind. You'd think that it would be hard to match on the second song...but 'Start Choppin' was a motherfucker. The guitar riff has that feeling of familiarity...like I already knew it when I heard it for the first time. And the melody and lyrics were classic Mascis. If you relate to one of his songs...well, thematically there isn't a huge range of topics...you 'get' all of his songs.
The album comes out on October 15 via Siren Records, and it can be pre-ordered here. Check out the streams of "Start Choppin" and "Get Me," along with the album artwork and tracklist, below.
In related news, Knapsack bring their previously mentioned reunion tour to NYC on November 17 at Music Hall of Williamsburg with Have Mercy and I Hate Our Freedom. Tickets for that show are still available.
Song streams and more, below...

---
Felled Trees - "Start Choppin" (Jason Beebout of Samiam on vocals)

Felled Trees - "Get Me" (Garrett Klahn of Texas is the Reason on vocals)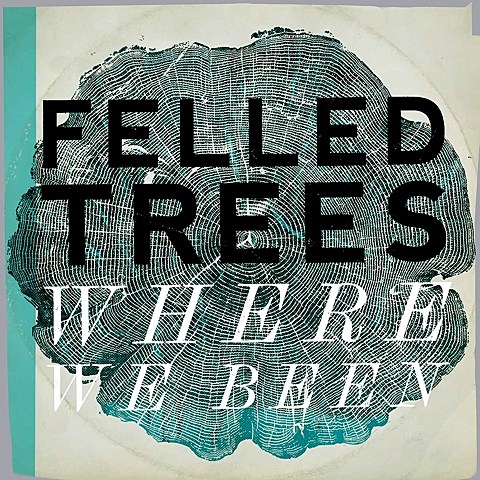 Tracklist:
1. Out There (feat. Karl Larsson, Last Days of April)
2. Start Choppin' (feat. Jason Beebout, Samiam)
3. What Else is New (feat. Garrett Klahn, Texas is the Reason)
4. On the Way (feat. Blair Sheehan, Knapsack/The Jealous Sound)
5. Not the Same (feat. Davey Warsop, Suedehead/Beat Union)
6. Get Me (feat. Garrett Klahn, Texas is the Reason)
7. Drawerings (feat. Karl Larsson, Last Days of April)
8. Hide (feat. Davey Warsop, Suedehead/Beat Union)
9. Goin' Home (feat. Jason Beebout, Samiam)
10. I Ain't Sayin (feat. Blair Sheehan, Knapsack/The Jealous Sound)