Memphis band Nots releasing debut album on Goner, touring, including two Brooklyn shows (dates, streams)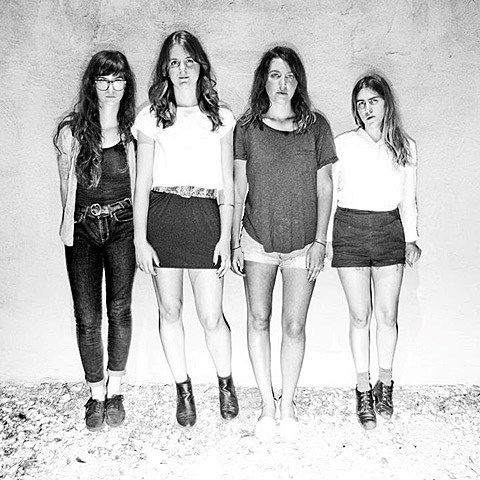 Memphis band Nots make blistering squall, indebted to DIY postpunk and the (Eddy) current Australian scene. Originally a project of Ex Cult's Natalie Hoffmann (guitar) and Charlotte Watson (drums), the band has since added Alexandra Eastburn on synths and bassist Madison Farmer (of Toxie and Coasting who just played a reunion gig at Death by Audio). The band's debut album, We Are Nots, is out next week (11/20) on Goner and is a 26-minute blast of shouty, hooky energy. You can stream the LP's "Decadence," plus a single from last year, below, and listen to the whole thing over at Pitchfork.
Nots play a hometown album release show this weekend which is the kickoff to their fall tour, which hits NYC on November 21 at "Brooklyn TBA" and then November 23 at Palisades with Degreaser, Ballroom and Cyanide Tooth. We haven't heard where the Brooklyn TBA date will be, but 11/21 is the penultimate night for Death by Audio, and, as mentioned, DbA has played host to related bands Ex Cult, Manatees, Coasting and Toxie in the past.
All dates for Nots are listed, along with song streams, below...

---
The Nots - 2014 Tour Dates
SAT 11/8 - Memphis, TN @ Buccaneer (tour kickoff show) w/ Black Abba and Buldgerz
TUE 11/11 - St. Louis, MO @ CBGB's
WED 11/12 - Kansas City, MO @ Minibar
THU 11/13 - Omaha, NE @ Sweatshop w/ Digital Leather, Coaxed
FRI 11/14 - Minneapolis, MN @ ShitBiscuit w/ Solid Attitude, Claps
SAT 11/15 - Madison, WI @ Turkey Fest w/ The Hussy, Digital Leather
SUN 11/16 - Milwaukee, WI @ Circle A w/ Olives
MON 11/17 - Chicago, IL @ Bric-A-Brac (in-store)
MON 11/17 - Chicago, IL @ Empty Bottle w/ Dream Police
TUE 11/18 - Indianapolis, IN @ Kismet w/ Raw McCartney
WED 11/19 - Detroit, MI @ Painted Lady (Timmy's Taco Night) w/ Feelings
THU 11/20 - Cleveland, OH @ Now That's Class w/ Obnox, Kill the Hippies
FRI 11/21 - Brooklyn, NY @ tBA
SAT 11-22 - New Brunswick, NJ @ TBA w/ pebbles (message us for the address)
SUN 11/23 - Jersey City, NJ - WFMU ON THE AIR
SUN 11/23 - Brooklyn, NY @ Palisades w/ Degreaser
MON 11/24 - Allie's Birthday!
TUE 11/25 - Philadelphia, PA @ Bourbon & Branch w/ Abandos
WED 11/26 - Baltimore, MD @ Windup Space
FRI 11/28 - Atlanta, GA @ 529 w/ Zoners, Slugga
SAT 11/29 - Oxford, MS @ Cats Purring Dude Ranch
MON 12/1 - Memphis, TN w/ Blind Shake