Metallica announcing a two-day NJ festival today?
UPDATE: It's true, and it's called Orion Music & More
Metallica @ Yankee Stadium in 2011 (more by Dana (distortion) Yavin)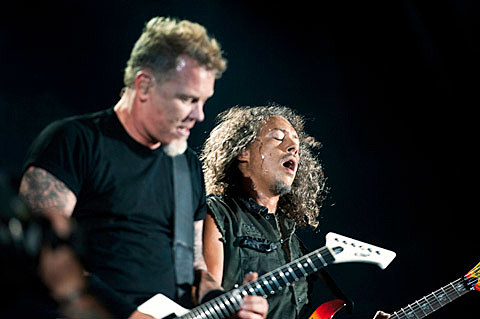 Metallica sent out a "Save the Date" on Friday. Along with the below video, it included this message:
WHO: Metallica
WHAT: Save The Date
WHEN: Tuesday, February 7th at 11:00 AM PST
WHERE: www.metallica.com
We'll know what that's all about at 2:00 PM EST, but if the Daily Swarm is to be believed (and I think they are):
METALLICA IS THROWING A TWO-DAY FESTIVAL IN ATLANTIC CITY THIS SUMMER...

What we do know: a two-day Metallica festival is set for June 22 & 23 in Atlantic City, and due to be announced this afternoon. Many bands are playing.

What we don't know: everything else. We will update as soon as we find out more information. An announcement is set for 2PM EST, today.
Stay tuned for more.
UPDATE: It's true, and it's called Orion Music & More
Look for clues in the "Save The Date" video below...

--
Metallica Save the Date