Metallica played the Apollo for SiriusXM (and Howard Stern) & Yankee Stadium (again) — pics, review, videos, setlist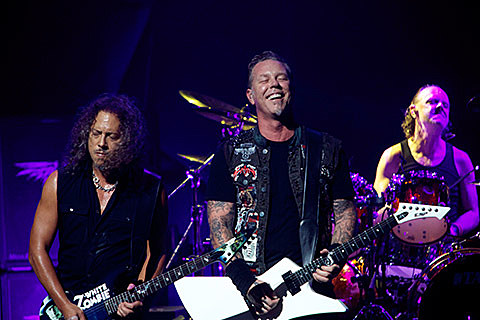 I hope someone's figured out time travel at this point, because I need to hightail it back to the mid-nineties and high five ten-year-old me--space-time continuum be damned. Seeing Metallica would have been cool as hell then, but seeing them in a venue like the 1,500 cap Apollo would have had me more amped than clearing out a pantry-full of Squeezits.
Metallica played the Apollo Theater Saturday night (9/21) for a Sirius XM sponsored show, a celebration of the new limited-run Sirius XM (9/13-10/6) Mandatory Metallica channel and part of the continuing drumroll for the forthcoming action/concert IMAX 3D movie Metallica Through the Never. That film and Metallica's trajectory over the past twenty years leaves many fans of classic Metallica shaking their heads, and for good reason. But one thing that was made abundantly clear at the Apollo was that Metallica still delivers one hell of a performance, and they know to lean on the early portion of their discography.
The crowd at the Apollo was mostly older, and there were a number of dads with their teenaged or younger sons. Those kids were lucky--they're unlikely to have the chance to see Metallica in a venue smaller than a stadium again. People were aware of that, and some Craigslisters were offering up to $600 for a ticket. Given that the tickets were given away to Sirius XM subscribers, it was a hell of a return for whoever decided to let theirs go.
Metallica opened the show, which aired live on Mandatory Metallica, the same way they opened Kill 'em All. "Hit the Lights" gave way to a classic back-to-back of "Master of Puppets" and "Ride the Lightning," and it was then, with Kirk Hammett masterfully soloing while Hetfield riffed-out and Lars pummeled the kit like, well, Lars, that it sunk in that Metallica was playing the same venue where James Brown and Etta James used to bring the house down--which, to be honest, is kind of weird. Hetfield even joked about it early on, after "Ride the Lightning," when he said, "I can't believe they're letting us play this place." Jokes aside, Metallica seemed genuinely proud to play the Apollo. Hetfield was beaming throughout, and the band looked like they were soaking it all in.
Metallica, if you haven't seen them live, sound great on stage. The songs from the band's early years are bigger and richer than the tinny production on the original albums--there's a whole lot of charm in those relatively lo-fi recordings, but the classics take on a different nature live. Though inevitably someone has gripes with some of the choices on the setlist at the Apollo it was, on the whole, pretty damn good. Sure, I may have gone for a beer when "The Day That Never Comes" off of Death Magnetic came on (and ran into a friend from another music website seizing the same opportunity), but hey, it gave me the opportunity to get a beer without missing something I really wanted to see.
The show was long--over two hours--and throughout the entire performance, Metallica didn't skip a beat. That's what almost 35 years of touring will get you. Inevitably, at the end of the set we got "Nothing Else Matters" and "Enter Sandman." The nearly half-hour encore, though, was back to basics--"Creeping Death," "Battery" and "Seek and Destroy." Full, fast and pummeling, Metallica sounded awesome in Harlem.
The next day (9/22), Metallica played "Enter Sandman," Yankees pitcher Mariano Rivera's entrance music, at Sunday's Yankees game to honor Rivera's retirement (not the first time they played Yankee Stadium). Video of that below.
Continuing their media blitz, Metallica played "One" and "Enter Sandman" on The Howard Stern Show on Sirius XM this morning (9/23). Howard was in attendance at the Apollo, and caused a minor sensation when he had to walk through a beer line to get to his seat.
More Apollo pictures, along with video and setlist from the show, the Yankee Stadium video, and a clip of "Master of Puppets" from Metallica's "Through the Never" movie, below...

---
Metallica - "Enter Sandman" at Yankee Stadium - 9/22/13

Metallica - "Seek and Destroy" at The Apollo - 9/21/13

Metallica - Master Of Puppets (Live)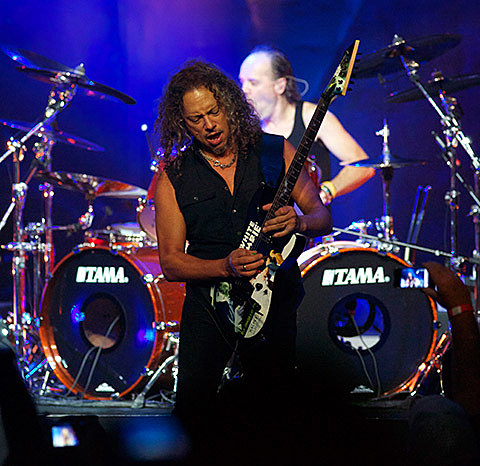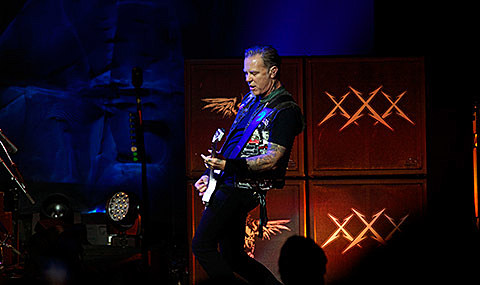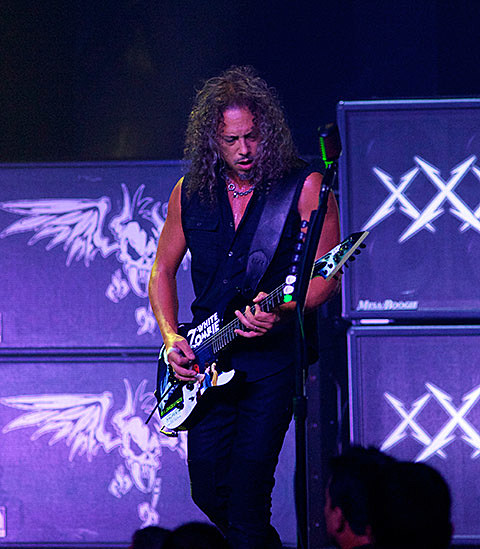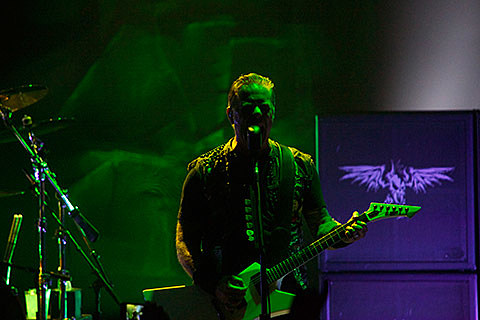 Metallica Setlist at the Apollo Theater
"Hit the Lights"
"Master of Puppets"
"Ride the Lightning"
"Harvester of Sorrow"
"The Day That Never Comes"
"The Memory Remains"
"Broken, Beat and Scarred"
"Welcome Home (Sanitarium)"
"Sad But True"
"Orion"
"One"
"For Whom the Bell Tolls"
"Blackened"
"Nothing Else Matters"
"Enter Sandman"
Encore
"Creeping Death"
"Battery"
"Seek and Destroy"