MFNW Day 3 in pics (The Horrors, Shabazz Palaces, Marketa Irglova & Iron & Wine)
photos by Autumn Andel
Shabazz Palaces / The Horrors

The Horrors took matters to another level of performance.. [utilizing] brooding electric grooves and jeering melodies. Forget the spidery androgynous demeanor and spazzy mannerisms - these guys bring it when it comes to live performance, pure and simple. Their new album is a solid piece of work, a considerable triumph over their previous and an exciting sampling of their continuing creative evolution.
The band opened with the first song off new album Skying, called "Changing The Rain," fearlessly putting their newest foot forward in a challenge to those hung up on the band's earlier sounds. We took the evolution in stride, however, as the British quintet delivered a solid performance that continually dipped into new material, finally concluding around the midnight hour with the new 80s throwback "Moving Further Away". [Crave Online]
Not many festivals can boast an appearance from both Marketa Irglova and Pig Destroyer in the same day. That's what day three (9/9) of MusicFestNW had to offer, with the Friday at the festival boasting a diverse lineup that featured both (in different venues, but still) as well as Iron & Wine, The Olivia Tremor Control, Shabazz Palaces, Wizard Rifle, MSTRKRFT, BOAT, and many, many others.
MFNW Day 2 pics HERE and HERE. Day 1 HERE. More pictures from day three, including shots of Marketa Irglova, Iron & Wine, Shabazz Palaces, and The Horrors, are below.

--
----
Marketa Irglova @ Pioneer Square main stage
Iron & Wine @ Pioneer Square main stage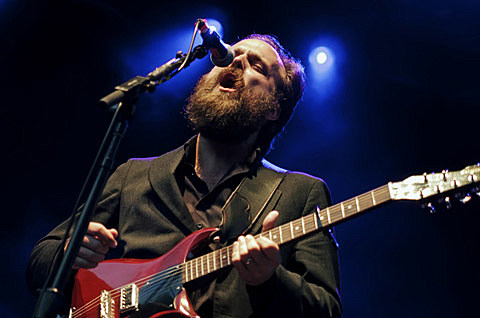 Shabazz Palaces atRoseland Theater
The Horrors at Dante's