MGMT, Kuroma & Suckers in Prospect Park – pics & video
Zen: stumble into MGMT bringing it live(!) while walking the hound. Brooklyn has a great soundtrack. - Doug Moore
MGMT, Suckers, and Kuroma played a big Brooklyn show together last night in Prospect Park (7/1). I listened to most of it while hanging out in the grass from outside the black, heavily guarded, tall, not-see-through fence (which was behind a 2nd, smaller fence which had lots of security guards behind it (aka people between the two fences) (there were also a LOT of police around).
The highlight of the show for me was at the very end when MGMT (a band who I generally don't like... especially live... but last night I thought sounded ok... lots of people having fun also = good...) started playing "Kids" and, as the crowd could be heard erupting in cheer on the inside, a huge dance party broke out in the street behind the bandshell. Nobody could see what was going on inside, but that didn't stop everyone from getting down.
There were lots of people taking video of the people dancing. Please post it if you were one of them. More pictures from the inside, and some other videos, below...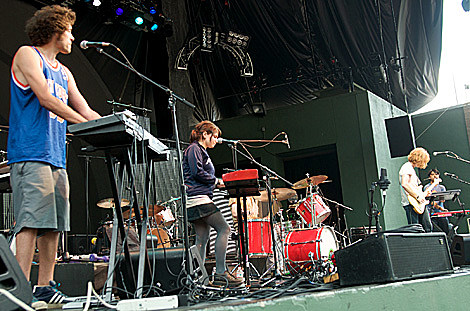 MGMT have two shows coming up with Paul McCartney, and are playing All Points West, and other places.