MG&V debuted @ SXSW (pics & video), Delta Spirit releasing new album & touring (dates), Jonny Corndawg shows & more
MG& V @ the All House

MG&V, the new project of John McCauley (frontman of Deer Tick), Taylor Goldsmith (frontman of Dawes), and Matt Vasquez (frontman of Delta Spirit), made their debut (not counting a private performance they taped for IFC one day earlier) with a late-night set to a capacity crowd at Austin's Ale House on Friday, March 19th. Taylor's brother and bandmate Griffin played drums. Delta Spirit's Kelly Winrich played keys. Deer Tick family member Jonny Corndawg helped perform a song he also recorded and wrote with the group. As Duke Street Blog points out, "The set was filled with heartfelt Americana tunes, all featuring a healthy splash of CSN-like harmonies." Deer Tick actually played a set an hour earlier at Lucero's SXSW showcase at Red Eyed Fly (where they were joined by Nikki Darlin for a song). John ran right from show to show (as did Tim and I) (luckily we all saw Lucero earlier that same day). More pictures and a bunch of videos from both shows are below.
Their regular bands all made their fair share of appearances at SXSW this year too. Deer Tick (who played BV shows in 2009 and 2008) even had their own unofficial showcase this year at Threadgill's (with Cordawg, Those Darlins, Liz Isenberg, Chris Paddock and others on the bill). One of Dawes's shows was at the official BrooklynVegan showcase. Various videos from the week below.
Delta Spirit's new record, History From Below, is set to come out June 8th on Rounder Records.
"All we wanted to do is put the record together one song at a time," says Delta Spirit's singer/guitarist Matthew Vasquez about History From Below. "It's been three years of straight touring off our last record so most of the songs were written in hotel rooms and tested in front of an audience. We spent spent six months of this last year making a record that sums up three years of growing up."
The album was produced by My Morning Jacket's keyboardist Bo Koster and Eli Thomson, and you can check out the album art and tracklist below.
Everything mentioned, pictures, videos & lots of tour dates, below...

--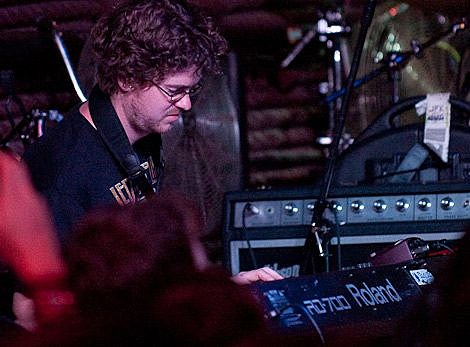 MG&V Someday live at SXSW 2010

MG&V Thanks for Nothing Live at SXSW 2010

MG&V Time Spent in L.A. Live @ SXSW 2010

MG&V 1st Performance at SXSW 2010 Part 1

Deer Tick @ Palm Door - SxSW 2010

SXSW 2010: Delta Spirit - "Bushwick Blues"


'History From Below' tracklist
911
Bushwick Blues
Salt in the wound
White Table
Ransom Man
Devil knows you're dead
Golden state
Scarecrow
Vivian
St. Francis
Ballad of Vitaly
Delta Spirit - 2010 Tour Dates
Apr 27 Daytrotter Barnstormer III: Secrest 1883 Octagonal Barn West Liberty, Iowa
Apr 28 Daytrotter Barnstormer III: Turner Hall Ballroom Milwaukee, Wisconsin
Apr 29 Daytrotter Barnstormer III: N1204 S. Hwy 120 Lake Geneva, Wisconsin
Apr 30 Daytrotter Barnstormer III: Kalyx Center Monticello, Illinois
May 01 Daytrotter Barnstormer III: Codfish Hollow Barn Maquoketa, Iowa
Jun 08 Belly Up Solana Beach, California #
Jun 09 The Independent San Francisco, California #
Jun 10 Doug Fir Portland, Oregon #
Jun 11 Neumo's Seattle, Washington #
Jun 12 The Venue Vancouver, British Columbia #
Jun 14 Neurolux Boise, Idaho #
Jun 15 Urban Lounge Salt Lake City, Utah #
Jun 16 Bluebird Theatre Denver, Colorado #
Jun 17 Waiting Room Omaha, Nebraska #
Jun 18 Varsity Theater Minneapolis, Minnesota #
Jun 19 Metro Chicago, Illinois #
Jun 21 Firebird St Louis, Missouri #
Jun 22 Radio Room Indianapolis, Indiana #
Jun 23 The Basement Columbus, Ohio #
Jun 24 Beachland Ballroom Cleveland, Ohio #
Jun 25 Pike Room Pontiac, Michigan #
Jun 28 Middle East Downstairs Boston, Massachusetts #
Jun 30 Bowery Ballroom New York, New York #
Jul 01 Music Hall of Williamsburg Brooklyn, New York #
Jul 02 First Unitarian Church Philadelphia, Pennsylvania #
Jul 03 9:30 Club Washington, Washington DC #
Jul 05 Cat's Cradle Carrboro, North Carolina #
Jul 07 Cafe 11 St. Augustine, Florida #
Jul 08 The Social Orlando, Florida #
Jul 10 Bottletree Birmingham, Alabama #
Jul 11 Thirsty Hippo Hattiesburg, Mississippi #
Jul 13 Juanita's Little Rock, Arkansas #
Jul 14 Cain's Tulsa, Oklahoma #
Jul 15 Lola's Dallas, Texas #
Jul 16 Mango's Houston, Texas #
Jul 17 Emo's Outside Austin, Texas #
Jul 20 Santa Fe Brewing Company Santa Fe, New Mexico #
Jul 21 Plush Tucson, Arizona #
Jul 23 El Rey Theatre Los Angeles, California #
Jul 24 Velvet Jones Santa Barbara, California #
# w/ Ezra Furman & the Harpoons, The Romany Rye
Dawes - 2010 Tour Dates
Apr 30 HIPNIC II at Fernwood Resort Big Sur, California
May 01 HIPNIC II at Fernwood Resort Big Sur, California
May 12 Soho Santa Barbara, California
May 13 Cal Poly State University *FREE SHOW* Sal Luis Obispo, California
May 14 Sophia's Thai Kitchen Davis, California
May 15 Cellar Door Visalia, California
May 19 Town Hall New York, New York $
May 27 The Fillmore San Francisco, California %
May 30 Les Schwab Amphitheatre Bend, Oregon ^
May 31 Commodore Ballroom Vancouver, British Columbia %
Jun 01 MacEwan Hall Ballroom Calgary, Alberta %
Jun 02 The Starlite Room Edmonton, Alberta %
Jun 04 Wilma Theatre Missoula, Montana %
Jun 06 First Avenue Minneapolis, Minnesota %
Jun 07 The Pabst Theater Milwaukee, Wisconsin %
Jun 08 The Vogue Indianapolis, Indiana %
Jun 09 House of Blues Cleveland, Ohio %
Jun 11 Bonnaroo Manchester, Tennessee
Jun 13 Hartwood Acres Amphitheater Pittsburgh, Pennsylvania
Jun 14 The Pageant St Louis, Missouri %
Jun 15 The Blue Note Columbia, Missouri %
Jun 16 The Beaumont Club Kansas City, Missouri %
Jun 18 Belly Up Aspen, Colorado %
Jun 19 The Fox Theatre Boulder, Colorado
Jun 21 Santa Fe Brewing Company Santa Fe, New Mexico %
Jun 22 Clubhouse Music Venue Tempe, Arizona %
Jul 31 Newport Folk Festival Newport, Rhode Island
$ w/ Josh Ritter
% w/ Edward Sharpe & The Magnetic Zeros
^ w/ Band of Horses and She & Him
Deer Tick - 2010 Tour Dates
FRI 04/02/10: Providence, RI - Jerky's #
SAT 04/03/10: Providence, RI - Firehouse 13 #
SUN 04/04/10: Portland, ME - Space Gallery #
MON 04/05/10: Montreal, QC - Il Motore #
TUE 04/06/10: Toronto, ON - Horseshoe Tavern #
WED 04/07/10: Detroit, MI - Magic Stick #
THU 04/08/10: Chicago, IL - Bottom Lounge #
FRI 04/09/10: Minneapolis, MN - Triple Rock Social Club #
SAT 04/10/10: Iowa City, IA - The Mill #
SUN 04/11/10: Lawrence, KS - Jackpot Music Hall #
MON 04/12/10: Oklahoma City, OK - Opolis
TUE 04/13/10: El Paso, TX - The Percolator
WED 04/14/10: Phoenix, AZ - The Trunkspace
FRI 04/16/10: Indio, CA - Coachella Festival
TUE 04/20/10: Portland, OR - Crystal Ballroom $
WED 04/21/10: Vancouver, BC - Biltmore Cabaret $
THU 04/22/10: Seattle, WA - Tractor Tavern $
SAT 04/24/10: Santa Cruz, CA - Crepe Place
SUN 04/25/10: San Francisco, CA - Great American Music Hall *
TUE 04/27/10: Los Angeles, CA - Henry Fonda Theatre *
WED 04/28/10: Las Vegas, NV - Beauty Bar
THU 04/29/10: Santa Fe, NM - Sante Fe Brewing Company *
FRI 04/30/10: Dallas, TX - The Loft *
SAT 05/01/10: Austin, TX - Emo's Outside *
SUN 05/02/10: Houston, TX - Warehouse Live Studio *
MON 05/03/10: Fayetteville, AR - Majestic Lounge *
TUE 05/04/10: Little Rock, AR - Sticky Fingerz
WED 05/05/10: Birmingham, AL - Workplay *
THU 05/06/10: Nashville, TN - Cannery Ballroom *
FRI 05/07/10: Louisville, KY - Headliners *
SAT 05/08/10: Cleveland, OH - Beachland Tavern
SUN 05/09/10: Ithaca, NY - Castaway's
MON 05/10/10: Albany, NY - Valentines
TUE 05/11/10: Boston, MA - Paradise *
WED 05/12/10: Boston, MA - Paradise *
THU 05/13/10: Philadelphia, PA - Electric Factory *
FRI 05/14/10: Washington, DC - 9:30 Club *
SAT 05/15/10: New York, NY - Terminal 5 *
# with Those Darlins
$ with Holy Sons
* with Dr. Dog
Jonny Corndawg - 2010 Tour Dates
Apr 3 - Hollins University Roanoke, Virginia
Apr 4 - The Darjeeling Cafe Staunton, Virginia
Apr 7 - Pianos New York, New York
Apr 8 - The Knitting Factory (with Tim Barry) Brooklyn, New York
Apr 23 - 529 Atlanta, Georgia
Apr 24 - Private party Athens, Georgia
Jun 11 - Music Hall Williamsburg (with David Allan Coe) Brooklyn, New York
Jul 14 - Music City Roots live from The Barn at The Loveless Cafe Nashville, Tennessee