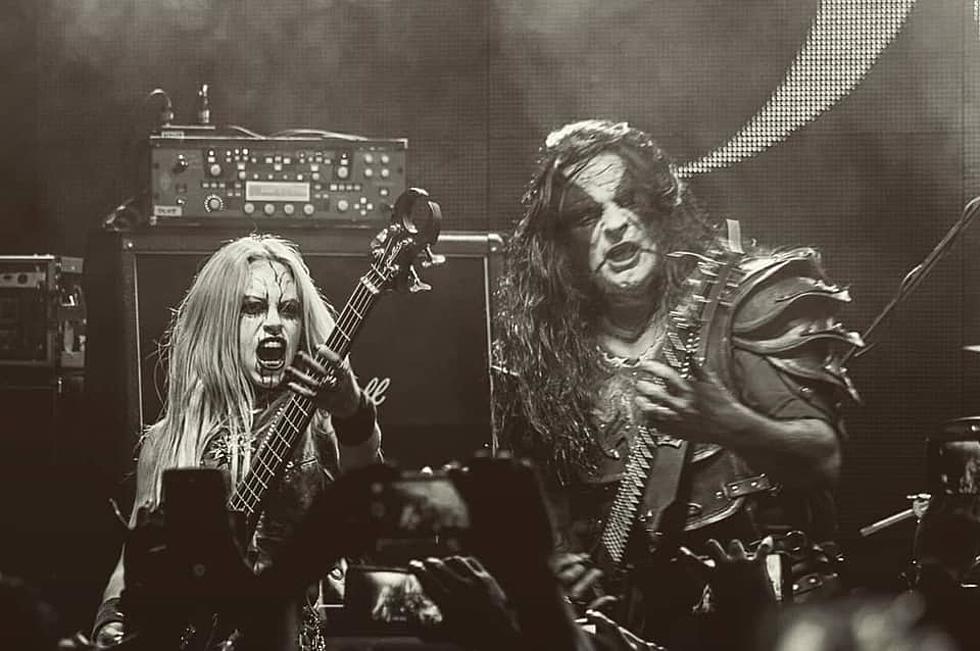 Mia Wallace "forced" out of Abbath, and no longer plays with Tom G. Warrior (updated)
photo via Mia Wallace's Facebook
Abbath bassist Mia Wallace released a statement on Facebook saying she was "forced to part ways with" Abbath. "I am disappointed that none of my former colleagues have contacted me in this process except for the five minute phone call from Abbath's manager in which I was told I would no longer be needed," she writes. "I was told not to contact anyone in the band. The explanation for this had no substance and just made more questions and confusion for me. Up until then I had been preparing for the European tour as I had been told to do. I had to cancel other plans, and get time off work for the tour which I spent much time preparing for."
Mia became Abbath's bassist in 2019 after King left.
Read Mia's full statement below, but she ends it with "Several very interesting new projects are in the works. I promise you have not heard the last of me."
Hopefully one of those new projects is Niryth. What is that? Rolling Stone has a good summary in an August 2019 interview they did with Tom G. Warrior (the man behind Celtic Frost, Hellhammer and Triptykon)....
[Tom]'s also working on the debut album by Niryth, a group he formed with Triumph of Death bassist Mia Wallace, who also plays in the backing band for former Abbath, former frontman for the Norwegian black-metal group Immortal. Wallace, he says, is the closest he's come to finding a collaborator of the same caliber as Martin Ain. He describes Niryth as a "more psychedelic, more hypnotic version of Triptykon." He sings only in what he calls his "dark voice," which he compares to Sisters of Mercy's Andrew Eldritch. "Niryth has no metal vocals or riffs," he says. "But it is powerful music. It's extremely groovy. The main focus point is that it's only drums, bass, and vocals. Everybody who has heard it before thinks we're playing keyboards, but we used the bass in an extremely experimental manner. In the studio, we use up to eight bass lines on a song. It's actually very melodic and airy."
Tom has been talking about the Niryth album since at least 2018, so fingers crossed we get that soon, not to mention another Triptykon record.
Abbath, who are currently on tour in Europe (following cancelled December dates while the former Immortal frontman went to rehab), have not made a statement of their own about any lineup changes but earlier today (1/28) they shared a photo of the band, without Mia, to Facebook, with the caption "Paris tonight!" Abbath are touring North America this year with Mayhem, Gatecreeper and Idle Hands.
It is with sadness I have been forced to part ways with Abbath. It has been a challenging but exhilarating/exciting time and I am proud of my contribution to the Outstrider album, the concerts, the videos for Harvest Pyre and Hecate and the visuals and promotion of the band in general. For me, being a part of Abbath was a dream come true and I can say with my hand on my heart I have been loyal to the team and to Abbath himself. Everyone can see this from the Argentina concert where I stood on the stage until the bitter end. I have not always agreed with certain other people in the Abbath camp and I have given my opinion honestly without anger or negative intent.

Unfortunately not everyone can take this.

I am disappointed that none of my former colleagues have contacted me in this process except for the five minute phone call from Abbath's manager in which I was told I would no longer be needed.
I was told not to contact anyone in the band. The explanation for this had no substance and just made more questions and confusion for me.
Up until then I had been preparing for the European tour as I had been told to do. I had to cancel other plans, and get time off work for the tour which I spent much time preparing for.

I am truly grateful for all the support from the fans, media, everyone at Season of Mist and collaborators of Abbath!

Thank you so much! It means everything to me in this difficult time.

I also wish only the best for Abbath whom I will always admire as an artist and thank him for the opportunity he has given me. Now I shall focus on my next step. Several very interesting new projects are in the works. I promise you have not heard the last of me.

Ciao!

Mia