Michael Shannon's band Corporal endorses Obama (MP3), playing Fontana's
Picasa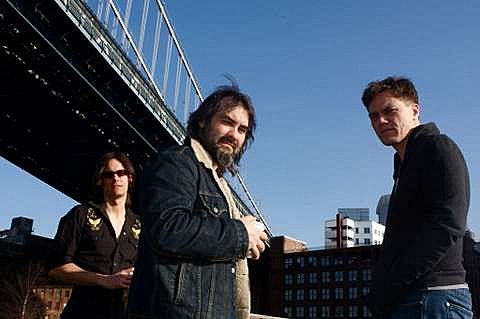 We recently noted that two castmembers of Superbad play in two different bands, that we know of (Mister Heavenly, The Young Rapscallions).
The HBO series Boardwalk Empire has them beat with three castmembers* in bands and of (mostly) notably, in my opinion, higher quality. Michael Pitt fronts Pagoda and Aleksa Palladino (who play's Pitt's wife on the show) is in Exitmusic, who you might have just seen at Brooklyn Bowl during the Northside Festival and who have other shows coming up including one at Mercury Lounge.
The third is Michael Shannon who leads indie rock trio Corporal. The band formed in Louisville, KY in 2002 but now call Brooklyn home and released Glory last year. (Download an MP3 from the album above.) The band just released a new MP3, "Obama," that serves as a band endorsement of our current president's bid for a second term which you can download above. You can go see Corporal next week when the band play a NYC show at Fontana's on June 25 with Less the Band and the Parlour Suite.
UPDATE: So it turns out openers Less the Band contains the non-Shannon 2/3rds of Corporal as well as Paul Sparks who plays the annoying punchable Mickey Doyle on Boardwalk Empire. That makes four! Is that some sort of record? (Thanks commenters, btw).
Shannon, who has a lock on intense, creepy loner dude roles these days, is a funny guy too (he had a memorable cameo during Season 1 of Delocated) and a pretty good songwriter, especially if you dig '90s style indie rock. He recently submitted his iPod to the AV Club's "Random Rules" feature and the interview is chock-a-block with quotes. Here's a few:
Isaac Brock...I hear he's kind of hard to go on tour with. But rock's not for squares, I guess.

-Will Oldham really keeps to himself. He's not a joiner.

-[Mark E. Smith]... talk about a role model. That guy just drinks beer and eats hamburgers and smokes and barely tries. And he still is cooler than pretty much anyone ever. I think he's even cooler than Lou Reed was.

-My girlfriend loves the Mountain Goats. I don't know. I like the guy; it's not like I don't like him. He has a very interesting voice, that's for sure. But I like his lyrics. I don't know if I'd want to go to a Mountain Goats concert, though. I think I would probably drink too much beer and get tired.

-There's a lot of the new bands that I don't really get. I don't know what it is; maybe I'm getting older or something, but there are bands that people are just falling all over themselves about... I don't know. If someone was like, "If you could spend the rest of your life on an island with one band, which band would it be?" For me, it would be Deerhoof.
The third season of Boardwalk Empire will air this fall on HBO (you can win a visit to the set at Anthology Film Archives). Shannon may have less time for music soon -- he'll play General Zod in the Christopher Nolan-produced/writen (yay!), Zak Snyder directed (boo!) Superman flick Man of Steel which hits cineplexes next summer.