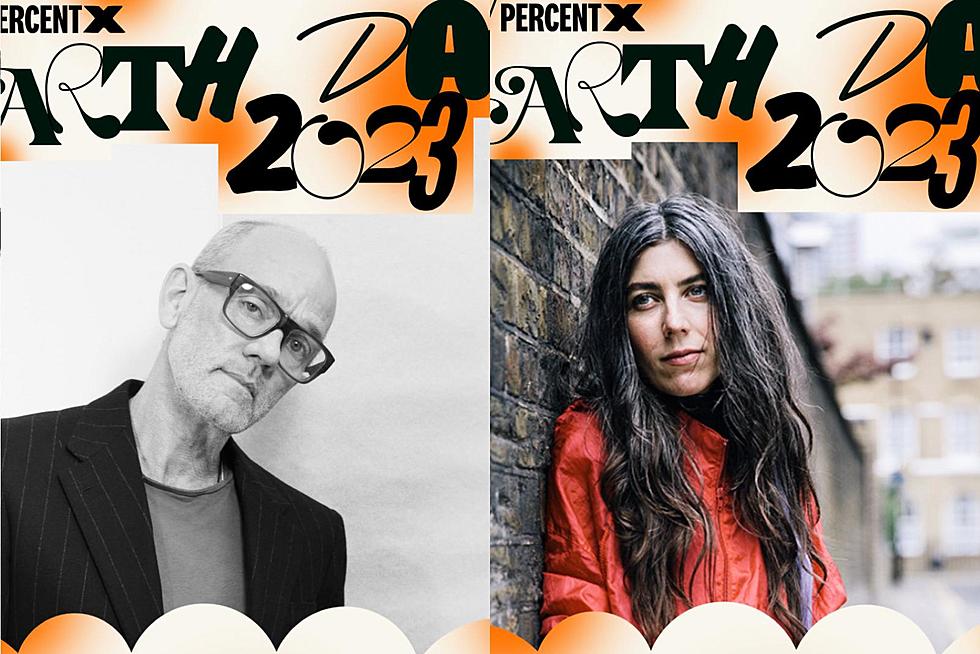 Michael Stipe, Julia Holter, Brian Eno, Anna Calvi, Robert Smith & more on new Earth Day charity comp
Today (4/20) is Earth Day, and the EarthPercent organization is celebrating with a new 63-song compilation album, EarthPercent x Earth Day '23 Compilation Album. Proceeds will go to the EarthPercent grant giving fund supporting organizations working on the frontlines of climate action.
The comp includes an art-poppy new song from R.E.M.'s Michael Stipe (featuring folk singer and disability advocate Gaelynn Lea), a hard-to-pin-down track from Anna Calvi, ambient tracks from Julia Holter and Brian Eno, a new DJ Phil remix of Machinedrum & Jesse Boykins III, a folky new Lola Kirke song, live tracks from CHVRCHES & Robert Smith, Coldplay & H.E.R., and Dry Cleaning, and much more.
Stream the whole thing below and purchase the full album or individual tracks at Bandcamp.
Tracklist
1. Alanas Chosnau & Mark Reeder - A Loving Touch (Mark Reeder's I Want A Mix) 04:04
2. Ana Quiroga - Atalaya 04:59
3. André Salvador and the Von Kings - Hand In Hand 02:37
4. Andree Martis - One Day In Paradise 21:52
5. Andy LeMaster - The Garden House 03:32
6. Andy Quin - Toccata No.1 in C 02:58
7. Anna Calvi - Julie 03:56
8. anrimeal - back in (feat. Digital World) 08:12
9. AVAWAVES - Colliding Stars (feat. Prof. Mark McCaughrean) 03:13
10. Bad Sounds - Bad Man 03:12
11. /beyond/ - YEZTLI 03:55
12. Brian Eno - Little Roof 04:19
13. Bring Me The Horizon - sTraNgeRs (acoustic) 03:21
14. Broadside Hacks - Gently Johnny 03:41
15. CHVRCHES & Robert Smith - How Not To Drown (Live from Brixton Academy) 06:12
16. Ciaran Austin - Birdsong (Demo) 02:24
17. Coldcut feat. Blanca Regina - Quiero Verde (Earth Day Remix) 05:18
18. Coldplay X H.E.R. - Let Somebody Go (Live at River Plate) 05:24
19. Damien Dempsey - Soft Rain 06:12
20. DARGZ - Pink Flamingo 01:10
21. dodie - Before The Line (ft Capital Orchestra) 03:56
22. Dry Cleaning - Gary Ashby (Live) 03:34
23. Dylan Henner - It Was 41ºC in Bordeaux Last Summer 04:39
24. fer - Back to Earth ft Peter Chilvers 03:42
25. Fink - Green And The Blue (Space Jam ft. Ruben Hein) 06:40
26. Franc Moody - Move Me (Instrumental) 03:51
27. Future Utopia - Love Ascension 03:58
28. Gabrielle Aplin - Make It Better 03:28
29. Gently Tender - Ancient History 04:57
30. GRANDAD - Meta Quest Memory Test 02:27
31. Helen Ganya - Little Match Girl 04:42
32. Hilang Child - Seen The Boreal (Ambient Revision) 04:39
33. Hinako Omori - will you listen in (earth loop reimagined) 03:53
34. ISHA - Jazzing Up The Planet 03:48
35. ISYLA - Only the Humans 03:58
36. Jemima Coulter - Run Out 03:22
37. Joe Hertz - Voices 03:56
38. John Webb - Concerto for Tuba and Strings - Slow Movement 05:46
39. Julia Holter - And Now Even A Flower 06:20
40. Lanterns On The Lake - The Saboteur (Multiverse Version) 04:11
41. Lime Garden - Sick and Tired (Annie Remix) 03:12
42. Lola Kirke - Home 02:47
43. Lutalo - My Life (Demo) 01:27
44. Manzanera Mackay - Music for French horn and Drain 04:24
45. Machinedrum feat. Jesse Boykins III - Wait 4 U (DJ Phil Remix) 03:36
46. Matthew and the Atlas - December (Demo) 03:19
47. mev2 feat. mittageisen - automaten (2y edit) 04:12
48. Michael Stipe - Give Me A Hand (feat Gaelynn Lea) 03:24
49. Müller & Makaroff - La 6ta extinción 04:30
50. Mystery Jets - You, Me and the Sea 06:07
51. Nick Carlisle - 2039 (EarthPercent Mix) 04:09
52. Nothing But Thieves - Amsterdam (Live in London) 04:28
53. Olivia Reid - Organic Bloom (Live Studio Version) 03:56
54. Oscar Browne - Cold Wind 02:50
55. Richard Coleman - Estoy Azulado (Live @Nacional Rock) 04:01
56. Steve Mason - The People Say (Demo) 04:33
57. Tam Lin - Den 02:38
58. Tapir! - Debt to the World 03:18
59. The Subways - Fight (#WeMakeEvents session) 02:37
60. Tiny Leaves - With the Hollow at My Feet 05:06
61. United Freedom Collective feat. Eliza Shaddad Oceanic 03:10
62. Victoria Canal - swan song (Live at St. Pancras Old Church) 04:22
63. Walkin' Jim Stoltz - Oh, What a Life 05:00