Mickey, Fungi Girls, Pure X, Grooms, The Wake, Weekend, pow wow! & more in This Week in Indie
by Bill Pearis
DOWNLOAD: Mickey - For You (MP3)
DOWNLOAD: Fungi Girls - Doldrums (MP3)
DOWNLOAD: Pure X - Dry Ice (MP3)
DOWNLOAD: Grooms - Tiger Trees (MP3)
DOWNLOAD: The Wake - Oh Pamela (MP3)
DOWNLOAD: Weekend - End Times (MP3)
DOWNLOAD: pow wow! - It's Not That Easy (MP3) 
Mickey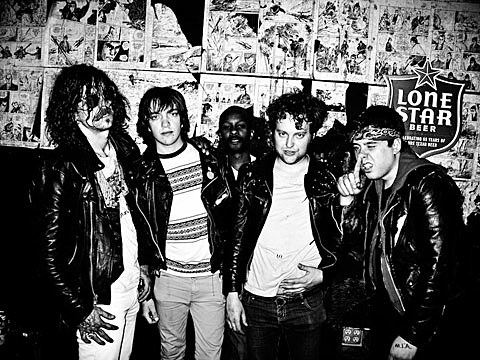 Ok it's really hot out but don't let that stop you from seeing some great stuff this weekend. We've got a couple bands on the Hozac label in town this weekend. First is Chicago glam punks Mickey whose debut Rock n' Roll Dreamer just hit the racks. It's a sleazy vision of excess that is part The Sweet, part Johnny Thunders, part Schlitz malt liquor and three bags of glitter dumped on top. It's hook-filled debauched fun. Check out "For You" at the top of this post for a taste. I have not seen Mickey live but all signs point to chaos.
Mickey play Death By Audio tonight (7/7) with Liquor Store, Ex-Humans, The Fucking Ocean and Sleepies (this show sounds like trouble), and then Friday (7/8) at Cake Shop with Habibi, Jigglers, Teardrops and Siberians.
Fungi Girls

The other Hozac band is Austin trio Fungi Girls who I've been wanting to see for some time. They play Friday night (7/8) at Death By Audio with Xray Eyeballs and The Beets, and on Saturday (7/9) at Ding Dong Lounge as part of a Group Tightener curated show with the label's bands Pure X (more on them below) and Expensive Looks, plus Cool Cough.
Still in their teens, Fungi Girls seem to have already digested a lifetime of psych-pop influences and make a racket that sounds fresh and well beyond their years. (Why aren't these guys on Slumberland?) 2009's Seafaring Pyramids was excellent and I can't wait to hear the new album, Some Easy Magic, which is out next month. You can download "Doldrums" at the top of this post which was the b-side to a Hozac 7" that came out last year.
Pure X, who play with Fungi Girls on Saturday, are also from Austin and maybe you knew them as Pure Ecstasy which they used to be called. (A San Francisco cover band laid claim to the name.) Now Pure X, the band just released their debut LP, Pleasure, this week and you can download "Dry Ice" from it at the top of this post. Altered Zones has a stream of the whole thing. Recorded live with no overdubs, Pleasure is lovely and languid, not unlike the first Cowboy Junkies album or Galaxie 500. It's a nice Sunday morning kind of album as I'm fond of saying.
The band are in town for two shows. In addition to the previously mentioned Saturday show with Fungi Girls, Pure X also play Friday (7/8) at sweaty 285 Kent for a Chocolate Bobka curated show with Tonstartsbandht, Forma, and Run DMT.
Grooms

If you go see Mickey tonight, Fungi Girls tomorrow and wanna make it three smoky nights in a row at Death By Audio, on Saturday (7/9) it's the record release party for Grooms' very good second album, Prom, which officially comes out next week on Kanine. The show is with Pterodactyl and The Immaculates.
The new album is a big leap from the band's debut, Rejoicer. The overt Sonic Youth-isms have melted and Grooms have come into their own with this one which feels confident and accomplished. It rocks pretty hard too, at times, but has pretty moments as well. Check out album opener "Tiger Trees" at the top of this post. Grooms were fantastic when I saw them at Northside but I imagine they'll be even more on their game at their Death By Audio home base.
The Wake @ NYC Popfest 2010 (more by Dominick Mastrangelo)

And finally a bunch of Seaport-related shows. Friday (7/8) is the third installment of the Seaport Music Festival with Scotland indiepop legends The Wake. As I wrote when they played Popfest last year:
"While they didn't get the attention their Factory Records labelmates New Order and Happy Mondays (or even A Certain Ratio) received, The Wake's catalog is well-regarded, especially 1985's Here Comes Everybody which is a bona fide  indie classic. Check out "O Pamela" at the top of this post. The band's hazy, reverb-laden sound has parallels to current bands like The Radio Dept or Wild Nothing, or any of the chillwave groups out there."
Opening is San Francisco loud music trio Weekend who should not be confused with The Weeknd or Weekends. Weekend are one of my favorite new bands of the last year -- their debut LP Sports made my Best of 2010 list and their live show is not to be missed. I wonder what random Seaport tourists with make of their powerful din on Friday.
(editor's note: I was definitely wondering what random tourists may have thought when they came upon John Lennon's son and his supermodel girlfriend playing a show on the same stage recently).
Saturday (7/9) at the Seaport is an official "warm up" to next weekend's 4 Knots Festival, with Ted Leo and Screaming Females. Ted has played the Seaport five times and often not under the best conditions. He played in torrential downpours and with generator power the night of the 2003 blackout. Saturday he'll be marking the 10th anniversary of his album The Tyranny of Distance by playing it in full. Weather is supposed to be lovely.
Then on Sunday (7/10) is the penultimate Sound Bites Series show with pow wow! who are currently finishing up their debut album. After garnering a lot of buzz (and playing what seemed like every week) back in 2009, they took most of last year off to regroup and rethink. With a slightly retooled sound -- they're definitely a little more '80s indie and a little less early '00s rock now -- they'll play the Fulton Stall Market at 3PM. I DJ before and after. Check out "It's Not That Easy" at the top of this post.
Then after the Sound Bites show, you should head over to the Beekman Beer Garden for the first of the summer's Beach Party shows. This week it's the wildness that is Cheeseburger, plus Hard Nips. I hope Beekman (formerly Water Taxi Beach formerly Spiegeltent) is ready for flying beer. This should be fun. With the truncated Seaport Music Festival schedule this year (and no Pool Parties) I'm glad more is going on down at the Seaport, one of my favorite places during the summer.
If you want to hear more from the bands playing the Sound Bites Series, the Beach Parties, as well as Hudson River Rocks, the Seaport folks partnered with Insound for some free downloadable mixes. Bands include Austra, Metronomy, Xray Eyeballs, The Beets, pow wow!, DOM, Raveonettes, Radical Dads and more. I curated the Brooklyn Local mix with bands who have played both years of the Sound Bites Series, plus some other Brooklyn bands I think people should check out. 
OK that's it for this week. A few more Thursday picks are below.
THURSDAY, JULY 7
Steel Phantoms, ARMS, and Shark? are at Brooklyn Bowl. It's free if you go before 7PM. After that it's five bucks.
Colorado band School Knights play Shea Stadium with The Hairs whose singer used to have a band called Knight School. Weird, right? Also playing: Grand Rapids and Radical Dads whose new video for "New Age Dinosuars" is at the bottom of this post.
contininued below...

--
Mickey - Baby We're Gold

Mickey - 2011 Tour Dates
7/7 NYC, NY AT DEATH BY AUDIO
7/8 NYC, NY AT CAKE SHOP
7/9 CLEVELAND, OH AT NOW THAT'S CLASS
7/10 DETROIT, MI AT PAINTED LADY
7/11 KALAMAZOO, MI AT LOUIE'S
Funghi Girls - 2011 Tour Dates
JULY 7 HARRISONBURG, VA @ TBA
JULY 8 BROOKLYN, NY @ DEATH BY AUDIO W/ THE BEETS, XRAY EYEBALLS, FERGUS & GERONIMO
JULY 9 BROOKLYN, NY @ DING DONG W/ EXPENSIVE LOOKS, COUGH COOL
JULY 11 NEW BRUNSWICK, NJ @ TBA
JULY 12 BALTIMORE, MD @ GOLDEN WEST
JULY 13 COLUMBUS, OH @ CARABAR W/ DAY CREEPER
JULY 14 MILWAUKEE, WI @ QUARTERS ROCK N ROLL PALACE W/ CATACOMBZ, RADAR EYES?
JULY 15 CHICAGO, IL @ CROWN TAP ROOM W/ PEOPLES TEMPLE + TBA
JULY 16 OMAHA, NE @ THE SANDBOX W/ YUPPIES, MINT WAD WILLY
JULY 17 FAYETTEVILLE, AR @ SMOKE AND BARRELL W/VOYAGEURS
JULY 25 LAS CRUCES, NM @ THE TRAINYARD W/ FAR CORNERS
JULY 26 SAN DIEGO, CA @ TIN CAN ALEHOUSE W/ JEANS WILDER
JULY 27 LOS ANGELES, CA @ TBA
JULY 28 SAN FRANCISCO @ TBA
JULY 31 SACRAMENTO, CA @ LUIGI'S FUNGARDEN W/ G.GREEN, SURF CLUB, LOFTONS
AUGUST 1 RENO, NV @ LINCOLN LOUNGE
AUGUST 3 PORTLAND, OR @ EAST END W/ WHITE FANG
AUGUST 4 OLYMPIA, WA @ THE NORTHERN
AUGUST 6 SEATTLE, WA PIZZAFEST @ FUNHOUSE W/ KING TUFF, ETC.
AUGUST 7 MISSOULA, MT @ TBA
AUGUST 8 PROVO, UT @ THE COMPOUND
AUGUST 9 DENVER, CO @ TBA
Pure X - You're in It Now

Radical Dads - New Age Dinosaur