Mike Watt releasing 'hyphenated-man', touring (dates)
Mike Watt & the Missingmen at Maxwell's last year (more by Lori Baily)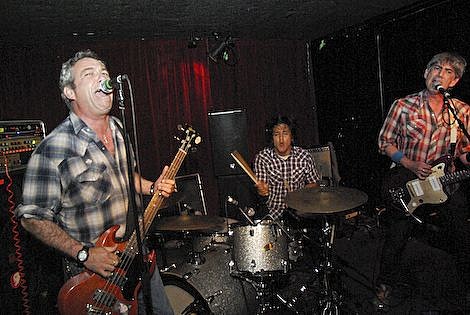 ""hyphenated-man" is the name of my third opera, "contemplating the engine room" (1997) being the first one and "the secondman's middle stand" (2004) being the second...
whereas "...engine room" dealt w/my pop's life in the navy as a metaphor for the story of the minutemen and "...middle stand" was a parallel to dante's "comedia" dealing w/an illness that almost killed me in 2000, this third opera is quite different in that it has no standard narrative (libretto!) meaning no regular beginning-middle-end and is as it were "simultaneous" in the way a mirror from just inside my head - right in this middle-age moment of mine - was then shattered into thirty pieces and then each piece stuffed in the head to show a piece of my state of mind (or out-of-mind) as of now. "thirty tunes?" yes, they're little ones... actually they're "thirty parts" of one big tune.

oh, it was kind of trippy how this piece was actually made. I wrote all thirty parts on one of d. boon's telecaster - the black one he got in kent, ohio in 1984. now I'm not a very good guitarist but tom watson was quite the righteous man in his patience and determination to take the palsy demos I gave him and bring them to the piece." - Mike Watt
Hyphenated-Man is due on March 1st, and Mike Watt has posted all the lyrics from the LP on his site if you're interested in a preview. He'll be taking out Mike Watt & The Missing Men to promote said LP, and those dates include a trip to SXSW, as well as Maxwell's on 4/3 (tickets) and Mercury Lounge on 4/4 (tickets) (both shows on sale at noon today - 1/7).
Besides the Mike Watt & The Missingmen dates, Watt will also hit the road for dates with Stooges, Hellride, Mike Watt & The Secondmen, and even play bass with Jandek in the coming months. All tour dates and some video is below.

--
mike watt + missingmen "one reporter's opinion" Bar Deluxe SLC 5/19/09

mike watt + the missingmen - 2 Wire Cover songs

mike watt + the missingmen - Blue Oyster Cult cover song "The Red & The Black"

MIKE WATT & THE MISSINGMEN - 2011 TOUR DATES
thursday, march 10 at velvet jones santa barbara, ca
friday, march 11 at the echo los angeles, ca
saturday, march 12 at the casbah san diego, ca
sunday, march 13 at plush tucson, az
monday, march 14 at the launchpad albuquerque, nm
tuesday, march 15 at the conservatory oklahoma city, ok
wednesday, march 16 at the loft dallas, tx
thursday, march 17 at the ginger man austin, tx
friday, march 18 at fitzgerald's houston, tx
saturday, march 19 at the spanish moon baton rouge, la
sunday, march 20 at one eyed jacks new orleans, la
monday, march 21 at the handlebar pensacola, fl
tuesday, march 22 at common grounds gainesville, fl
wednesday, march 23 at the social orlando, fl
thursday, march 24 at jack rabbits jacksonville, fl
friday, march 25 at the earl atlanta, ga
saturday, march 26 at 40 watt club athens, ga
sunday, march 27 at the pour house charleston, sc
monday, march 28 at local 506 chapel hill, nc
tuesday, march 29 at the canal club richmond, va
wednesday, march 30 at 123 pleasant street morgantown, wv
thursday, march 31 at black cat washington dc
friday, april 1 at ottobar baltimore, md
saturday, april 2 at north star bar philadelphia, pa
sunday, april 3 at maxwell's hoboken, nj
monday, april 4 at the mercury lounge new york, ny
tuesday, april 5 at daniel street club milford, ct
wednesday, april 6 at t.t. the bear's place cambridge, ma
thursday, april 7 at la sala rossa montreal, qc, CANADA
friday, april 8 at mavericks ottawa, on, CANADA
saturday, april 9 at horseshoe tavern toronto, on, CANADA
sunday, april 10 at brillobox pittsburgh, pa
monday, april 11 at grog shop cleveland heights, oh
tuesday, april 12 at magic bag ferndale, mi
wednesday, april 13 at radio radio indianapolis, in
thursday, april 14 at blueberry hill saint louis, mo
friday, april 15 at schubas tavern chicago, il
saturday, april 16 at shank hall milwaukee, wi
sunday, april 17 at high noon saloon madison, wi
monday, april 18 at turf club saint paul, mn
tuesday, april 19 at slowdown omaha, ne
wednesday, april 20 at the bottleneck lawrence, ks
friday, april 22 at larimer lounge denver, co
saturday, april 23 at the complex salt lake city, ut
sunday, april 24 at neurolux boise, id
monday, april 25 at doug fir portland, or
tuesday, april 26 at the media club vancouver, bc, CANADA
wednesday, april 27 at the triple door seattle, wa
thursday, april 28 at sam bonds garage eugene, or
friday, april 29 at bottom of the hill san francisco, ca
saturday, april 30 at blue lamp sacramento, ca
JANDEK - 2011 TOUR DATES
saturday, january 8 at the crystal cove auditorium irvine, ca
HELLRIDE - 20111 TOUR DATES
saturday, january 15 at fitzgerald's huntington beach, ca
saturday, february 12 at the central aid and social pleasure club santa monica, ca
IGGY & THE STOOGES - 2011 TOUR DATES
friday, january 21 auckland, new zealand
sunday, january 23 gold coast, australia
wednesday, january 26 sydney, australia
thursday, january 27 sydney, australia
sunday, january 30 melbourne, australia
friday, february 4 adelaide, australia
sunday, february 6 perth, australia
MIKE WATT & THE SECONDMEN - 2011 TOUR DATES
friday, february 11 at the redwood bar + grill los angeles, ca
saturday, february 19 at 10:30 pm at di piazza's long beach, ca
saturday, february 26 at sunken city skates san pedro, ca