Mike Watt & The Missingmen going on tour this fall, playing The Bell House (dates)
Mike Watt at LPR (more by BBG)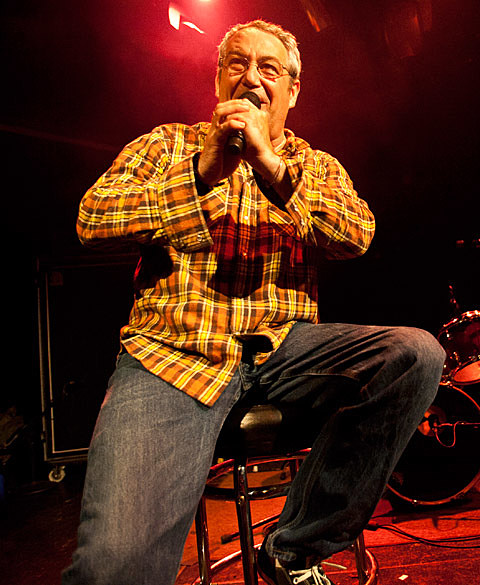 people, I wanna bring my third opera "hyphenated-man" around the u.s. again cuz there's some towns I missed last time. fuck, we're a big land and of course I'm gonna still miss some towns but that don't mean me, my bass and my missingmen (tom watson on guitar and raul morales on drums) ain't gonna try to do what we can... yeah, doin' it.
Mike Watt & the Missingmen's tour will kick off in the Northwest and continue on through to middle November. The first few weeks of the tour will see support from Japan's Lite, who is on board for Watt's NYC show at the Bell House show on October 12. Tickets go on sale Friday (7/13) at noon.
Still no word on an East Coast stint for fIREHOSE (who toured the West Coast earlier this year), but you can still check out the Pedro, CA legend at the dates listed below.

---
mike watt + missingmen "one reporter's opinion" Bar Deluxe SLC 5/19/09

mike watt + the missingmen - 2 Wire Cover songs

mike watt + the missingmen - Blue Oyster Cult cover song

MIKE WATT & THE MISSINGMEN - 2012 TOUR DATES
fri, sep 28: ballard, wa - tractor
sat, sep 29: portland, or - doug fir lounge
sun, sep 30: spokane, wa - a club
mon, oct 1: missoula, mt - zoo city apparel
tue, oct 2: boise, id - neurolux
wed, oct 3: salt lake city, ut - urban lounge
thu, oct 4: denver, co - laramir lounge
fri, oct 5: omaha, ne - the waiting room lounge
sat, oct 6: des moines, ia - vaudeville mews
sun, oct 7: saint paul, mn - turf club
mon, oct 8: chicago, il - schubas tavern
tue, oct 9: toledo, oh - mickey finn's pub
wed, oct 10: columbus, oh - the basement
thu, oct 11: philadelphia, pa - north star bar
fri, oct 12: brooklyn, ny - bell house
mon, oct 15: washington dc - black cat
tue, oct 16: rehoboth beach, de - dogfish head
wed, oct 17: allston, ma - brighton music hall
thu, oct 18: albany, ny - valentine's
fri, oct 19: buffalo, ny - the mohawk place
sat, oct 20: pittsburgh, pa - club cafe
sun, oct 21: cincinnati, oh - motr pub
mon, oct 22: athens, oh - union bar and grill
tue, oct 23: louisville, ky - zanzabar
wed, oct 24: nashville, tn - the end
thu, oct 25: atlanta, ga - the earl
fri, oct 26: birmingham, al - the bottletree cafe
sat, oct 27: memphis, tn - hi tone cafe
sun, oct 28: fayetteville, ar - george's majestic lounge
mon, oct 29: houston, tx - fitzgerald's downstairs
tue, oct 30: austin, tx - red 7
wed, oct 31: oklahoma city, ok - the conservatory
thu, nov 1: santa fe, nm - santa fe brewing company
fri, nov 2: phoenix, az - crescent ballroom
sat, nov 3: las vegas, nv - vinyl
mon, nov 5: san diego, ca - the casbah
tue, nov 6: san luis obispo, ca - slo brew
wed, nov 7: san francisco, ca - bottom of the hill
thu, nov 8: oakland, ca - the new parish
fri, nov 9: santa barbara, ca - velvet jones