Mike Watt & the Missingmen @ Maxwell's in NJ – pics
Mike Watt and the Missingmen (drummer Raul Morales and guitarist Tom Watson) played the first of two NYC-area shows Thursday, May 7th at Maxwell's in Hoboken, NJ. Tonight (Friday, May 8th) the group visits the Mercury Lounge.
At Maxwell's, Watt kicked things off with a terse "1-2-Surf's up" before launching into an opening group instrumental. Watson on guitar faced-off against Watt on bass, with Morales pounding out the measures between. But the drum kit was anything but neutral territory: on more than one occasion Watt egged on Morales by crashing the cymbals with his hands, and spent most of the 4-or-so Watson-sung tunes perched behind drum set before stumbling across stage toward his own mic.
Tom Watson's guitar playing was a definite highlight. He spanned a spectrum of styles, from the pop-punk of the band's Roky Erickson cover, "Sweet Honey Pie," to the closely comped funk of the Minutemen numbers (which included Double Nickels tracks "One Reporter's Opinion," "Anxious Mo-fo," and "Toadies"). Watson, like Watt, channels the free-wheeling ideals of punk into a musically divergent direction; most times his sound was more "downtown" guitar than Johnny Ramone. Solos and oblique noises squeaked over Morales' even-handed drums in starts and stops, while across stage Watt ratcheted up the neck of his short-scale bass.
Watt on bass was unhinged but on point as he alternately strummed and slapped through the setlist, which mixed new tunes, older Watt material (Ball Hog b-side "The Big Bang Theory") and copious covers. I didn't catch all the cover songs, but "Ex-Lion Tamer" (Wire) and "Little Johnny Jewel" (Television) were two, with many more tucked in. The band took few breaks, and the vocals came out till Watt was beat red.
In total, the gig was something of a career primer with a definite look toward the future. Watt closed the set with his usual -- an emphatic "start yer own band."
More pictures from the show below...

Mad Happy...
Mike Watt & the Missingmen...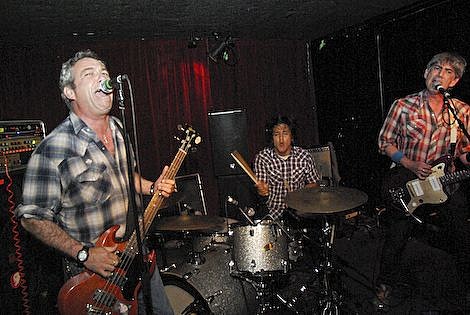 Check out the interview we just posted with Watt HERE.