Mirah, Tara Jane O'Neil & No Kids – new albums, projects, NYC shows, 2009 tour dates & What the Heck Fest
Kyle Dean Reinford
Mirah + No Kids @ Highline Ballroom (more by Kyle Dean Reinford)

Mirah will play a show at NYC's Market Hotel on Sunday, May 3rd with TJO (aka Tara Jane O'Neil), Tall Firs, and Air Waves. Mirah's latest record, (a)spera, came out on K Records on March 10th. O'Neil's own K Recs release, A Ways Away, is due out May 5th.
Mirah, Tara and No Kids all also meet at What the Heck Fest in Anacortes, WA, which runs July 17th-19th. The line-up for the three-day fest is posted below. Passes are on sale.
No Kids, who also played that Highline show, have their own NYC dates coming up in May. Singer Nick Krgovich will play two shows with To Bad Catholics, his side-project with No Kids singer/synth player Julia Chirka. They'll visit the Cake Shop on Tuesday, May 19th with Skeletons. Then, they'll perform at new Ditmas Park venue Sycamore on Wednesday, May 20th. Katie Eastburn (from Young People) opens both shows.
Nick Krgovich recently gotten into writing musicals (which seems to be a something of a trend). Perfomances of Krgovich's "In The Yard, Havin' Fun," commissioned by Vancouver's PUSH Festival, took place in early February. The show included contributions by Parenthetical Girls, Juana Molina, and others.
On No Kids' Myspace is a remix of the band's "For Halloween" done by "Robby from the terrific PDX [a.k.a. Portland] group WHAT'S UP?...for an upcoming 12"."
"In The Yard, Havin' Fun" poster, all tour dates and full What the Heck Fest line-up, below...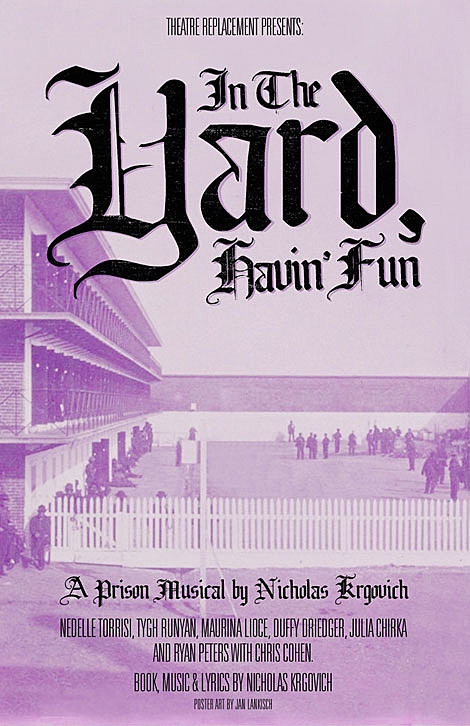 What the Heck Fest 2009 line-up
D+
Wolves In The Throneroom
Earth
Kimya Dawson
Grouper
Cryptacize
Mecca Normal
Vibrarians
Generifus
Katy Davidson the Jam Band
Your Heart Breaks
Lucky Dragons
Karl Blau
Mount Eerie
Calvin Johnson
Arrington de Dionyso
No Kids
Ô Paon
the musical "In The Yard, Havin' Fun"
Mirah
Rose Melberg
Casiotone For The Painfully Alone
A Space City Intensive
Angelo Spencer
LAKE
Motorbikes
St. Merman
Tara Jane O'Neil
Al Larsen
Mirah - 2009 Tour Dates
Apr 15, 2009 - Boise, ID - Neurolux #
May 03, 2009 - Brooklyn, NY - Market Hotel $ %
May 07, 2009 - Copenhagen, Denmark Lades $
May 08, 2009 - Berlin, Germany NBI $
May 10, 2009 - Utrecht, Netherlands DB $
May 12, 2009 - Strasbourg, France Le Musee de Jouet $
May 13, 2009 - Paris, France Fleche d'Or $
May 15, 2009 - Lyon, France Sonic $
May 16, 2009 - Milan, Italy Casa 139 $
May 17, 2009 - Munich, Germany Kafe Kult $
May 18, 2009 - Wurzburg, Germany Cafe Cairo $
May 19, 2009 - Wien, Austria Arena $
May 20, 2009 - Esslingen, Germany Villa Merkel $
May 21, 2009 - Leipzig, Germany UT Connewitz $
May 22, 2009 - Nurnberg, Germany K4 $
May 23, 2009 - Offenbach, Germany Hafen2 $
May 24, 2009 - Bonn, Germany Kult 41 $
Jul 18-19 2009 What the Heck Fest 8 Anacortes, Washington
Aug 16, 2009 - San Francisco, CA Somarts Cultural Center
$ w/ Tara Jane ONeil
# w/ Tender Forever
No Kids - 2009 Tour Dates
May 19 Cake Shop Manhattan, New York #
May 20 Sycamore Brooklyn, New York %
May 30 St. James Hall Vancouver, British Columbia ^
Jul 16 The Biltmore Vancouver, British Columbia @
Jul 18-19 What the Heck Fest 8 Anacortes, Washington
# Nick Krgovich/To Bad Catholics with Skeletons and Katie Eastburn
% Nick Krgovich/To Bad Catholics with Katie Eastburn
^ Nick Krgovich with Mount Eerie
@ w/ Cryptacize & Casiotone For The Painfully Alone