Misshapes is back Saturday on TWO FLOORS of 100 Lafayette (Santos Party House), These New Puritans playing
The new venue with an identity crisis. The popular former weekly party (and associated celebrities) that everyone loves to hate. A new website. A British band signed to Domino. Their labelmate on the ones and twos. Other stuff.....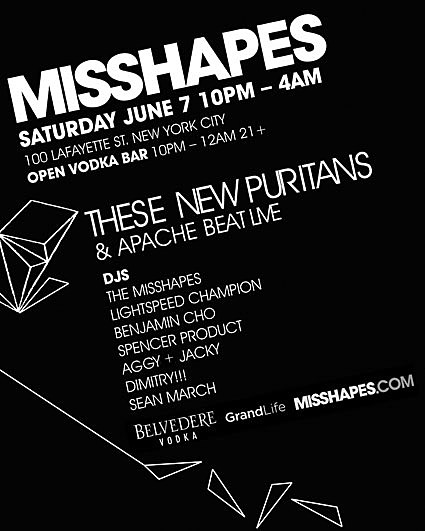 SATURDAY 06.07 10pm doors

MISSHAPES.com launch event... the Misshapes crew joins us for a special evening on BOTH floors to celebrate the official launch of Misshapes.com. Featuring live performances from These New Puritans and Apache Beat plus a bevy of DJs, this is defnitely going to turn into a surreal dance party,
for sure.
ALSO this weekend at 100 Lafayette
SUNDAY 06.08 DOWNSTAIRS 10pm doors

NICKY SIANO!!! The legendary DJ (The Gallery/Studio 54) debuts his new WEEKLY residency in our downstairs disco space! Expect to hear an evening of RARE records, disco edits, and sonic surprises!
Santos Party House
Jun 6 - Spencer Sweeney & Friends New York, New York
Jun 7 - Misshapes - Apache Beat New York, New York
Jun 8 - Nicky Siano New York, New York
Jun 14 - Art in General New York, New