Mission of Burma are here – 2010 tour dates & FFF Fest pics
What was once an inconceivable notion - that Mission of Burma, one of Boston's most influential if short-lived punk bands, would someday return to the stage for a celebrated second act - has, amazingly, become a regular, if not exactly routine, occurrence.

Since reuniting in 2002 (with Bob Weston replacing sound effects/tape loop guru Martin Swope), Burma has been back longer than its original '79-'83 slash-and-burn across the sky lasted. The band has released three albums during this span - two more than the old Burma managed before flaming out after guitarist Roger Miller developed tinnitus due to the outfit's fearsomely loud shows. [Boston.com]
My next chance to see Mission of Burma is at Bowery Ballroom tonight/Friday (with Freshkills), and then again at the same venue on Saturday (with The Dig). Both NYC shows are still on sale.
The two NYC shows were preceeded by two in Boston, one of which is reviewed at the Boston Globe link above. Their next scheduled shows are scattered through February, April and May. Those dates along with the video for their new song "1, 2, 3, Partyy", a video interview they gave to Dirty Laundry, and more pictures from FFF Fest, below...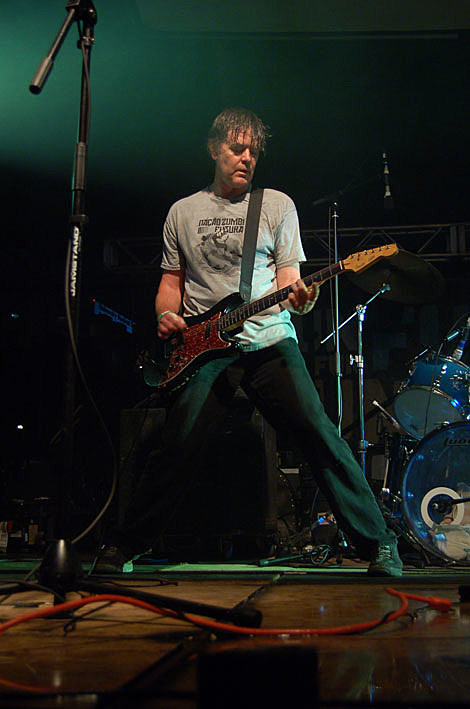 Mission of Burma - "1, 2, 3, Partyy"

Mission of Burma - 2010 Tour Dates
Jan 29 - Bowery Ballroom New York, New York
Jan 30 - Bowery Ballroom New York, New York
Feb 18 - First Unitarian Church with Sleeper Agent Phildelphia, Pennsylvania
Feb 19 - Tyler Haynes Commons @ University of Richmond Richmond, Virginia
Feb 20 - The Black Cat w/ Office of Future Plans Washington DC, Washington DC
Apr 7 - The Southgate House Newport, Kentucky
Apr 8 - Blind Pig Ann Arbor, Michigan
Apr 9 - High Noon Saloon Madison, Wisconsin
Apr 10 - Double Door Chicago, Illinois
May 14 - All Tomorrow's Parties, Curated by Pavement @ Butlin's Holiday Centre Minehead
May 27 - Primavera Sound Festival, May 27-29, 2010 San Miguel