Mission of Burma played Maxwell's w/ Grandfather, and the Bell House w/ Buke & Gass (pics, setlists & a live recording)
Mission of Burma @ Maxwell's

I don't think I've missed more than a couple of New York City area Mission of Burma shows since I accidentally caught them at the Stillwell Stage at Siren Fest in '04. At that point in the band's history, they were still a somewhat recently reunited group, but clearly devoted to something more than just a few reunion performances. This was a group that was not so much reunited as they were picking up where they left off in 1983, anxious to write and record groundbreaking music yet again. Seven years and three (fantastic) full-length albums later, Mission of Burma have even further embedded their place in music history, a sort of indie music myth for our times.
So it goes without saying that these two shows, at Maxwell's on 1/28 and Bell House on 1/29 (both of which sold out) were met with excitement from the most devoted of Burma's fans. The band has become known for hand picking their opening acts, and in the case of these shows, they did an excellent job with both. New York City's Grandfather (not to be confused with Grandchildren) opened the Maxwell's show on Friday, a threesome with clear inspiration from Mission of Burma's unique timing and song structure. Their songs were dark, but meticulously written, with a heavy emphasis on rhythm. Grandfather's drummer, a highly energetic and precise musician, took on lead vocal duties as their guitarist and bassist flung themselves around on stage throughout their set. In hindsight, it made perfect sense when their guitarist told me before the show that Bob Weston and Steve Albini were behind their debut record. Check this band out (their next show is at Party Expo in Brooklyn 2/7/11).
Though I missed most of Buke & Gass's set at the Bell House on Saturday due to problems at the door, what I heard was great. A male-female duo from Brooklyn, both played seated, the percussion coming from a single kick drum stuffed with tambourines and a set of bells wrapped around the guitarist's ankle. Though highly melodic in contrast to Grandfather's set, you could tell why MoB tapped them to open, and they definitely had their share of fans in the crowd. Their next show is opening for Deerhoof at Europa, and then for Lou Reed and Laurie Anderson at the Stone.
Due to MoB's practice of choosing their setlists by committee just before hitting the stage meant getting two completely different sets between the two nights. The intimate (yet utterly explosive) Maxwell's performance initially consisted of later period Burma songs, opening with the Obliterati's "Donna Sumeria" and eventually hitting the Sound, the Speed, the Light's "1, 2, 3 Party!" and ONoffON's "the Setup". Smattered among the set was a slew of new material too, which is shaping to be yet another great set of songs from the band.
But their encore at Maxwell's is what made the crowd just completely lose themselves. As soon as Roger Miller began strumming the opening chords of "This Is Not A Photograph", the entire front of the stage became a group of pogo-ing lunatics. I don't think I've ever seen crowd surfing at a Burma show, and if you know the small space at Maxwell's you know there isn't much room to surf, but as soon as Clint Conley said, "That's How I Escaped My Certain Fate" a rather enthusiastic fan catapulted from the stage into the crowd and somehow remained elevated for much longer than gravity should have allowed. Following with B-side "Max Ernst" and closing with the anthemic "Academy Fight Song" left everyone wanting more; in fact most people refused to leave until the house lights came on.
Luckily another Burma performance was just around the corner. Their set at the Bell House on Saturday was filled with just as much energy as the night before, but relied more heavily on material from their 1981 EP Signals, Calls & Marches and their only proper full length before their breakup, Vs. Pete Prescott's shouts from behind the drumkit sounded just as aggressive as ever, while Clint Conley's overdriven bass made older songs like "Mica" and "Fame & Fortune" sound even more furious than their studio counterparts. As much as I believe "underrated" describes Mission of Burma on a number of levels, one of the greatest aspects of MoB that goes unnoticed may be Roger Miller's unique slide guitar technique, particularly when soloing on songs like "Spider's Web". Bob Weston on tape loops provided those iconic swirls of noise during and between songs, reminding you that the band's fourth member is just as important to the Burma sound as any of the members on stage. And how great is it that when they launched into their most well known song, "That's When I Reach For My Revolver" during the first encore, I hadn't even considered that it wasn't played in the set yet, or at all the night before. Overwhelming response demanded a second encore, which consisted of the opening track from Vs., "Secrets", and again ending with "Academy Fight Song". Something tells me that if Roger Miller hadn't jokingly said, "Thanks, please go home, now," the crowd would have stuck around for even more.
Mission of Burma at Maxwells
Buke and Gass at The Bell House
Mission of Burma at The Bell House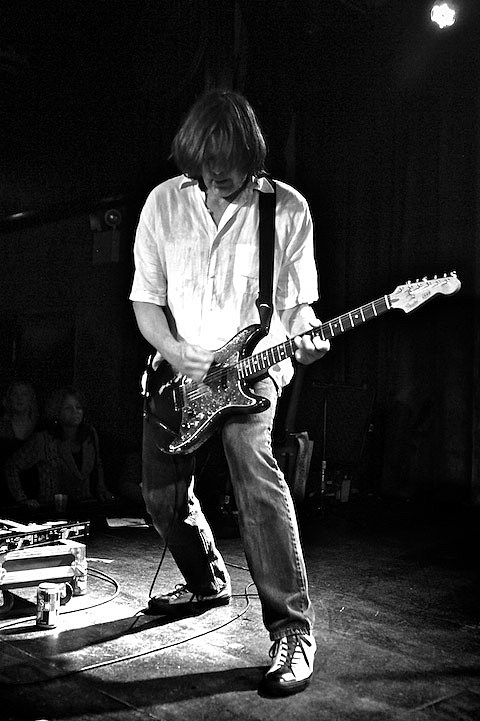 --
Setlist from Maxwell's 1/28/11
Donna Sumeria
Let Yourself Go
1, 2, 3 Party!
Epic B.
Part the Sea
Monkey Boy
Feed
He Is
Devotion
2wice
F. Yourself
7's
Good Cheer
The Setup
Nancy Reagan's Head
Encore:
This is Not a Photograph
That's How I Escapes My Certain Fate
Max Ernst
Academy Fight Song
--
Setlist from the Bell House 1/29/11
Opener
7's
1001 Pleasant Dreams
2wice
Blunder
The Sound, The Speed, The Light
Trem Two
Mica
He Is
Part the Sea
Epic
Feed
1, 2, 3 Party!
Fame & Fortune
Spider's Web
That's How I Escaped My Certain Fate
Encore 1:
Red
That's When I Reach For My Revolver
Class War
Encore 2:
Secrets
Academy Fight Song