Modern Baseball drop surprise EP (stream it), announce new album 'Holy Ghost' for 2016
Mimi Hong
photo: Modern Baseball at Best Buy Theater in July (more by Mimi Hong)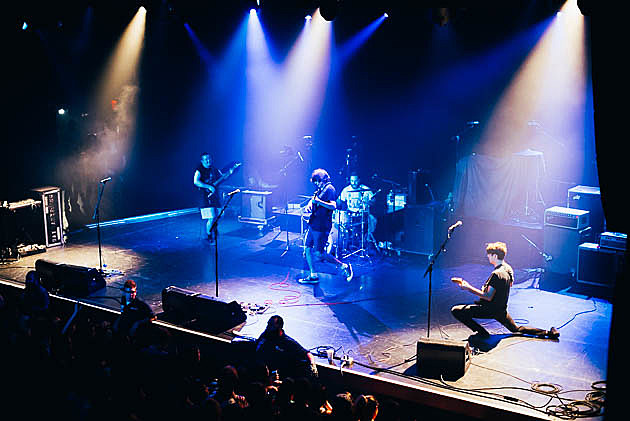 Modern Baseball announced a new six-song EP today titled MOBO Presents: The Perfect Cast featuring Modern Baseball and the whole thing is already here streaming. It's officially out tomorrow via Lame-O Records but you can head below to listen now (via Spin).
Co-frontman Brendan Lukens opened up to Spin about his battle with depression and anxiety, which he writes about in his new songs. "The Waterboy Returns" is one of their most melodically upbeat songs, yet features dark lyrics such as "Hey you, that's no way out / You can't find help in a bottle or a cut," which reflect Luken's personal struggles. "The Thrash Particle" is a slower track where Brendan opens up about heartbreak and reflects on expressing his feelings through songwriting within the actual lyrics. "You suggested I write a song about the first time we met/Well I don't wanna remember there or then."
The band also announced in that Spin article that their third full length is called Holy Ghost and will be out in 2016 via Run For Cover. The album was produced by Joe Reinhart of Hop Along, who also produced that band's 2012 album Get Disowned, the last Joyce Manor album, and more.
We caught MoBo's show last week at the Lame-O CMJ showcase, where they played some of the new tracks. Their proper tour, with Jeff Rosenstock, PUP and Tiny Moving Parts, starts next week (10/27) and brings them back to NYC on December 11 at Webster Hall. Tickets are still available for that show.
UPDATE: PUP dropped off due to illness and were replaced by Sorority Noise.
Stream the new EP and check out their upcoming tour dates, below...

---
Modern Baseball -- 2015 Tour Dates
10/27 - Baltimore, MD @ The Ottobar*
10/28 - Virginia Beach, VA @ Shakas*
10/29 - Greensboro, NC @ Green Street*
10/30 - Gainesville, FL @ FEST
10/31 - Gainesville, FL @ FEST
11/01 - Gainesville, FL @ FEST
11/03 - Tampa, FL @ The Orpheum*
11/04 - Atlanta, GA @ Masquerade*
11/05 - Birmingham, AL @ Saturn*
11/07 - Houston, TX @ Walters*
11/08 - San Antonio, TX @ Paper Tiger*
11/09 - Dallas, TX @ Trees*
11/11 - Albuquerque, NM @ The Works*
11/12 - Tucson, AZ @ Club Congress*
11/13 - Anaheim, CA @ House of Blues*
11/14 - San Diego, CA @ Quartyard*
11/15 - Oakland, CA @ Oakland Metro*
11/17 - Portland, OR @ Analog Theater*
11/18 - Seattle, WA @ Neumos*
11/20 - Salt Lake City, UT @ The Complex*
11/21 - Denver, CO @ The Marquis Theatre^
11/22 - Omaha, NE @ The Waiting Room*
11/24 - St. Louis, MO @ Firebird*
11/25 - Iowa City, IA @ Gabes*
11/27 - Burtonsville, MN @ The Garage*
11/28 - Indianapolis, IN @ The Deluxe*
11/29 - Palatine, IL @ Durty Nellie's*
12/01 - Columbus, OH @ Skullys*
12/02 - Detroit, MI @ St. Andrews Hall*
12/03 - Toronto, ON @ Opera House*
12/04 - Ottawa, ON @ Ritual*
12/05 - Montreal, QC @ Les Foufounes Electriques*
12/06 - Albany, NY @ Upstate Concert Hall*
12/08 - Providence, RI @ The Met*
12/09 - New Haven, CT @ Toads Place*
12/10 - Amityville, NY @ Revolution Bar & Grill*
12/11 - New York, NY @ Webster Hall*
12/12 - Philadelphia, PA @ Union Transfer*
* = w/ PUP, Jeff Rosenstock, Tiny Moving Parts
^ = w/ Jeff Rosenstock, Tiny Moving Parts