Modern Baseball, Tiny Moving Parts, The Hotelier and Sorority Noise played Marlin Room at Webster Hall (pics & setlists)
Modern Baseball / The Hotelier / MoBo's crowd

Modern Baseball, Tiny Moving Parts, The Hotelier and Sorority Noise brought their tour to NYC this past Thursday (6/5) for a sold out show at the Marlin Room at Webster Hall. Pictures of all four bands, Modern Baseball and The Hotelier's setlists, and a MoBo video are in this post.
Sorority Noise kicked things off with a set of late '90s/early '00s-style poppy punk. They were probably the most straightforward of the four bands (not in a bad way), and despite being first on a four band bill in a pretty large venue, they still had a fair amount of the crowd singing along.
Then came The Hotelier, who immediately took those crowd singalongs to another level. Singer Christian Holden didn't have to so much as get out the first syllable of "An Introduction to the Album" for the majority of the audience up front to yell every word right back. Multiple times in that song alone, Christian backed away from the mic and successfully allowed the crowd to take over. They played seven of the nine songs on this year's excellent Home, LIke Noplace Is There (plus "Settle the Scar" from their 2013 split with Modern Baseball and others), an album that sonically is not far from Tell All Your Friends, Deja Entendu or The Room's Too Cold, but is so lyrically powerful that it doesn't sound dated or derivative. They fully know how to bring those songs to life too. Every crack in Christian's voice is still there on lines like "Now I'm lost and I can't take this path back home," and the band is tight as hell.
Tiny Moving Parts followed with a set of their math rock-tinged post-hardcore. Vocalist/guitarist Dylan Mattheisen has got some real chops, noodling his way through complex riffs and tapping, and never missing a beat. The band go pretty nuts too, jumping around on stage, and were generally all smiles the entire show.
Finally Modern Baseball closed out the show to a very excited crowd who knew every word. The band said more than once on stage that it was their biggest headlining show yet, and it was pretty clear that these guys are only going to move to bigger and bigger stages. The band's songs are endlessly catchy, and though they deliver them like the major anthems they are, you can tell they came up playing basements. During "The Weekend," members of the opening bands ran up on stage to sing along and then crowd surfed, and for the closing song of the pre-encore set, "Your Graduation," the guest singer who appears on the album came out for his verse and then also jumped right into the crowd. Those big moments aside, when they stripped down and Jake Ewald played "Pothole" solo, it was as or more powerful than the rockers. Unfortunately, one of the two co-lead singers Brendan Lukens was sick with pneumonia and had to miss the show, but Sorority Noise's Cameron Boucher (also of Old Gray) filled on guitar and the band was still in fine form without Brendan. (Not that he wasn't sorely missed -- and get well soon!)
More pictures of all four bands, with those setlists and video, below...

---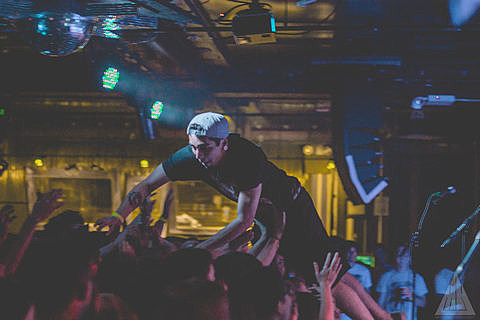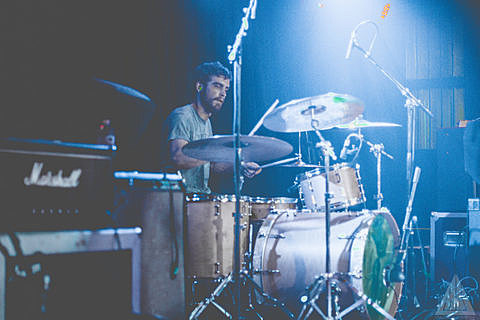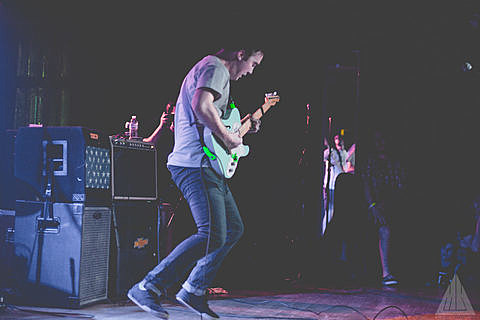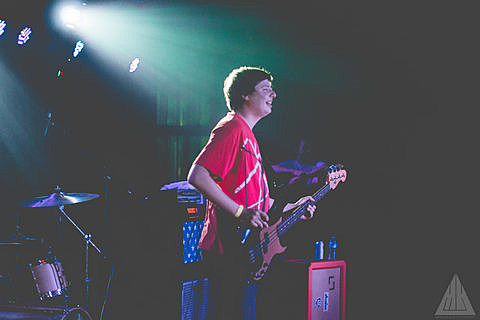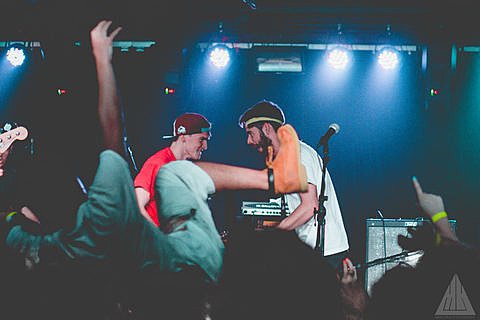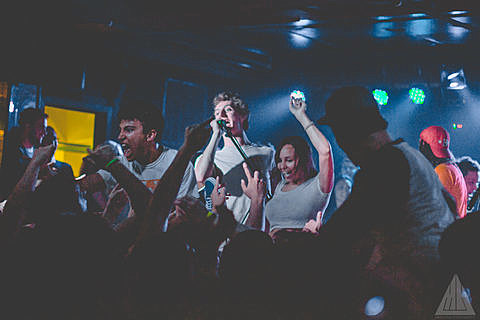 Modern Baseball - "Your Graduation" at Marlin Room at Webster Hall - 6/5/14

Modern Baseball at Marlin Room at Webster Hall - 6/5/14 Setlist:
Re-Do
Tears Over Beers
Broken Cash Machine
It's Cold Out Here
Rock Bottom
Charlie Black
Voting Early
Pothole
See Ya, Sucker
The Weekend
Your Graduation
Encore:
Hours Outside In The Snow
The Hotelier at Marlin Room at Webster Hall - 6/5/14 Setlist:
An Introduction to the Album
The Scope of All This Rebuilding
Your Deep Rest
Among the Wildflowers
Life in Drag
Discomfort Revisited
Settle the Scar
Dendron